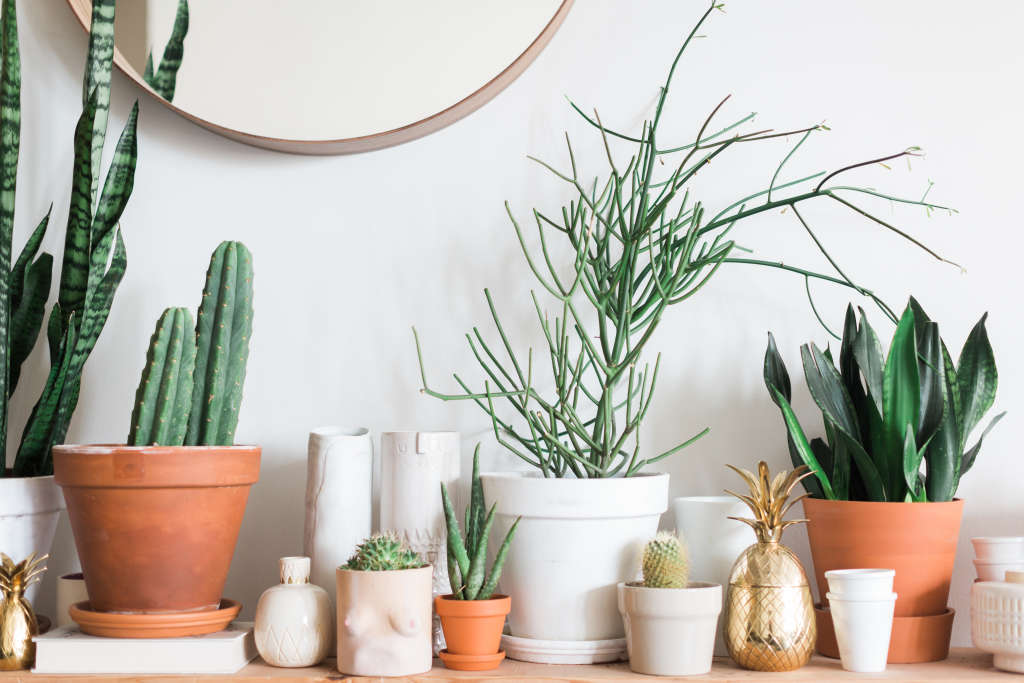 The holidays may be over but there's another uniquely important day to note on the calendar: January 10 is National Houseplant Appreciation Day, which means it's time to celebrate the joys and benefits of tending to an indoor plant.
Along with improving the air quality in our homes, houseplants make wonderful roommates—they're quiet, easy to care for, and fun to look at—and NHAD is all about paying homage to their awesomeness. So to commemorate your inner green thumb, here are 10 ways you can honor National Houseplant Appreciation Day this upcoming January 10.
1. Get a new plant
What better way to celebrate National Houseplant Appreciation Day than bringing a new leafy green friend home? Hit up your favorite local plant store for some philodendron or succulents or head to Greenery NYC, The Sill or even Amazon to buy a plant online and have it sent straight to your front door.
2. Name your plants
If you haven't already given your houseplants names, NHAD is the perfect day to bestow this designation. If you're struggling with what to call them, try identifying what kind of plant they are (and some of their unique characteristics) and use that as inspiration for their name.
3. Talk to them
Believe it or not, research shows that talking to your plants can help them grow faster and live longer—so why not have an extra long conversation with them for NHAD? Science is not totally sure why talking to your plants benefits them—it could be the extra carbon dioxide you release by breathing out next to them, or just that people who talk to their plants generally take better care of them. But either way, a little conversation never hurt anybody. Or even better, try breaking out into a song, or…
4. Play them music
Just like plants respond well to talking and singing, they're also stimulated by playing music—particularly the because they feel the vibrations from the sound waves. Kick off your National Houseplant Appreciation Day festivities by putting on a plant-friendly playlist to help them grow faster and stronger.
5. Serve some fancy plant food
Similar to a birthday cake, why not treat your houseplants to some delicious plant food in honor of NHAD? Add a couple drops of this bestselling plant formula to you plant's soil or stick in a plant food spike as a gift to your favorite green friends.
6. Buy them new pots
If fancy plant food isn't your thing, consider picking up a cool new planter or pot for your houseplants on NHAD instead. The web is brimming with stylish (and affordable) planter options that will instantly upgrade you and your beloved plant's home.
See all of Apartment Therapy's favorite planters right here.
7. Or customize your own
Short on cash but not creativity? Paint your own planter or pot—traditional terracotta ones are widely available and usually inexpensive—and personalize something special for your treasured houseplant.
8. Get a fun watering can
Pick up a fun new watering can to celebrate the day. Make it something you can leave out as decor so you'll never forget to water your plants again!
9. Or a self-watering pot
Love your plants but not the best about remembering to water them? Self watering pots, like this savvy 3-pack for less than 20 bucks on Amazon, boast built-in reservoirs that draw water to the roots for up to four weeks (and prevents them from rotting by improving oxygen circulation).
10. Buy a houseplant book
Already spoiled your plants with singing, fancy food, new pots, and watering cans? Treat yourself to a cute and inspirational houseplant book and spend NHAD savoring it cover to cover.
Apartment Therapy supports our readers with carefully chosen product recommendations to improve life at home. You support us through our independently chosen links, many of which earn us a commission.