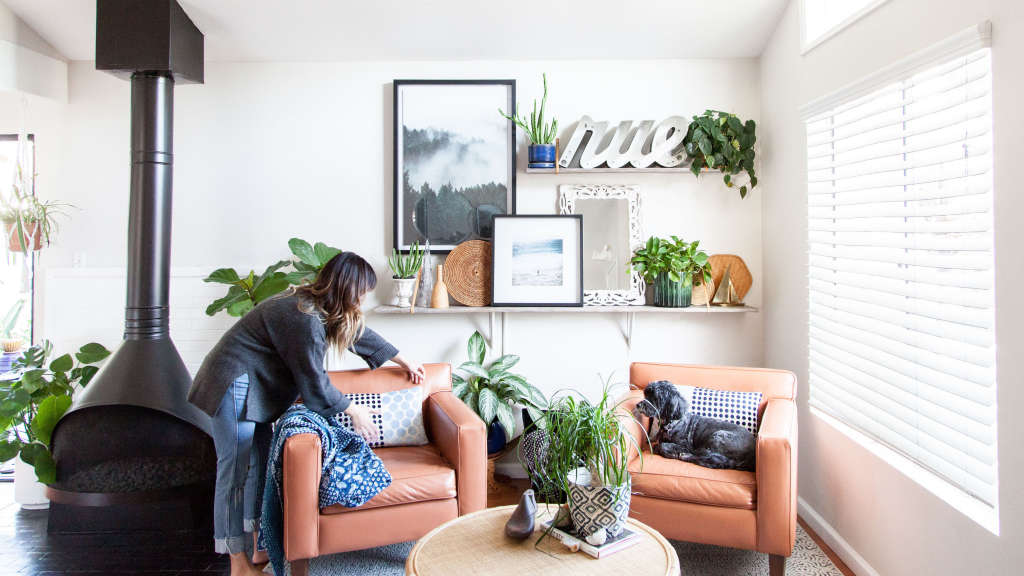 Name: Heather Knight-Willcock, husband, and Meeka (12-year-old rescue)
Location: Newport Beach, California
Size: 900 square feet
Years lived in: 2.5 years, renting
I am a Southern California native who is married to a lovely British man and we lived together in London for nearly a decade before moving back to Orange County a few years back. We went from a 400-square-foot flat in a busy city to more than double the space in a suburban townhouse. 900 square feet might seem small to a lot of people—but for us it seemed lavish when we first moved in! We have two outdoor spaces—where we have lots of my potted plants, real fruit and herb plants, and our outdoor fire pit. I am a huge lover of plants and we have over 40 plants inside the house, too! Much to my delight—this actually dictates a lot of the styling of the house!
Our house has two bedrooms, a single bathroom, and a more open plan kitchen, dining room, and lounge area. We spend most of the time in the living area—cooking, entertaining, and spending time with our pup! When you move into any space—especially a rental—not everything is going to be laid out in a floor plan you would have chosen but as an interior designer, I love to imagine and create unique pieces of furniture to solve troublesome spaces in the house. The dining room table, the breakfast nook benches, and the shelving in the lounge were all made by my own hands to ensure they fit and kept the natural flow of the space that is best for our family.
Describe your home's style in 5 words or less: California casual plant lover.
What is your favorite room and why? My favorite space is the lounge as it is the total hub of the home! We love to entertain and have a very conversation-focused eating and living space!
If you could magically change something about your home, what would it be? If I had to change something more realistic—I would have more windows in the bedrooms. Light is so important to me that we never draw any of the curtains or blinds and wake up to the natural light every morning! Because the two bedrooms sit on the south side of the house, they can be quite dark, especially in the winter. More windows would be a game changer!
What's the last thing you bought (or found!) for your home? I'm constantly rotating the table top decor in the dining room and lounge so I was so excited to find the vintage bow and arrows that now serve as the table "florals." They were a vintage find at the Long Beach Antique Fair—one of the best in Southern California!
Any advice for creating a home you love? Don't buy everything at once! Take the time to collect pieces you love and always have a few good hand-me-downs!
Thanks, Heather!
• Interested in sharing your home with Apartment Therapy? Contact the editors through our House Tour & House Call Submission Form.