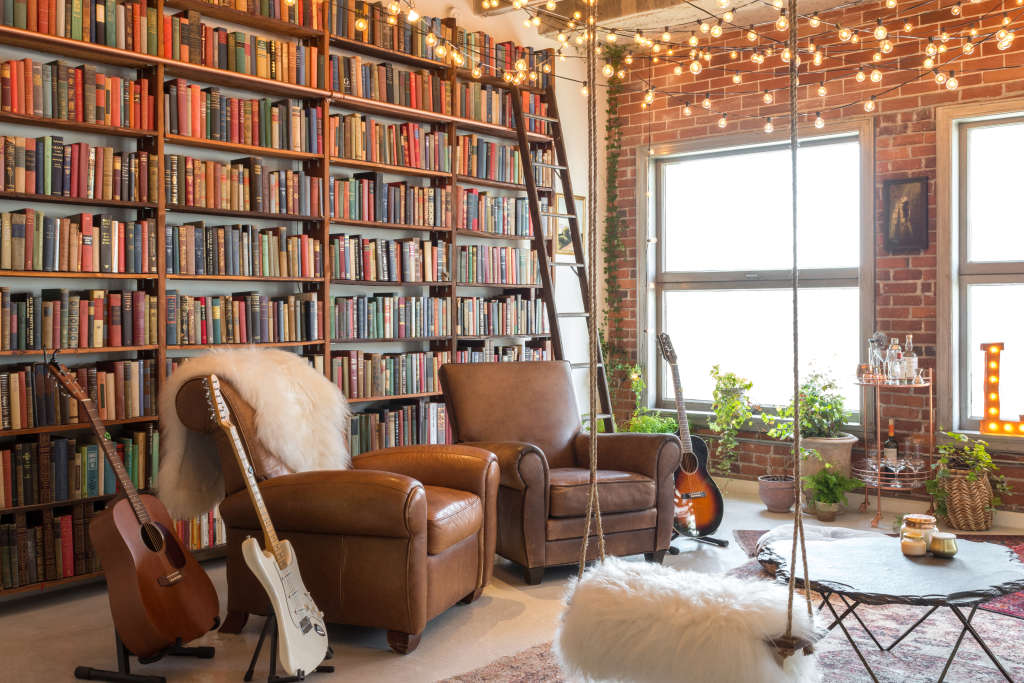 Let's face it, if we're going to be stuck inside for a large portion of the next few months, it may as well be in a place that gives off totally cozy, hygge, never-want-to-leave vibes. We're looking to these rooms for major inspo as we make our own spaces a bit more winter-friendly!
1. Entertaining at its Best
When your entertainment options are in plain sight, there's no such thing as boredom. We could spend hours flipping through a stack of good reads and listening to our favorite records in this cheery spot.
2. Burst of Life
Just because it's winter doesn't mean your indoor space has to be completely devoid of life. We'd be more than happy curling up on this couch with a good book and a cup of warm tea, while taking in this room's beautiful plant display.
3. Pattern Play
Boho rooms always manage to look extra cozy. We love how the decorative pillows pop among neutral pieces of furniture.
4. Texture for Days
Between the oversized comfy knit blanket, the faux fur throw and plush rug, and the right amount of midcentury accents, this living room from Katie's Bliss is totally hibernation-friendly. We're more than ready to hole up and begin the Netflix marathon of the decade.
5. Long Winter's Nap
We'll happily curl up for a long winter's nap in a bed that looks like this one! Peaceful artwork and hanging plants set the scene for a relaxing sleeping space.
6. Winter Whites
Clean lines = a clear mind. This almost all-white bedroom is the perfect place to unwind.
7. Rustic Vibes
Who says you have to actually go outside during a vacation? Staying in the Airbnb is the main attraction when it looks as welcoming as this rustic space.
8. Laze the Days Away
Warning: Setting up your sleeping space to look more like a daybed may result in endless afternoon lounging (and we're totally okay with it).
9. Farmhouse Fresh
If our space looked like this, we'd be all for keeping twinkly lights up year-round. They add such a rustic glam touch!
10. Compact & Cozy
Cabin-themed decor, like this set of faux antlers, automatically puts us in hibernation mode.
11. Dine in Style
We'd love to spend a long winter's evening enjoying some of our favorite recipes in this snug yet functional dining nook.
12. Vinyl and Chill
A salt lamp, a furry friend, and a record player—who needs anything else?! We bet this "minimalist hygge" home is especially dreamy during chillier months.
13. Kick Back and Relax
If you live in Alaska, a cozy home is basically a prerequisite, and we're loving the variety of textures and shades in this relaxing living room.
14. The Perfect Cuppa
When you have a built-in coffee/tea bar in your bedroom, why would you ever need to leave the apartment?
15. Books for Days
A wall filled to the brim with books, armchairs you could sink right in to and plenty of rustic details make this space one you'll never want to leave.