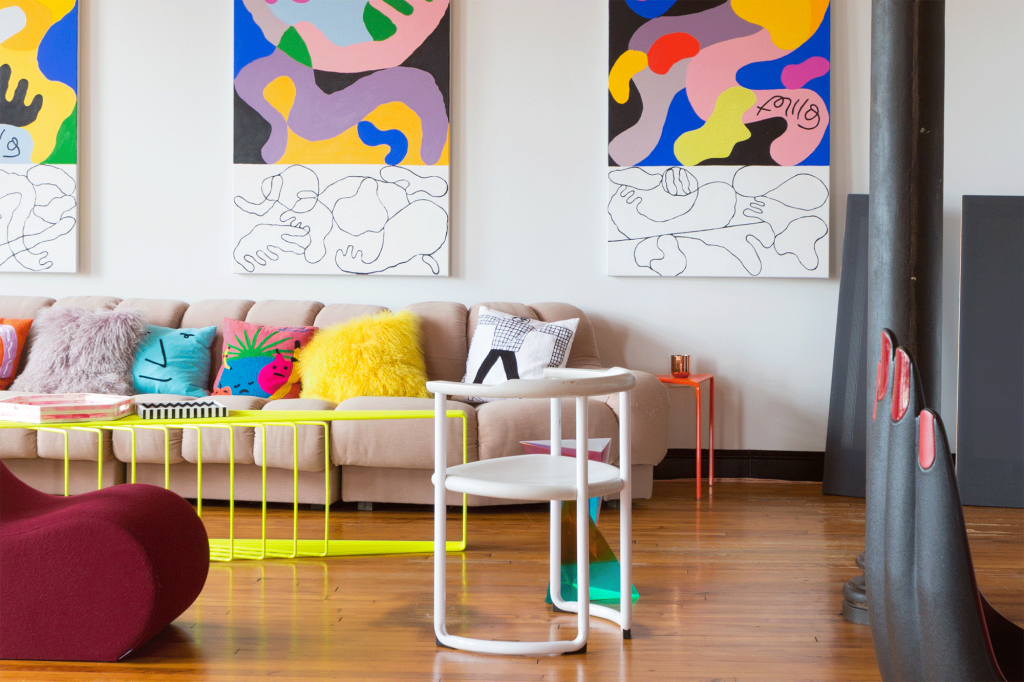 A new year is the perfect time to challenge yourself and stretch outside of your design comfort zone. Whether with color, pattern, shape, or something else, dare to try something new and bold in 2019. And there's no better place than your living room, one of the first spots guests see and probably the place you spend the most time in. The brave decor ideas in this post range between small and huge, but all of them are worth considering.
Add a removable wallpaper accent
Troy Solomon has a California home bursting with positive vibes, and the living room is an absolutely cheery place. Vintage furniture makes the space cute, but it's the removable wallpaper accent wall that adds a lot of joy to the room. Whether you put it on the wall or on your own piece of furniture, is this year the year you dare yourself to add pattern with removable wallpaper? It makes a huge visual difference, as these GIFs prove.
Create a wall mural
If removable wallpaper doesn't feel like your jam but adding pattern is, consider a wall mural, like some of the ones in this maximalist's home! Even if you think you don't have the artistic talent to pull it off, you can do more than you realize. Here are lots of ideas to spark your inspiration: Colorful DIY Mural Ideas That Are Affordable and DIY-able.
Paint every surface of your living room
In Tes and Daniel Davison's Chicago home, a back sitting room off the kitchen is a minimal, modern, and cheery space, due in no small part to the bright yellow paint job. But it's not just the walls that got covered in pigment… they painted the floor, ceiling, and door frames!
Paint architectural elements instead
If painting every surface of a room seems like a bit too much for you, flip the usual paint script and keep the walls white while adding color to architectural elements like the crown molding, ceiling, and other spots that are normally the neutrals in a space. You can see a great example in this colorful "tongue-in-chic" San Francisco apartment.
Go wild with shape
Instead of buying furniture in a "typical" shape this year, go for something a little out of the ordinary. The Brooklyn home of Aelfie's founder showcases just what you can do with a space when nothing is shaped like expected. But if the pieces she incorporated are out of your budget, just keep your eyes extra peeled when thrift shopping for unique shapes and lines. The idea is to get something sculptural that's also functional and fun!