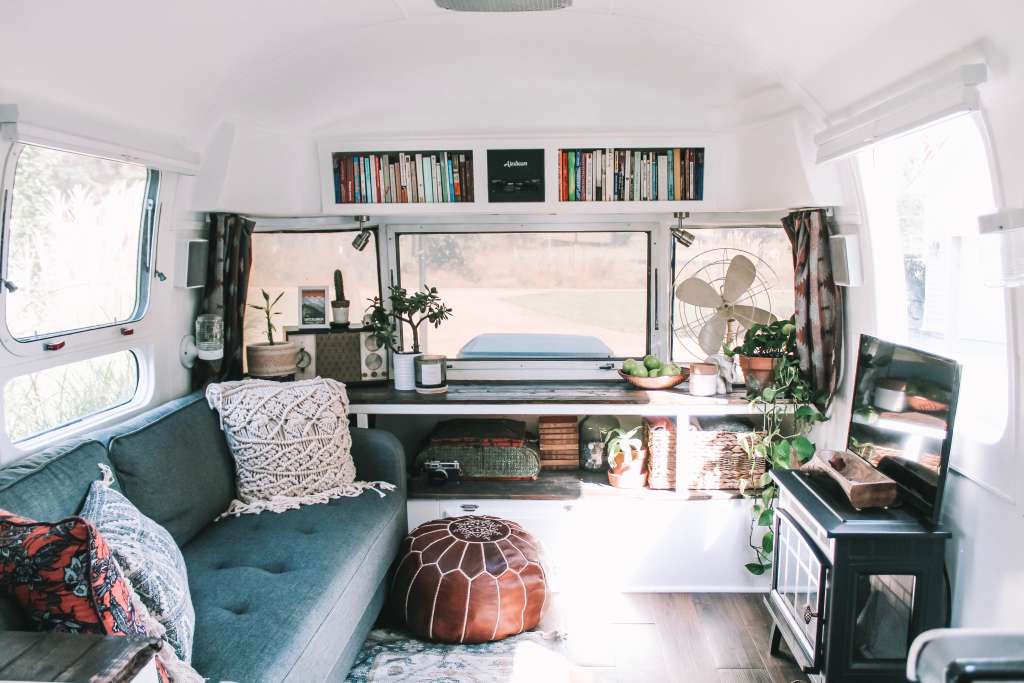 Living in a small space doesn't mean everything you own has to be vanilla. You can experiment with pattern and color just as much as the next person—you just have to be a little more tactful about how you go about it. We could all learn a few design tricks from these eight tiny houses that have cracked that code—whether it's sticking to a tight color palette, hiding pops of pattern in unexpected places, or using neutrals to their fullest.
The couple that owns "Augustine the Airstream" are boho mix masters, especially for living in such a small space. In this "living room" shot above, I see a floral, a zig zag, a tonal macrame, and Southwestern-inspired curtains—plus pattern underfoot in the form of that colored area rug. All of the shades are cool-toned, which makes the patterns play well together. And then you have that brighter floral pillow to throw things off, in a good way, with a burst of red so to speak. Well done, Augustine's owners, well done.
This teeny Paris apartment packs a lot of punch, even if the patterns themselves are a little basic. The owner went for a patchwork quilt on her bed sofa, which is a pattern party in and of itself. And then you have the color-blocked stools, circular rugs, and a bunch of fun colorful artwork on the walls of this main room, adding more geometric motifs to mix. White seems to be a dominant color, probably because you have to use some kind of restraint on patterns or prints in a tiny house, or it'll end up looking too busy. And busy equals visually jarring in my opinion.
There must be something in the water over there in France: This jewelry designer based in Paris also knocks pattern mixing out of the park in her little 355-square-foot apartment. This space definitely shows a little more looseness when it comes to color saturation and pattern. There's a striped serape-style blanket on the sofa with an equally electric-colored floral pillow sitting right on top of it. And did I mention the rag doormat and dhurrie rug on the other side of the room? Even the bedroom has a red diamond printed blanket on it! But again, there's a lot of white still to balance out the jolts of color, and the larger furnishings are in that same red/pink color family with lime green accents for the most part.
We've seen two really white meets bright tiny homes back to back, and it's a good look for sure. But you can also successfully pack your tiny house with pattern in neutral colors, and it creates just as interesting of a space. Look at this NYC studio that's mainly a mix of taupes, tans, and oranges. You have a diamond dhurrie, chairs upholstered with a dhurrie-like fabric, more dhurrie-looking pillows, a paisley pillow, and what looks like floral curtains all in the same main room.
And then—poof—open that big custom cabinet, and you have a Murphy bed dressed in a ticking stripe plus a tree patterned mural lining the back of the cabinet, again both executed in neutral shades of black, cream, and gray. And that, friends, is how you pack pattern into a small space. You can do whatever you want and take pattern risks when you can literally hide that feature for most of the day.
This tiny apartment dweller is also about the neutral mix.
But this owner gets by with a little help from her… wardrobe. Sometimes when you are short on storage and closet space, you have to resort to hanging some of your clothes out in the open on a garment rack. And you better believe you should be curating that mix to match the rest of your surroundings, if at all possible. Or you can take the rack as an opportunity to inject wild color and pattern into your space. I mean, not saying to buy a new wardrobe or anything, but I think the former is the way to go. Chances are, if you gravitate towards certain shades for your home, you may also like putting those shades on your body.
The maximalist vibe is alive and well in this cozy teeny tiny studio, as evidenced by this daybed situation. If you include the coasters, artwork, and side tablecloth, I count more than eight different patterns in this setup alone. And that's another pattern packing tip. Go small. If you love pattern, you can incorporate it on tabletop items that aren't as visually loud as, say, a floral sofa or whatever.
And don't forget the power of wall coverings. Thinking flat and vertical with your pattern is a game changer, because then you can pack extra into your space without it taking up floor space. This A-frame cabin has the right idea. Choose something smaller scale, and it won't feel too overwhelming, even in a tiny house.
Same for this London spot, which actually bears somewhat of a resemblance to that NYC studio with the Murphy bed above. But, as shown in the bedroom area, if you keep your patterns classic—Hudson Bay stripe blanket, classic pinstripe rug, a black-and-white landscape mural—you can really pack those patterns in.