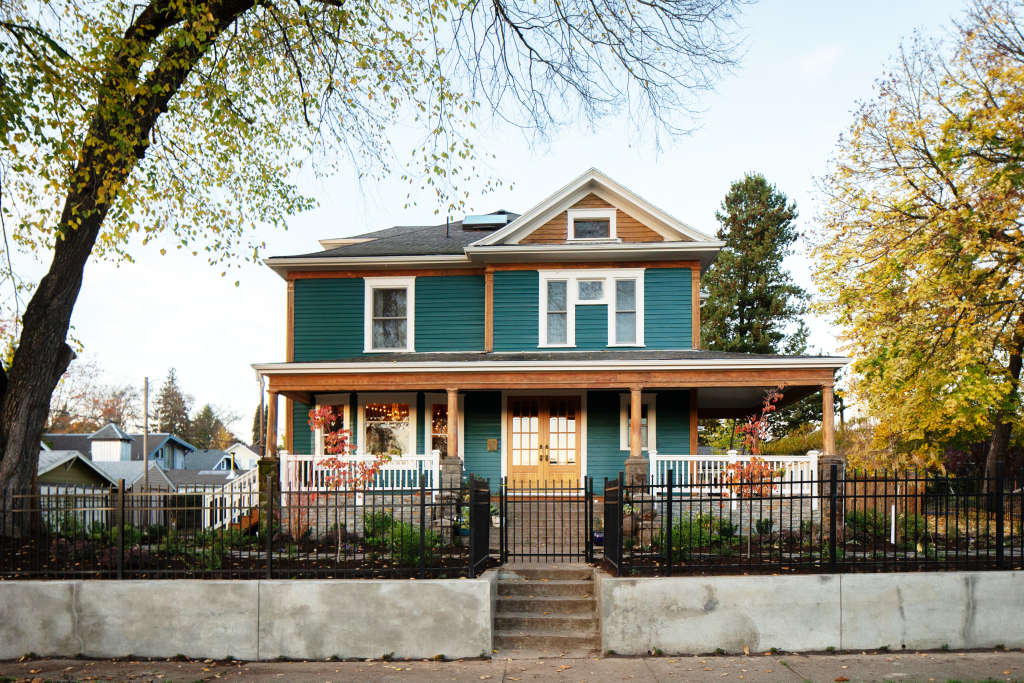 Name: Erin Tole and Ryan Phillips, and daughters Veda and Brynley (plus their rescue dogs and cat)
Location: Vancouver, Washington
Size: 5,000 square feet
Years lived in: 6 months, owned
When "That House Downtown" came on the market as a short sale, Ryan and Erin jumped at the chance to purchase the home, despite its dilapidated state. The couple knew the neighborhood well, and though the listing ad described the house as "needs a lot of TLC," Erin and Ryan saw the property's potential. The process of converting a run-down, five-unit apartment building to its original glory is a labor of love that Erin has documented on her Instagram account Vine and Vintage.
Erin and Ryan are both self-employed—she's a photographer and he works in real estate—and they had quite a bit of experience remodeling past homes. But even so, the state of this circa 1900s home felt daunting: "They had basically turned it into an apartment complex. They had built hallways, extra kitchens, there had been a fire in the attic." The couple jumped into the remodel just last year, Erin acting as the general contractor and designer. "The demo took months. Previous owners had put up layers and layers of building materials."
The renovation was finally finished enough for the family to move in six months ago, though small projects are still being wrapped up, and Erin, an avid thrifter, is always updating the decor: "The process of finding things while out and about is one of the things that keeps me motivated to rethink spaces and improve them," she confesses.
Yes, the bones of this house are incredible, but it is Erin's design aesthetic that makes this home really special. The "inside-out windows," the colors and finishes she's selected, and the decision to leave many of the ceilings open and exposed all work together to create a truly unique space.
Apartment Therapy Survey:
Our Style: Bohemian eclectic.
Inspiration: Everything! Most of the stuff in my house is thrifted—the process of finding things while out and about is one of the things that keeps me motivated to rethink spaces and improve them. That being said, I do love solid pieces that will last a long time, so some stuff, like our beds and couches etc., didn't come from Goodwill. We've moved several times since our kids were born and in some of the first houses I tried to "pick a style" but I found that I just could not! I enjoy too many elements drawn from too many places, and my house is a reflection of that. Of all the things I aspire for it to be, cozy is up there on the list; so lots of layers of texture and color make me feel like I want to hole up and chill for a while.
Favorite Element: The "inside outside" windows… in the stairway and entryway I had old leaded glass windows framed into the walls, so light really passes through but there's some separation of space. We knocked down all but one of the interior walls on the main floor, and when the time in construction came to put walls back up, I was paranoid that it would start to feel like its original "boxed in" self, which was a rat maze of apartment units. It was one of those things that had contractors scratching their heads at me, but when they saw my vision near the end they realized it's actually pretty cool and does exactly what I hoped it would!
Biggest Challenge: Patience! With the renovation and the reality that you don't move into a new house and have it instantly look "done." We got rid of so much *stuff* moving twice in rapid succession, from our house in suburbia to our rental downtown (which is on the same street as this house) and then from the rental to here… It was so nice to be nearby as we finished up the project! But when you move that much you don't bother taking anything but the necessities, so I've been in nesting mode since we moved in.
Also: The floors. When we discovered the original 100+ year old CVG [Clear Vertical Grain] fir under the layers of carpet and linoleum I was thrilled… I knew enough about floors to know that fir was not going to hold up to our kid- and dog-filled lifestyle. It's a softwood and you can scratch it with a fingernail. The floors needed extensive patching and in my older daughter's room, which used to be a screen porch, I had to source salvaged fir of the same age and had it milled down to match. Turns out that new fir does not look like old fir. Fir is naturally very pinky-red, which wasn't what I was going for; there's enough of that going on, on the ceiling! Then, every contractor I talked to tried to give me a booklet of a few stain colors and told me that your typical polyurethane was my only option when I knew from creeping design blogs that that wasn't true. I finally found a guy who would apply a two-part wax product by Rubio Monocoat… It's much easier to apply than a typical stain, anyway! I chose a white with green undertones, which perfectly neutralized the red of the fir and left me with the sandy beige of my dreams! The finish is waterproof, uber-matte, and easy to touch up. We did it knowing it was going to look distressed and we're okay with that.
What Friends Say: Most frequently, "I can't believe you live here" probably because we've lived downtown before, right next to this house! So it's still a little crazy to think it's ours now! Also, "There's so much to look at" and "Whoa."
Biggest Embarrassment: The unfinished nook where my office is. It's off the kitchen and used to be a little bumped out porch, but it is turning into an atrium dining room soon, so it stays looking gross with its uneven floor and old vinyl windows… But I refuse to do much when it's just going to get ripped off!
Proudest DIY: The plant shelf over our bed! It made me really glad we didn't DIY much else though!
Biggest Indulgence: The Victorian doorknobs throughout the house… a little splurge-y but I had to have them! This house is so quirky but it does have a lot of the original Craftsman elements and they were just too perfect to pass up. The flowing/rounded Roanoke style is like patterns that I have always been attracted to in design.
Best Advice: While I am an avid thrifter, at this point I only get things that really move me. Don't snag a dresser because it's good enough and does the job, just keep looking and wait for that thing that you instantly know is just right! If you live in a large enough city and thrift often, it will happen before you know it. One of my best neighborhood friends and thrifting buddies says you have to "put it out to the universe" what you are looking for… and then "Godwill" will provide. Ha! Neither of us is religious but it's crazy how often it happens. A few weeks ago we were meandering around Goodwill and I was explaining how I really needed a downward-facing floor lamp in brass to put a grow light for my orange tree in. We walked around the corner and there it was! New in the box, even.
Resources:
PAINT & COLORS
Entire House — Benjamin Moore, Super White
Lower Cabinets — Sherwin-Williams, Cape Verde
House Exterior — Benjamin Moore, Dollar Bill Green
ENTRY
Blue Vintage Turkish Rug — Rugsworldd– Tell Murat I sent you! He's the best 🙂
Pink Moroccan runner — Etsy
Brass Animal Hooks — Anthropologie
Entry Light — Etsy
Accent Light — Anthropologie – light bearer series
LIVING ROOM
Sven Couches and Chair — Article
Moroccan Rugs — Saharianrugs on Etsy (on couch, between couches, under hammock)
Turkish Rug (left side of room) — Rugsworldd on Etsy
Pillows — Target
Mudcloth — Etsy
Coffee Table — IKEA, no longer available
DINING ROOM
Table and Green cabinet — Vintage, from Monticello Antiques
Glass Light — Vintage from Main Street Vintage Home, Vancouver, Washington
KITCHEN
Floor Tile — "Antique black" by Porcelanosa
Backsplash — Portland Direct
Hanging Shelves — made by contractors out of salvaged 2×12's
Green Rug — Rugswordd on etsy
Ceiling Light — Restoration Hardware
Over Sink Light — MoonStoneFox on Etsy
Over Island Light — Shades of light
Faucet — Signature Hardware
VEDA'S GREEN BEDROOM
Bed — IKEA
Green Velvet Throw — Target / Opalhouse
Art — Vintage from Urbanite
Desk — Nadeau
Rug — Saharianrugs on Etsy
Shelves over Desk — World Market
Rattan Chair — World Market
BRYNLEY'S ORANGE BEDROOM
Bed — IKEA
Chairs — Joybird "soto"
Runner — eBay
Metal Table — World Market
MASTER BEDROOM
Quilt — Anthropologie
Lamp — Target
Mirror — (IKEA, painted it gold)
Rug — Saharianrugs on Etsy
KIDS' BATHROOM
Tub — Signature hardware
All Fixtures — Signature Hardware "Sidonie" Collection
Vanity — Foxden
Tile — "Black and White Moroccan," Portland Direct Tile Market
MASTER BATHROOM
Tub — Signature Hardware Sigolo Japanese soaking tub
Vanity — Signature Hardware
Mirrors — Pottery Barn
Lighting — Shades of Light
Thanks, Erin and Ryan!
---
Apartment Therapy supports our readers with carefully chosen product recommendations to improve life at home. You support us through our independently chosen links, many of which earn us a commission.