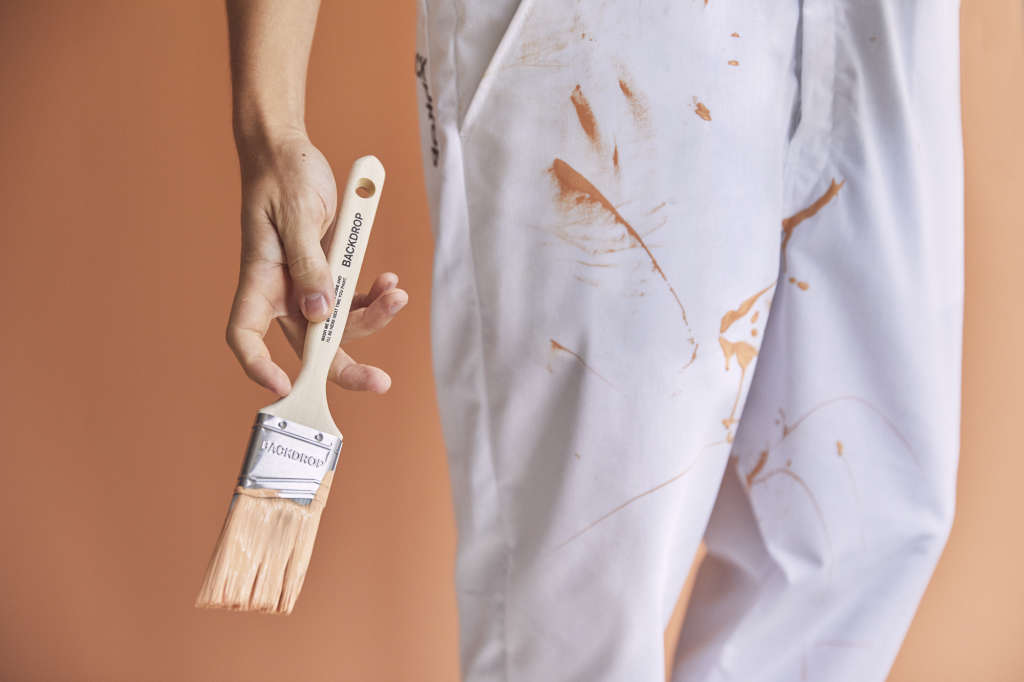 With names like Peyote Picnic, Palo Santo, Negroni, Harvest Moon, Surf Camp, and Tanlines, Backdrop paint is not yo' momma's hardware store stockpile—it's the latest in the burgeoning direct-to-consumer paint market.
Even the packaging in which your Backdrop paint samples arrives is motivational: The envelope is emblazoned with the message, "Here's the start of your perfect finish." The Greenwise-certified paint colors with the punny and Instagram-worthy names "inspired by real rooms and real people" also give back a portion of proceeds from each purchase to the International Rescue Committee.
"Backdrop offers an authentic approach to the home space, centered on people (not props) and rethinks everything from packaging to paint names. We want people to be proud of their backdrop," said Natalie Ebel, co-founder of Backdrop and formerly CMO of non-profit Pencils of Promise.
Ebel and her husband, Caleb, set out "to disrupt the antiquated, $11 billion home painting category", frustrated by their own personal experience with home painting projects, enlisting the help of creative and design agency Aruliden as well as a board of advisors comprising seasoned veterans from Glossier, Everlane, and more millennial-favorite brands.
"We wanted to create the brand, products, and customer experience that we were looking for but couldn't find after painting every home we've lived in. Each time we were appalled by the hardware store paint brands and process, which haven't changed in 100 years," said Caleb Ebel, co-founder of Backdrop and formerly an executive at Warby Parker.
Much like another new direct-to-consumer paint company Clare, Backdrop is attempting to make the painting process less painful and more fun by curating modern color palettes down to a manageable number of on-trend hues (50) with quirky names (like Moonstone and Lobby Scene), offering 12″ by 12″ color sample stickers, and shipping all paint and materials right to your doorstep.
"Until now, people have associated painting as a painful, mundane task that involved multiple trips to the hardware store. It was important for us to create a fun lifestyle brand that celebrates the experience of buying paint and painting. A brand that they can relate to and actually keep the paint cans on their bookshelves versus their basement,"said Helen Steed, Partner at Aruliden.
The Backdrop team carries that relatable, with-you-in-the-trenches perspective over to their social media, where the founders showcase their own Weekend Warrior lifestyle by curating a "Weekend Palette" on the Backdrop Instagram account—full of on-point seasonal colors and names that might just inspire you to tackle a room makeover.