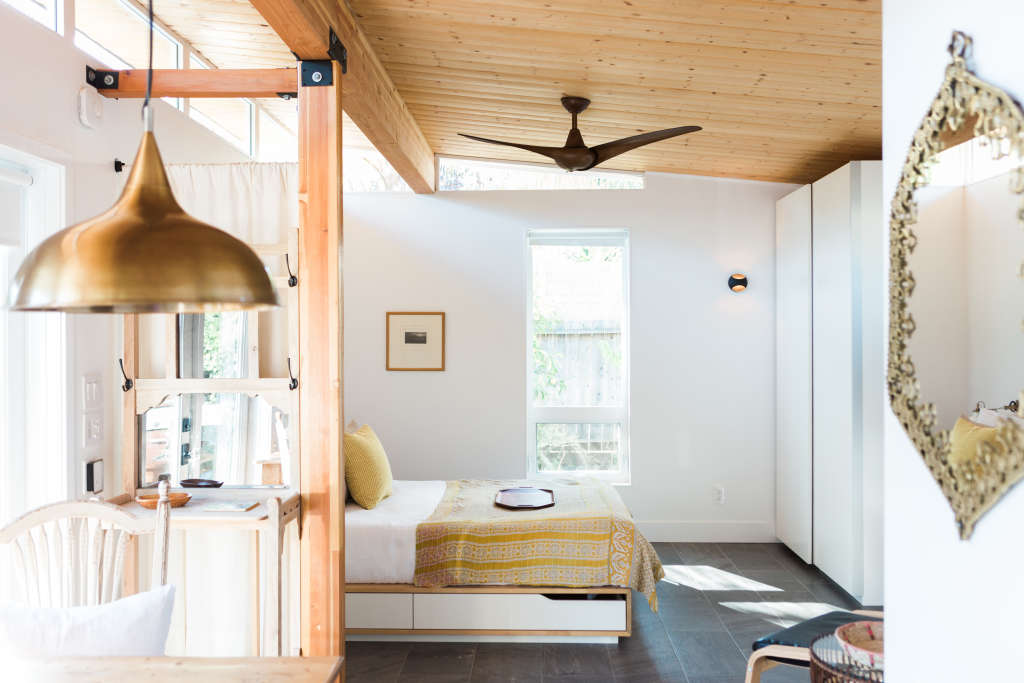 Unless you live in a 3,000-square-foot home with seven bedrooms, chances are good you're short on storage space. If you're looking to maximize your square footage, the space you've been dreaming of may be right under your (snoring) nose. Look no further than the area below your bed, and then take full advantage with these tweaks and additions.
1. Raise Your Bed
First things first, the standard height under most beds varies from seven to 12 inches. While there are a wide array of under-the-bed storage bins that take this into consideration, raising your bed frame could potentially double your vertical space without infringing on your square footage.
For as little as $7.99 at Target, a four-pack of bed risers will add five inches of height to your under-the-bed space. If your bed skirt falls short, spring for a more attractive set, like these wooden stacking risers from Amazon. You can also make your own, no crazy woodworking skills required.
Another way to increase the space under your bed is to simply buy a tall bed frame, like this Olee 18-inch Steel Slat Bed Frame. Design lovers take solace in the fact that there's a whole internet's worth of comforters and dust ruffles to conceal the underbelly of your beautiful bed.
2. Add Wheels for Ease of Access
The space under your bed is literally on the floor, making it somewhat difficult to access. Not only do wheeled under-the-bed storage solutions offer ease of access, but their design inherently keeps them off the ground and less likely to collect dust bunnies.
Any low-profile basket, box, drawer, etc., can be converted into under-the-bed storage by installing casters to the bottom, like this handy tutorial from Curbly. This fun and colorful bedroom over at BHG.com added casters to old suitcases for a unique under-the-bed storage solution. To tie the repurposed suitcases into the room's design, they lined the insides with new fabric and painted the outsides white.
3. Buy Low Profile Storage Containers
Apartment Therapy readers are most likely well-versed in low-profile storage bins, but in a quickly-evolving home goods market, there are some options that may surprise you. Here are a few options for quick and easy under-the-bed storage available to purchase. Don't be afraid to alter baskets or bins to fit your needs. Remove lids, paint, or add labels or casters to pieces that may need some sprucing up.
If you're like me, your well-concealed under-the-bed bins have a tendency to end up getting stuffed with wadded-up clothing and items that are easy to forget about. With no walls to encourage over-stuffing or hide poorly-organized goods, this rolling wire shelf from Overstock is the perfect solution for wannabe minimalists.
If you want to keep things tidy but have a lot of stuff to stash, open bins, crates, or baskets are the next best option. No lid means less stuffing, and being able to see what's inside means more opportunities to realize you don't actually need what is in that box. We love this simple rolling wood storage box from Urban Outfitters. Any low profile basket will work here, like these seagrass handled baskets from Wayfair.
If you really want to load things up under there (less room for murderers and monsters), a sturdy lidded bin is the way to go. You can't go wrong with these giant plastic Tupperware bins from Target (we also like the wheeled version).
A chicer version of the giant plastic bin above is this RÖMSKOG rattan underbed storage from IKEA. A slightly pricier and equally chic option is this whitewashed modern weave basket from West Elm.
This Umbra zipper fabric lidded storage bin from The Container Store is made of unbleached canvas, which gives you a little more wiggle room inside. It also has a handle and a pocket to insert a label, making it a dream for organization.
Apartment Therapy supports our readers with carefully chosen product recommendations to improve life at home. You support us through our independently chosen links, many of which earn us a commission.