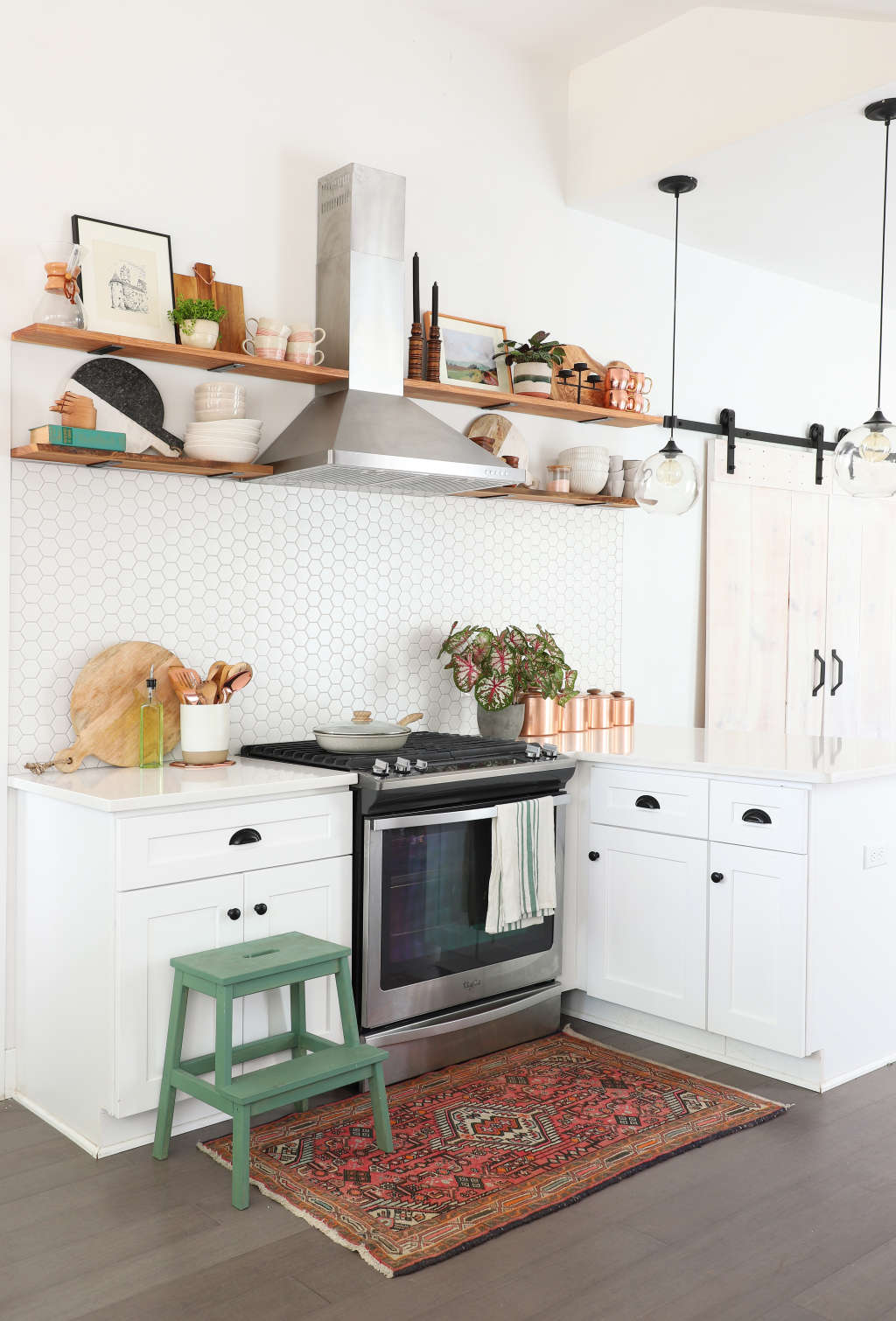 The January Cure is all about refreshing and organizing your home for 2019. We tackle one assignment each weekday throughout the entire month. It's not too late to sign up, and you can visit the Cure page to catch up with the assignments so far.
We're at the end of week two of the Cure! How are you doing? We say it all the time, but I'll go ahead and say it again: This whole Cure thing is about progress, not perfection.
If you've missed assignments along the way (or you're just seeing the Cure for the first time—hi!—and want to join the party), it's okay. Today is a new day, and you have the chance to dedicate this weekend to working on some small improvements to make your space look and feel better than it did yesterday.
In fact, today's assignment is one we're going to sort of half-finish, on purpose. Each weekend, we arm ourselves with beautiful blooms and focus on a single room, and this weekend, that's the kitchen. The goal isn't a spotless kitchen, just a better one. I want you to get your kitchen to a cleaner state by Sunday night, while not burning out on the overall Cure on your way there.
So all you need to do is pick a plan: Are you going inside or out?
Today's Assignment: Clean the kitchen and treat yourself to flowers.
First, treat yourself to flowers (or a houseplant, or fruit—whatever is going to put a spring in your proverbial step this week).
Then, get started on refreshing the kitchen by choosing either an "inside" or "outside" track, which I've outlined below. The inside track focuses more on organization of hidden areas, while the outside track is more about really shining up the exterior and surfaces of the space.
INSIDE TRACK: ORGANIZING
---
Clear out the fridge. Get rid of the items that are expired and wipe down the shelves, replacing just the items that are still fresh and usable in an organized fashion.
Clear out your cabinets and drawers. Do a purge of the contents, putting items you no longer use in the outbox. Think about getting rid of cookware, servingware, dishes, utensils, small appliances, tools and glassware that are broken, worn out, or go unused. You can leave your pantry storage alone—we'll be tackling that later in the Cure.
Edit down the odds and ends that we all collect in our kitchen (mugs, I'm looking at you) to a reasonable amount of ones that you truly like.
If you notice that you are short on certain necessary items or need to replace something that you are getting rid of due to breakage, etc., add a note to replace them to your list of projects.
OUTSIDE TRACK: CLEANING
---
Declutter all surfaces.
Get the sink gleaming.
Clean the outside of all big appliances: stove, hood, fridge, dishwasher. Do the same for any smaller appliances (microwave, toaster, mixer, blender) that are out on your counters
Wipe down all counter and cabinet surfaces with a good earth-friendly surface cleaner.
Clean and disinfect cabinet knobs and handles.
Clean the trash can, inside and out.
It's really ok to choose just one. There's plenty of time to finish the other track another time (you can even add it to your list of projects). It's more important that you do a thorough job of the track you choose.
So put on some music or a podcast and let's dig in. I'll be there to cheer you on in the comments. Share what track you chose, and let us know how it's going!