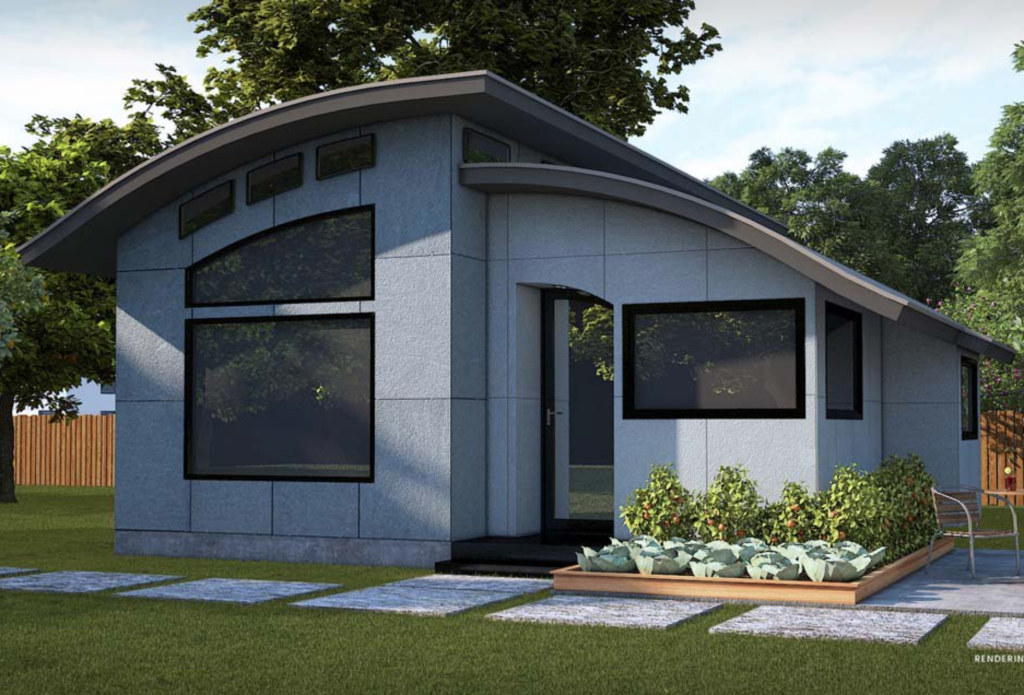 The changes taking place throughout the home-building industry continue to reflect society's general demand for fast-built, sustainable residences, particularly those that come equipped with the most in-demand smart technologies. Adding to the ever-expanding line of prefab home designs are Green Builder Media and Shelter Dynamics with the introduction of the Flex House, the modular concept dwelling that serves as an example of "right-sized living."
Hoping to keep the spotlight on conservation efforts, Green Builder Media CEO Sara Gutterman says, "What I like about the Flex House is we're not asking people to sacrifice; we're just asking people to not use any more than they need."
At 760 square feet, the Flex House features a sleek, modern, sustainable design, plus it's fully customizable and equipped with enough smart tech amenities to keep Alexa sufficiently occupied. The layout includes a master bedroom, another room that can function as an office or an additional bedroom, a couple of living areas, a full-sized kitchen complete with compact appliances, a bathroom and a cozy built-in dining nook. The homes also include all natural flooring and finishes. Some of the systems integrated with the Amazon assistant include dimmable smart LED lighting, smart plugs smart shades, a smart lock and doorbell, along with a smart thermostat.
On the sustainably smart end, the home also features a low-flow plumbing system to conserve water, an electric vehicle powering station, a greywater recycling system and smart irrigation controller that allows the reuse of water for landscaping and flushing. The home also comes with a high-efficiency low NOx gas tankless water heater and stackable washer/dryer combo. A Jinko solar system allows the Flex House to produce its own power, which allows the home to function off-the-grid.
The base model for the Flex house costs between $85,000 and $100,000 with delivery times ranging from eight to 12 weeks.