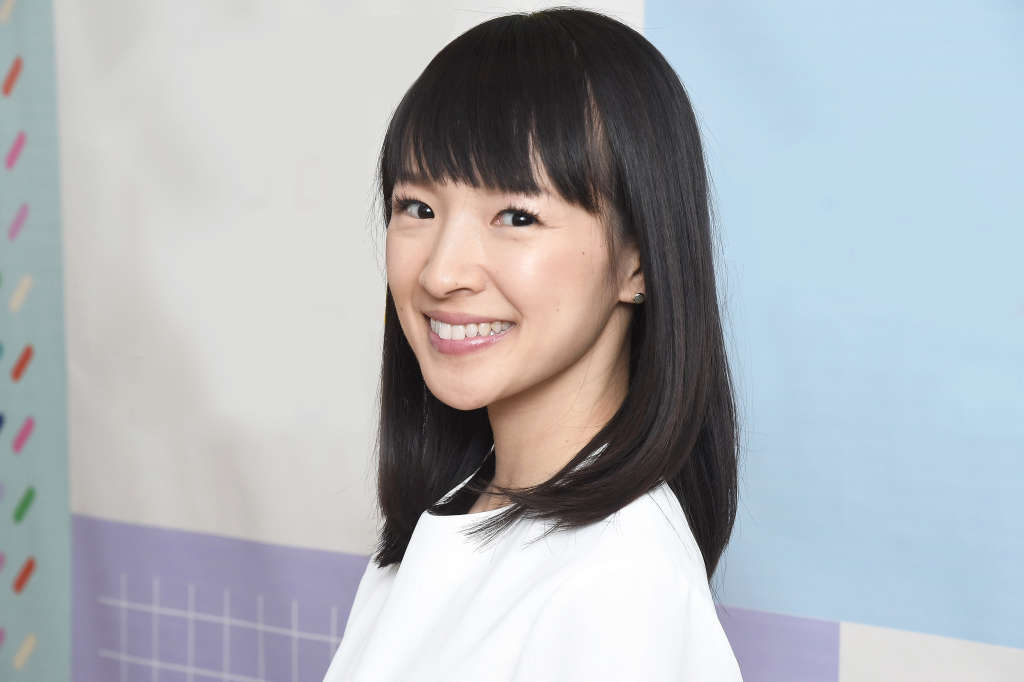 Cruising Netflix and the interwebs lately, you've probably noticed lots of buzz surrounding the Japanese organizing pro Marie Kondo's new show "Tidying Up with Marie Kondo." If you're new to Kondo, let us tell you what all the fuss is about.
The 34-year-old expert on neatness first made her way into the limelight in 2014 with her number one New York Times best-selling book "The Life-Changing Magic of Tidying Up: The Japanese Art of Decluttering and Organizing," which has sold millions of copies and been published in more than 30 countries. In her guide Kondo promises readers that by purging and reorganizing their possessions they can experience a dramatic and positive shift in their lifestyle.
Since then Kondo has been named one of TIME's "100 most influential people," created a product line of storage boxes, and moved from Tokyo to the U.S. to launch her lifestyle brand KonMari Media. Now based out of San Francisco, Kondo's small company trains and certifies hundreds of organizing professionals from around the world to practice and preach her clutter-free doctrine.
The KonMari Method
Through her KonMari Method (a portmanteau of her first and last names), Kondo teaches that you should re-evaluate your possessions, asking yourself if the object "sparks joy." Simply put: If it brings you happiness keep it; if it doesn't, throw it away.
The first step to creating a harmonious space is discarding, and Kondo says you must do this all at once and do it quickly. Go through your entire house, category by category and purge. Kondo recommends doing this in the following order: clothes, books, papers, komono (miscellaneous things ranging from cleaning products to cooking spices), and then sentimental items.
Kondo has six basic rules: 1. Commit yourself to tidying up. 2. Imagine your ideal lifestyle. 3. Finish discarding first. 4. Tidy by category, not by location. 5. Follow the right order. 6. Ask yourself if it sparks joy.
Through the KonMari process, Kondo promises that you can simplify and organize your home once, and you won't ever have to do it again. In the end, practicing Kondo's tidying philosophy sets the tone for a total life transformation, turning your disorderly sty into a relaxing refuge.
Kondo's life in Japan
Kondo's zeal for straightening started when she was a child, as she would discard and organize items in her home and at school. When she was 19, studying at Tokyo Woman's Christian University, she launched her tidying business.
If you've read Kondo's book or watched her in action on the show, you've noticed there is a sacredness to what she does. This stems from the years Kondo spent as an attendant at a Shinto shrine when she was a young woman.
The ancient Japanese religion Shinto focuses on the sacred power (kami) of both living and inanimate things. Recognizing that objects "spark joy," opening each organizing session with meditation, and thanking items for their service are all spiritual rituals that show the influence Shinto has played on Kondo's passion for creating harmonious spaces.
The Netflix series
Timed appropriately for the advent of the new year when most people embrace clean slates and fresh starts, Netflix launched the eight-episode series "Tidying Up with Marie Kondo," where the sage of straightening helps disorganized people whip their homes and lives into shape.
Based on her KonMari Method, Kondo helps people get their lives back on track through the process of revamping their homes. The episodes are around 40 minutes each and explore chaos and clutter through the viewpoints of different families, such as a widow who is having trouble letting go of the sentimental items belonging to her deceased husband and empty-nesters who are plagued by their collections of Christmas decorations and baseball cards.
A small, spritely woman, Kondo is entertaining to watch on screen. In one episode she enthusiastically mounts a merry-go-round in a homeowner's living room and then later on dramatically sprawls herself upon the floor to show her approval of a clean room. In each episode, a translator follows the organizing pro from home to home, helping to navigate the language barrier between Japanese Kondo and American families. But in the end, all are united by the unspoken language of tidying.
Kondo's books
While Kondo is best-known for her book "The Life-Changing Magic of Tidying Up: The Japanese Art of Decluttering and Organizing," there are other KonMari tomes you can add to your collection. The companion book "Spark Joy: An Illustrated Master Class on the Art of Organizing and Tidying Up" is Kondo's illustrated guide to decluttering, showing her step-by-step folding methods.
There's also a graphic novel "The Life-Changing Manga of Tidying Up: A Magical Story," which shows her KonMari Method in action through the lens of the fictional character Chiaki, a woman who lives in Tokyo.
Kondo's storage boxes
You might be surprised that Kondo is against most storage products. She discourages running to the store to buy fancy and clever organizing doodads, suggesting that they are actually interlopers, giving off the illusion that your clutter problem has been solved.
Rather, Kondo believes in simplifying storage so you can "tell by a glance how much you have." Watching her show, you can see Kondo's storage box practices in play, as she uses large clear plastic bins for miscellaneous items, old shoe boxes for folded clothes, and treasure chests for sentimental items.
Naturally since Kondo is so passionate and particular about storage systems, she created her own line of Hikidashi storage boxes that can be used for storing everything from folded undergarments to komono.
Apartment Therapy supports our readers with carefully chosen product recommendations to improve life at home. You support us through our independently chosen links, many of which earn us a commission.