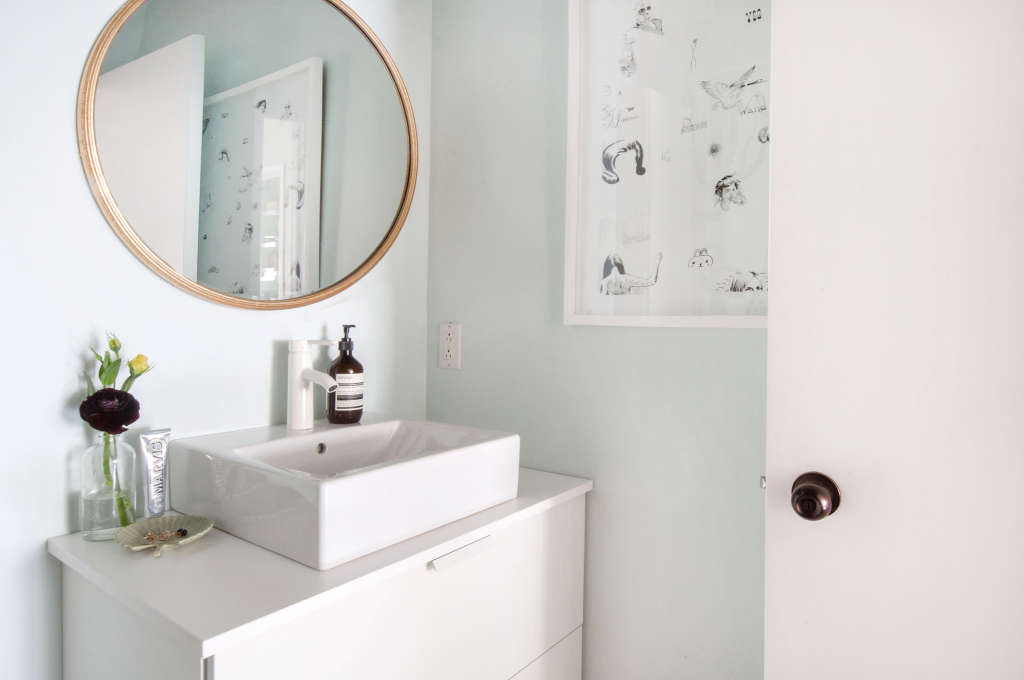 Bathrooms are never that big, unless you're truly living large in a mansion or you're lucky enough to have a nice en suite master. The latter is totally something on my wish list for house hunting later this year by the way, but we'll see how that goes. Until then, I'm in the same boat as everyone else with my tiny shoebox bath. I've already talked about how my linen closet is actually a shelf, but my bathroom is full of other small space ideas. Why? Because I had to get scrappy to store basic necessities, people! Here are a few of my favorite finds, some that I actually own and use, and others I only wish I had the room for. The best part? They're all budget friendly.
My medicine cabinet is tall and wide so it has a decent amount of storage space, but it's shared. So naturally, I needed another small ledge right underneath it for overflow. The challenge is keeping it tidy and styled out all the time, but it's doable. Definitely measure before you mount—if you want to stash larger items here, you still want clearance to open the medicine cabinet doors without any problems.
This may actually be the thinnest, tiniest rolling cart I've ever seen. I don't have the room for it. But say you had a pedestal sink and no vanity drawers or cabinets, you could maybe wheel in one of these and park it in the narrow space between the toilet and wall.
This piece is a showstopper. Period. The double sided mirror with magnification means you don't need a hand mirror for closeups, and the tray is brilliant for corralling your most used makeup and/or skincare products. It's small enough to not take up a ton of room—and light enough to move around to find that good lighting. I'd keep this on the dresser outside of my bathroom.
You don't have a fancy niche or built-in shelf for your shampoo and conditioner? No worries. Hang this adjustable rust-proof stainless steel caddy right over the showerhead, and you're good to go.
Even if you have a place to stash folded towels, you're going to have wet ones to hang post-shower. And you are an adult now, so you probably shouldn't be just draping them over the shower rod or throwing them on the floor. This over-the-door rack takes advantage of dead space and allows you to hang a towel or two without any issue.
I have strong feelings for the double shelf. It's the perfect place for fresh-from-the-wash linens if you don't otherwise have a cabinet or closet to put them in. If it's out in the open like mine is, learn how to fold a towel properly so it always looks neat. And pare down your collection if you can. There's only so much you can fit on one of these things.
Hooks are a great alternative if you're really working with an almost nonexistent footprint. Mount them horizontally in a staggered formation, so you have enough room for a bulky robe or big bath sheet.
These woven bins rule for a few reasons. They're super pretty, made out of sturdy ash wood, and they come with lids if you really want to conceal clutter or messy hair tools and toiletries. Plus, they come in two different sizes.
In my dream bathroom, I have clear, apothecary style and vintage footed jars for cotton balls, swabs, and pads. I might even have a big canister of bath bombs and salts just for show and a pop of color. In reality, I'm using this Threshold sorter for Q-tips and the like because it takes up way less space and still gets the job done.
This is your college bath caddy, all grown up. I mean, I wouldn't be embarrassed to stash this in my room if I shared a bathroom or didn't have a vanity to put my shower supplies in, would you?
Apartment Therapy supports our readers with carefully chosen product recommendations to improve life at home. You support us through our independently chosen links, many of which earn us a commission.