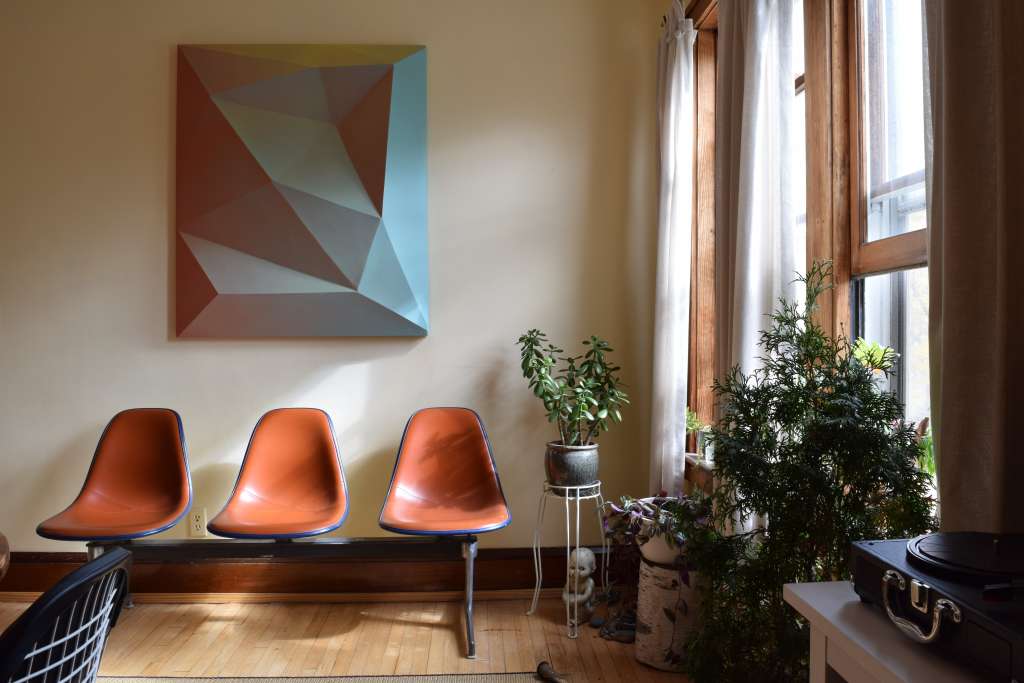 A good piece of wall art can make a big impact in a bare room, but an eye-catching geometric painting has the power to turn an empty wall into the focal point of a room. Don't believe us? Here are a dozen rooms from AT House Tours with awesome geometric artwork to prove our point.
1. Inspired Shapes
A colorful print with clean, bold lines—like this wall print inspired by the paintings of the women of the Ndebele people of South Africa—plays up surrounding geometric patterns and textiles, like we saw in Rhonda Drakeford's East London abode.
2. Symmetrical Statement
A pair of coordinating geometrical paintings in a contrasting colorway, like the bright graphic prints in Gene and Heidi Wyeth's Brooklyn loft, makes a stylish statement in an open layout space.
3. Head's Up
No room for a proper headboard in your tiny bedroom? No problem. A colorful geometric painting, like the graphic screen print we spotted above Jacqueline Rousseau's bed in Manhattan, doubles as a DIY headboard in an all-white room.
4. Strong Lines
When secured in a thin, dark frame, a large pastel-toned geometric painting energizes an earth-toned room without overwhelming the space, like we saw in Kathryn and Perry Bacalis' Denver, Colorado, dining area.
5. Geo Hack
Here's a geo-style DIY you'll definitely wanna try in your own home: Paint half of a trio of small vintage prints in a bright color palette and then hang symmetrically for an unexpectedly shapely display, just like Lucia and Jose did in their Spanish apartment.
6. Gradient Descent
A bold geometric painting in gradient shades of the same hue, like the purple shapes in this print we spotted in Natacha Nay's Berkeley, California, abode, adds a pop of color to a neutral room without overpowering any surrounding furnishings.
7. Handmade Matters
Dreaming of owning a unique piece of geometrical art but don't have the budget to buy one? Take a cue from Jenni and Esai's Michigan home and simply make your own with nothing more than paint, tape, and a piece of plywood.
8. Group Showing
When flanked by smaller geometric artwork and decor objects, a sizeable abstract painting transforms into the centerpiece of a salon-style display, just like we saw in Kristina Sostarko and Jason Odd's eclectic Australian home.
9. Shape Up
A two-dimensional painting, like the hexagonal one in Ray and Laura Uhlir's art-filled Austin, Texas, house, brings new meaning to the phrase "geometric artwork."
10. Dynamic Duo
A graphic pair of geometrical portraits artfully offsets a commanding bed frame, just like we saw inside the AphroChic show home in Los Angeles.
11. Go Big
Anchor and enliven a lofty wall with a big multicolored painting composed of polygonal shapes, just like Lynn Serulla and Adam Kuehl did in their Michigan rental.
12. Think ahead
Invest in geometrical artwork with a vast color palette, like the multicolored one Jenny O'Connor hand-painted for her Livonia, Michigan, house, so it can coordinate with multiple rooms in your home.