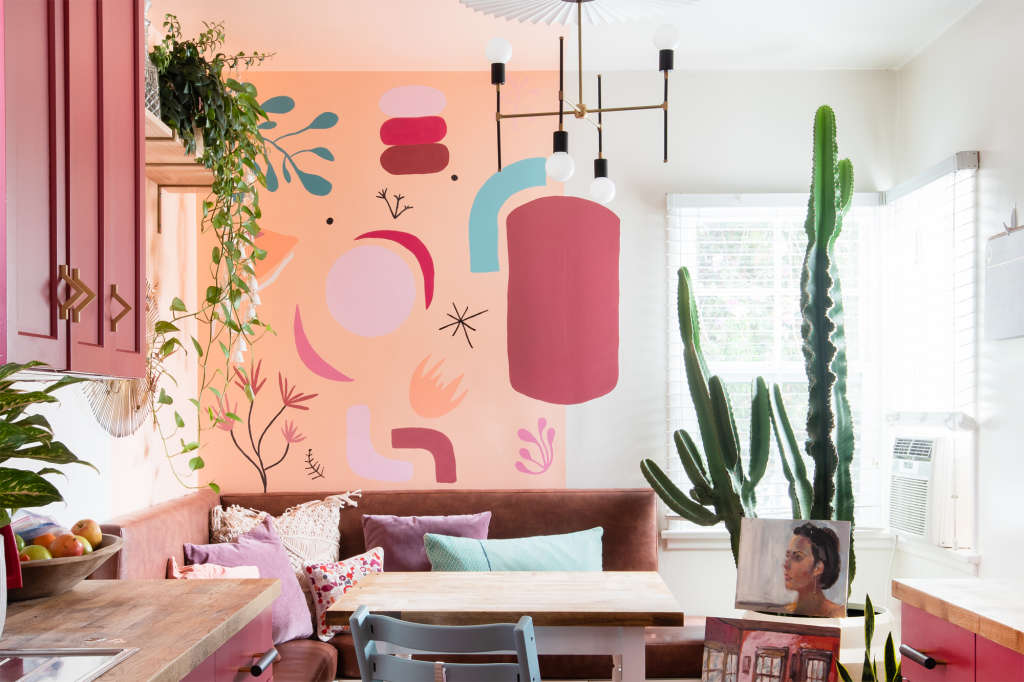 It's officially mid-winter, and if you're anything like me, you're starting to feel a little like you're in a design rut. I just took down all of my holiday baubles and sparkle, and now that those decorative distractions are gone, my place seems, well, a little lackluster. And to a be honest, spring still feels like it's eons away. So I'm not about to change out curtains, bedding, towels, or anything like that into lighter, airier versions of themselves yet. But thing is, now—the middle of January to the end of this month—really is the best time for a fresh decorating start. That is, if you can motivate yourself to make a change. And here's why.
You've Decluttered, and Now You Actually Have Room for Something New
Hopefully, you spent these first days of 2019 Marie Kondo-ing the crap out of your home. Maybe you're even midway through The January Cure. And now that the layer of stuff weighing you down has started to lift, you probably have the space for a little joy-sparking newness in your place. But don't go overboard. Once you've cleared out, you don't want to add a bunch of junk back in. But if you've had your eye on, say, a cool duvet that's a bit of a departure for you style-wise, maybe it's time to splurge? Can you see your walls better than before? It's a great time to try a fun patterned peel-and-stick wallpaper.
You Won't be Entertaining Much and Can Decide if You Like the Risk Without Outside Input
It's hard for your home to be a no judgment zone when you're constantly hosting people. They're going to react to their surroundings, and that's totally fine. But you don't want that getting in your head if you're trying out a bold statement wall, for example. Some people wear their thoughts on their sleeves—and faces. So if you would like to decide on something for yourself, best to do it in January without fearing input from an opinionated friend or relative. It's your home, and it should make you happy. Take a break from hosting. You deserve it.
You're Spending More Time at Home, so You Can Really Live with Your Design Choice
Who isn't hibernating right now? January is one of those months where you just don't go out as much, and that's a good thing when it comes to testing out design ideas. You can really see how light affects the color you just painted your living room throughout the day or whether the way you've just rearranged your furniture is functional. Or if you can actually live with bright pink kitchen cabinets, day in and day out.
Post-Holiday Sales Mean You Can Buy Trendy Things on the Cheap
Taking a risk isn't as scary when you have nothing but a few dollars to lose. January is known for its white sales, so bedding and bath linens are super cheap right now. Maybe go for a crazy pattern or color you normally wouldn't gravitate towards. There are also lots of floor and sample sales right now, as stores clear out older items and make room for new spring inventory. Go for a piece of artwork or furniture that's a little outside of your comfort zone. If you don't like it, you can always donate or resell it.
Pros Are Cheaper This Time of Year
Often times, you can't go at a big design change alone, and you may need someone to consult you on your choices or even execute them fully if they involve moving walls or new construction. Spring and summer work tends to pile up for people like contractors, painters, carpenters and even designers. But when the weather isn't quite as nice, big jobs tend to be scarcer, and rates are more competitive. So if you've been putting off hiring a wallpaperer to hang those black-and-white stripes you've always wanted—or have yet to pull the trigger on the totally edgy contemporary kitchen renovation of your dreams, now may be the time to cross these kinds of projects off your list.
The moral of the story: Just go for it! The design stakes are at an all year low in January, so best to take advantage of that.