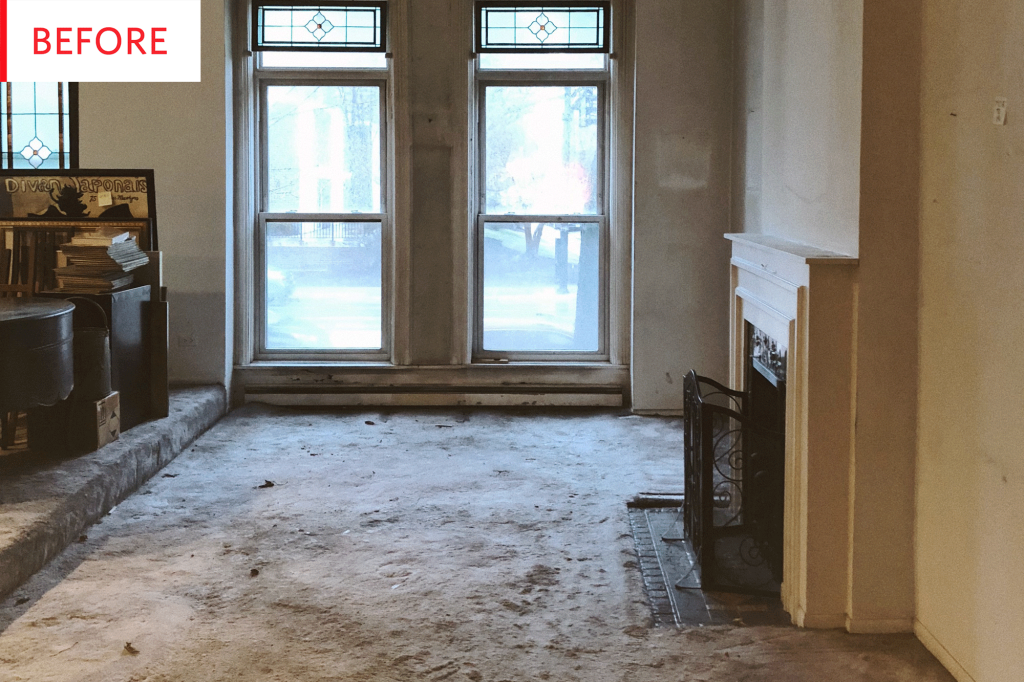 This home on Chicago's Gold Coast was originally built in 1892, but was transformed into condominiums in 1978. This particularl unit—a two-bedroom space with one and a half baths—hadn't been touched since. Covered in old carpet (even in the kitchen, shudder) and in need of a lot of work, Kira Cole wasn't deterred by the design task at hand when she purchased the space.
Not only was Kira in love with the tall ceilings, she was also very familiar with the building and its neighbors… she grew up in the unit downstairs! She knew what potential the space had.
Every room of the home was remodeled except for the half bath (which she'll get to in the future). Up went the living room, kitchen, and (red) master bedroom carpet. In came in a fresh coat of white paint all over the space, as well as Kira's bright, comfortable, eclectic, vintage style in the form of new and hand-me-down furnishings.
The emerald-colored loveseat in the living room is the Magnolia Home Dapper Sofa, the chairs are the Arhaus Pennie Chair, and the Lucite cocktail table is vintage from Three Stars Vintage in Chicago. The living room ceiling light fixture is the Linea di Liara Caserti 6 Light Chandelier.
"I grew up in a space that was very rich in color, materials, and art. I wanted to create my own space that felt calm and comfortable, but with a nod to my parents' eclectic home," explained Kira.
The entire dining set (table and chairs) was left by the previous owner and refinished by Kira.
The kitchen refresh was done on a budget; the cabinets are by Kountry Cabinets for the Homeowners Bargain Outlet (HOBO) and the quartz countertop is also from HOBO.
If you could magically change something about your home, what would it be? Central air and heating! One of the challenges of a vintage space (and one without gas service) is electric heating. Not cheap!
"This is no secret, but Pinterest is an amazing resource. Before buying tile, for example, I could search "hexagonal white tile black grout bathroom" and get an idea for what the space would look like," Kira wrote.
"Take advice from others, but don't let it dictate all your design choices," wrote Kira. "Having done a complete overhaul of my home, a lot of people were very helpful, but each one had a lot of opinions. Ultimately follow your heart—you're the one who has to live there."
Thank you Kira! See all of her home → An Eclectic Chicago Reno Is Effortlessly Elegant