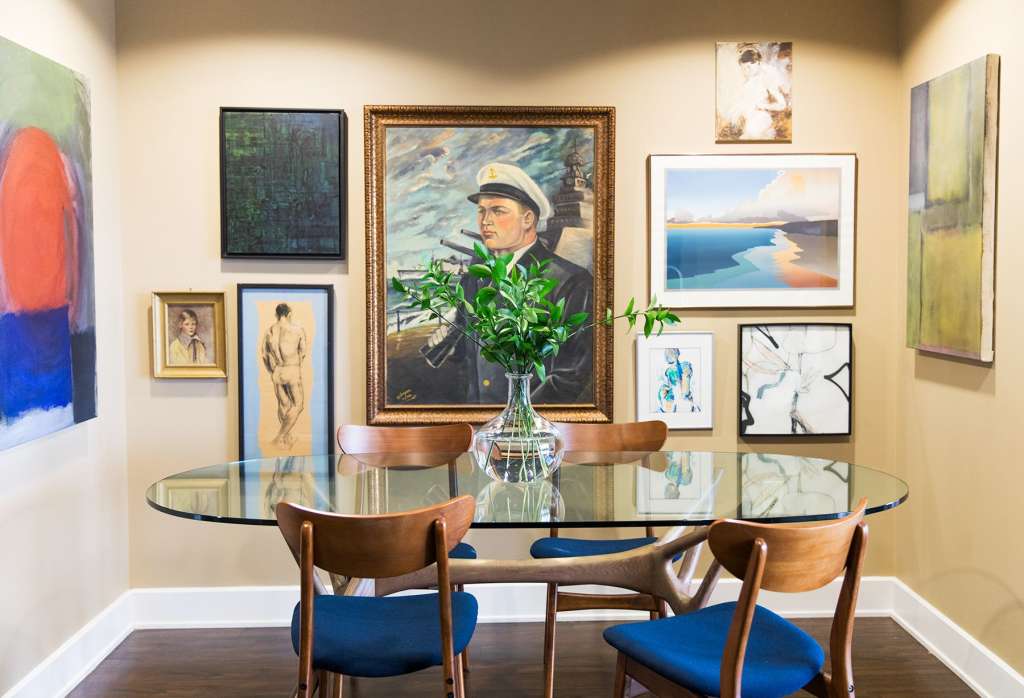 Name: Ricky Rodriguez, my partner, Luke Pharr, and our cat, Mr. Bingley
Location: Austin, Texas
Size: 1,000 square feet
Years lived in: 1 year, renting
Our apartment is situated on the banks of Lady Bird Lake in downtown Austin, Texas. Our household consists of myself, my partner, and my cat Mr. Bingley. When we moved in to our apartment a year ago, we wanted to create a space that reflected both of our personalities. His style is a bit more understated and simple, while I tend to gravitate towards more eclectic and rich design. My partner, Luke, is a painter, so I wanted to make sure that we reflected his work throughout the apartment. His use of color and form paved the way for how we ultimately designed the space. We made it our mission to stay out of the big box stores and look for one-of-a-kind pieces at local vintage and antique shops. We were lucky to inherit a lot of big furniture pieces from family.
Describe your home's style in 5 words or less: Curated, vibrant, abstract, effortless, warm.
What is your favorite room and why? Our bedroom is probably my favorite room because of its simplicity and relaxing color palette.
If you could magically change something about your home, what would it be? I would definitely paint the walls white or light gray. The unit came with the color you see in the photos, so we really had no say in the matter. We were really conflicted about whether or not we should paint the walls since we're renting the space. Ultimately, we should've bit the bullet and just painted the living room and bedrooms.
What's the last thing you bought (or found!) for your home? The Richard Coleman print above the bed designed by HAY.
Any advice for creating a home you love? Use inspirational sites such as Pinterest sparingly. Don't overload yourself with too many references and ideas because it can and will stifle your own instinctive creativity. Go slow and lead with your gut. Take your time and try to look for items that can't be found at the big box stores. Hit up your local antique and vintage shops for furniture, art, and accessories.
Thanks, Ricky!
• Interested in sharing your home with Apartment Therapy? Contact the editors through our House Tour & House Call Submission Form.