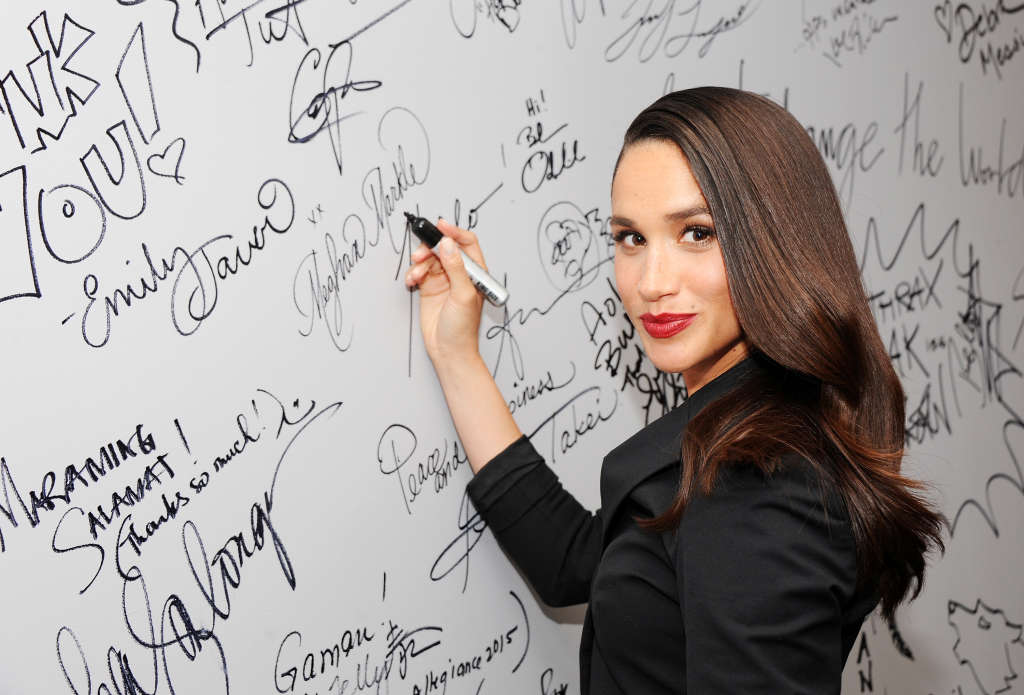 Still looking for a new hobby to pick up in 2019? How about one that's fun to learn and gives you something in common with everybody's favorite real-life "Princess Diaries" heroine, Meghan Markle?
In a 2013 interview with Esquire, Markle revealed that she did a little calligraphy on the side early in her career—she penned wedding invites for Robin Thicke, and managed "celebrity correspondence" for Dolce & Gabbana during the holiday season. And though her royal duties keep her busy, recent photos from her 2018 holiday visits show that her handwriting is still enviable (along with the rest of her life).
Proof that we all want to be Meghan Markle: According to Pinterest, searches for "calligraphy letters" have spiked almost 700 percent recently, with people looking to throw "calligraphy parties" for their friends. (Here's one source of inspo for a letter-themed Galentine's Day).
I can't get you a prince and a castle, but I can offer a few tips on how to get Meghan's handwriting. I've been practicing modern calligraphy and brush lettering since early 2016 (it was my New Year's resolution!), and the hobby is as fun as it is therapeutic. If you're looking for a new skill to take you through 2019, all you need to get started is the right paper, the right pens, and a willingness to write your ABCs over and over. Here are a few tips to get you started:
Decide which type of calligraphy interests you
There are many different types of calligraphy, and ultimately, it depends what you want your hobby to become. Looking for something that you can turn into formal wedding invitations? That would be a very traditional style, with elegant flourishes and ink-dipped pens. Personally, I'm a fan of the more modern style of calligraphy and lettering often called "brush calligraphy," which uses soft-tipped pens to create a similar writing style. This form is a bit easier to learn and the materials are cheaper.
Choose the right supplies
If you're looking to do really traditional calligraphy, with ink and a pointed pen, this calligraphy starter kit is perfect for beginners. For those looking to learn brush calligraphy and lettering, I recommend this beginner lettering set from TombowUSA—the mix of thick and thin brush pens here will help you figure out exactly what tool you like. Their website also has practice sheets you can print at home! And of course, you need the right paper—something smooth that won't fray your pen or nib, and ideally, something with a grid so you can work on even letter forms. In my opinion, this Rhodia Dot Pad is one of the best, but if you're at the drugstore and see a great pad of graph paper, you can go with that, too! (That's how I started).
Practice every single day
You don't have to practice 10 hours a day, but you do have to commit to practicing every day—at least an hour. Start with your alphabet, and be really deliberate about working through each letter. When I started, I had rows and rows of the letter "a," and only when I was sort of happy with where I was going did I move onto the next letter. The trickiest part of calligraphy is mastering the "strokes"—the letters look so sophisticated because the downstrokes are thicker, and the upstrokes are thinner, and this requires a lot of patience and control. Daily practice will build that muscle memory that tells your hand exactly how much pressure you need to apply to make letters you love.
Follow great artists on Instagram
I was so inspired by the calligraphy community on Instagram when I started, and they are all so generous with their knowledge. You'll learn so much by watching others, and you have an excuse to just scroll, scroll, scroll through some beautiful feeds. Some of my favorites: @chrystalizabeth, @journeyofapen, and @calligraphiewithliz. You can also check out The Calligraphy Hub for tons of inspiration in one place or sign up for The Inky Box to join a fun community and get great supplies delivered to you every month!
That's it, four steps! Buy a few pens, practice every day, and follow some pretty accounts on Instagram. Sounds simple, right? One last reminder: Your letters will not look perfect right away. I've been doing this for two years and I'm still working on nailing my lowercase 'f' and my uppercase 'B.' And yet, if your 2019 resolution becomes "practice lettering for 10 minutes every day," you'll see progress. Plus, when you meet Meghan Markle one day (a girl can dream), you'll both have something to bond over!
Apartment Therapy supports our readers with carefully chosen product recommendations to improve life at home. You support us through our independently chosen links, many of which earn us a commission.