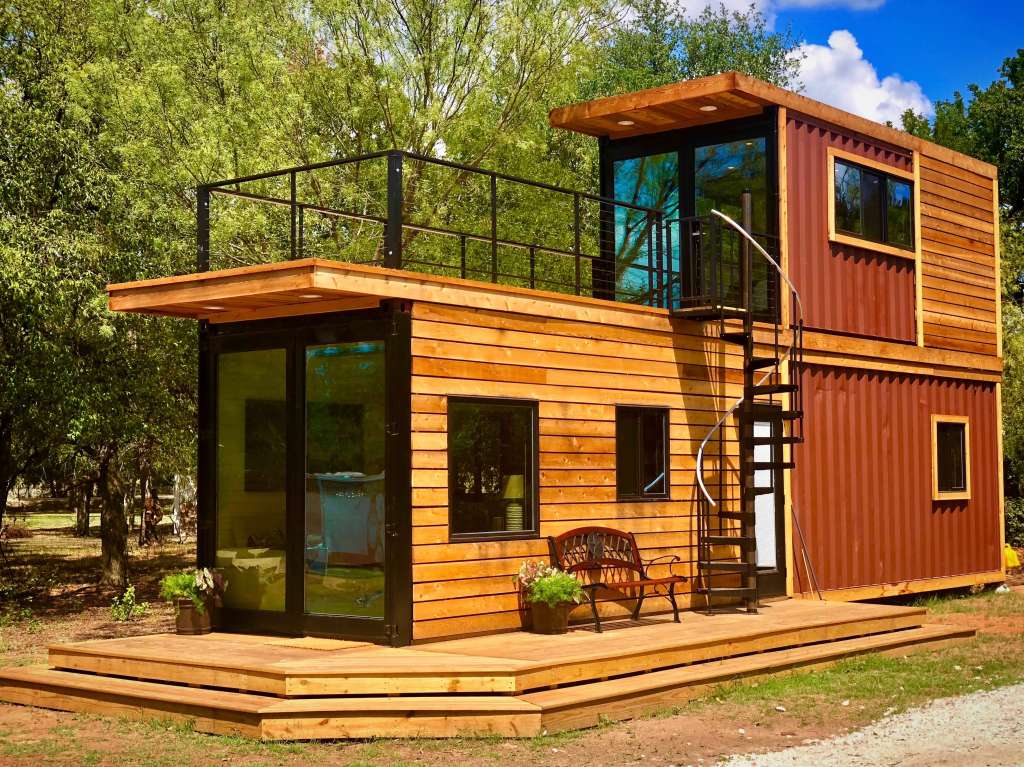 When two of the most popular home building trends collide, you can expect nothing less than stellar results. Guaranteed to put stars in your eyes is this absolutely charming two-story shipping container house from CargoHome. Its stylish tiny digs are roomier than your typical micro home, plus it smartly incorporates the perpetually cool concept of upcycling shipping containers into its chic living spaces.
Located in Waco, Texas, where it's currently available as an Airbnb rental, the "Helm" is comprised of two shipping containers—a 20-foot container on the top level and a 40-foot container on the bottom. The lower level houses a small bedroom, bathroom, kitchen, dining, and living area. Situated on the upper level is a master suite, complete with a full-sized bathroom with a custom tiled shower and a spacious LED light-accentuated rooftop deck, both of which are accessed by an exterior spiral staircase.
In the living room, there's a sofa and coffee table as well as an optional fold-out dining space. The Helm's kitchen options include granite or quartz countertops, a refrigerator, a stove, and a full-sized sink. The dining area features a built-in table and is large enough to comfortably accommodate three or four people.
The interior is clad in pine shiplap and 100-year-old barnwood trim, and the exterior is made of cedar siding and full glass doors.
For anyone interested in giving a trial stay at the CargoHome, the Helm currently rents for $188 a night. According to the listing, the home's two bedrooms and an air mattress guarantees a comfortable stay for six guests.
CargoHome offers buyers several custom build options, which includes selecting exterior cladding material and color, flooring, and paint color. In addition to the Helm, the home comes in two additional models, with prices starting at $38,900. To price your own CargoHome, visit their site to select models and design options.
h/t: Curbed