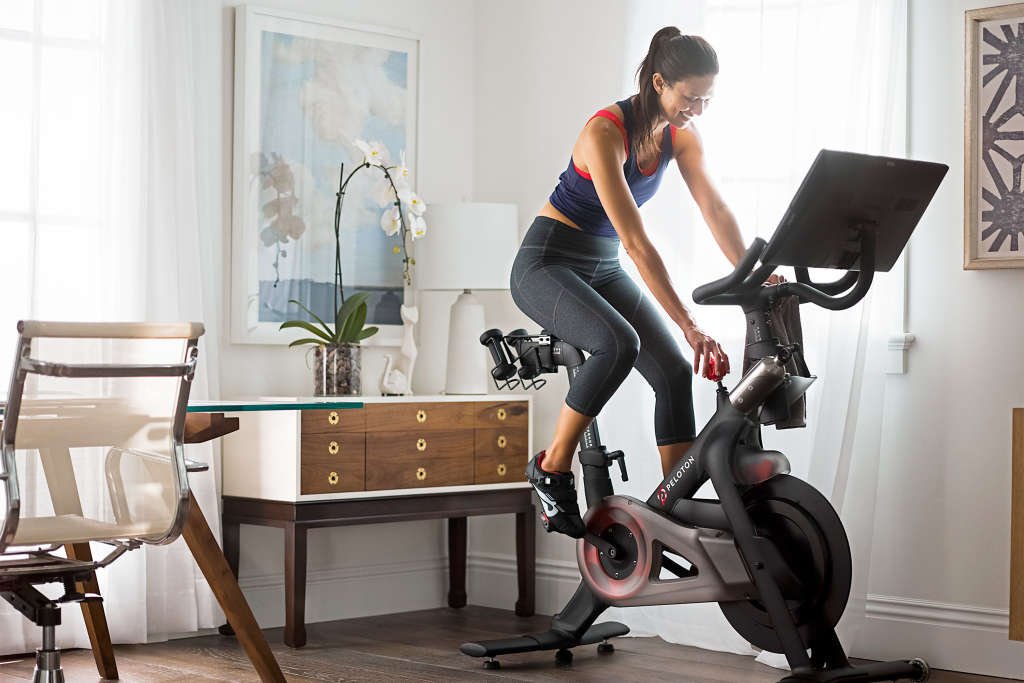 The at-home spin bike concept combines the best of both worlds: The high-intensity cycling workout you know and love with the comfort and convenience of your own space. Whether you're more likely to tune in live or catch an on-demand class for an impromptu midnight workout, the subscription streaming option that comes with most bikes means you can spin at home without sacrificing the motivating, competitive atmosphere of a group class.
The Home Spin Bike Showdown
Since every at-home spin bike comes with different add-ons and costs, it can be hard to tell upfront if the investment is worth it, or if you're better off sticking with your gym membership as-is (Or even hacking together a "smart" cycle—more on that below.)
To help you make the call, we're breaking it all down for you based on the monthly cost of a bike and subscription, then estimating how often you need to ride per month to compare to a typical per-class cost for an in-person spin session, which we're setting at $30.
What we're not factoring in:
Interest rates: Some of these bikes can be had for 0 percent APR payment plans, but that depends on your credit and your unique financing situation.
The cost of accessories, like spin shoes (which you probably will need) or headphones that might be tacked on to spin bike packages. Keep in mind you might need to acquire a few accessories to get started, which could add up to an extra $100 or more.
Sales tax on the bike or the class subscription, if applicable.
Extra shipping fees: Some of these bikes cost more to ship to places outside the continental United States.
Assuming you're considering a home spin bike as an alternative to a monthly gym or spin membership, here's how they size up per month in the first year.
(Worth noting: Each bike brand has different financing terms to offer—24, 36, 39 months—that can drag out the timeline and really make monthly payments affordable, but we're doing the math below as if you paid off the balance in a year.)
Self-touted as "the best cardio machine on the planet," the internet-connected Peloton is a cult favorite for novice at-home spinners and expert bikers alike. So it's no surprise this sleek, touch-screen equipped bike comes with a bit of a hefty price tag.
Cost of the bike: $2,245 for "The Basics" (includes bike, warranty, delivery, and setup)
Per month cost (over 12 months): $187.08
Class subscription: $39/month
Total monthly cost: $226.08
How many times you'd need to spin each month for it to "pay off" against in-person classes: 8 times
Another techy spin option, Flywheel's at-home bike comes with an optional tablet for class streaming, which tacks on an additional $300 to the cost of the bike. The good news is, you can opt out and use your own iOS or Android device instead.
Cost of the bike: $1,699 for the Fly On Demand bike, plus $249 shipping and assembly, and a free 1-year warranty ($1,948 total)
Per month cost: $162.33
Class subscription: $39/month
Total monthly cost: $201.33
How much you'd need to spin: 7 times
A more cost-effective option than Peloton and Flywheel, NordicTrack's highly-rated studio cycles bundle the class subscriptions in with the cost of the bike, resulting in a considerably lower monthly payment without sacrificing quality. NordicTrack has two commercial studio cycle models, but we're looking at the more affordable option below.
Cost of the bike: $1,599 for the Commercial S15i Studio Cycle, plus $249 for delivery and assembly ($1,848 total)
Per month cost: $154
Class subscription: Your first year of iFit is included (it's $33/month after that)
Total monthly cost: $154
How much you'd need to spin: 6 times
Another more cost-effective yet still-connected cycle, the Echelon Fit is supposedly a bit more comfortable than the luxe Peloton, plus smaller and more lightweight. We're looking at the less expensive EX1, although Echelon just introduced an upgrade model, the EX3.
Cost of the bike: $799.99 for the EX1 bike, and shipping is free when you pay up-front for the annual class subscription
Per month cost: $66.67
Subscription: $399.99 for a year (which breaks down to $33.33/month)
Total monthly cost: $100
How much you'd need to spin: 4 times
Hacking Together a Spin Bike + Workout App
If the all-in-one Peloton-style bikes are out of your price range, don't worry: You can buy a cheaper, unconnected bike (anything with a weighted flywheel will work), and sign up for an app with a spin class subscription to watch on your own phone or tablet. (Hot tip: You can get a phone or tablet mount for your "dumb" bike for like $20 on Amazon.)
For instance, Top Fitness recommends the Sunny Indoor Cycling Bike for a budget opton (it's $199.99 on Amazon), and the unaffiliated CycleCast app is available on the Apple App Store or Google Play for $9.99 per month.
Cost of the bike: $199.99
Per month cost: $16.67
Subscription: $9.99
Total monthly cost: $26.66
How much you'd need to spin: Just once!
Apartment Therapy supports our readers with carefully chosen product recommendations to improve life at home. You support us through our independently chosen links, many of which earn us a commission.