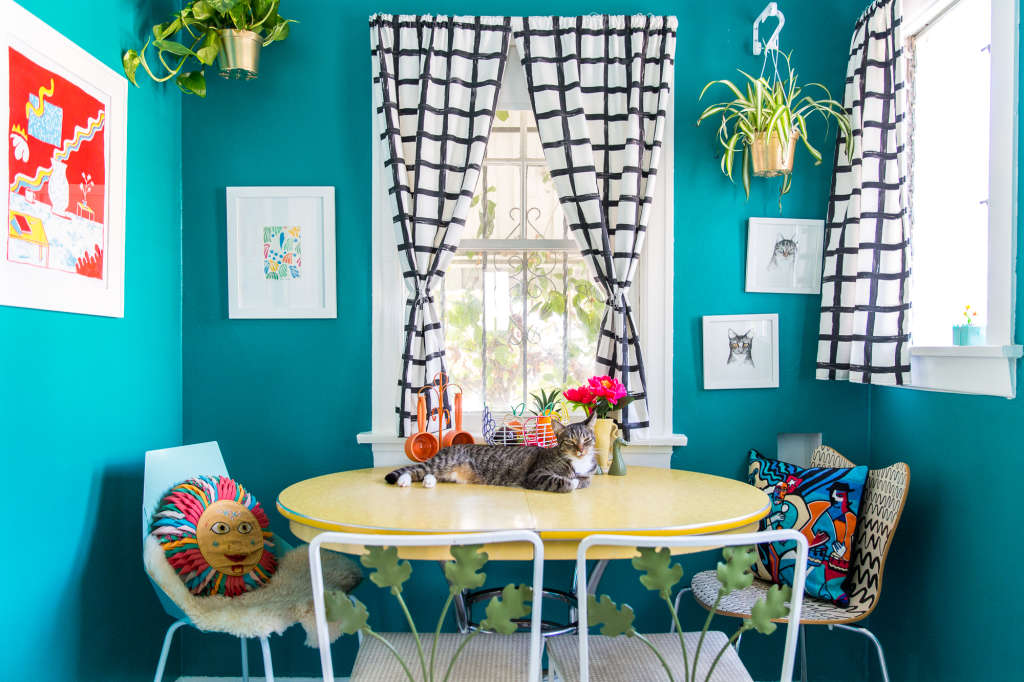 Over the years I've written a few posts on Apartment Therapy about certain home "truths." Like 9 Home Truths We Tend to Forget (That Are Worth Remembering), or the rental-centric 9 Important Design Truths Every Renter Should Remember. I've even shared truths about stuff that we should strive to remember. The reason why these ideas have resonated with myself and others is that the world is an incredibly complex, fast-moving place. It can be easy to lose yourself and your style when viewing an endless stream of beautiful interior design content. It can be easy to forget what home really means to you. The truths below are for anyone who needs the reminder (myself included).
You might suffer from "not-enough-itis" from time to time… just don't let it rule your decor
My friend and Apartment Therapy photographer Jacqueline Marque invited me over to her new house last Sunday. I had already seen it right after she bought it, when it was still empty. Tall ceilings, a purple exterior paint job, and a little courtyard in the back… the place is dripping with charm. But after seeing it decorated—and how good it looks when she posts about it on Instagram—I've been struck with the negative thought that afflicts me from time to time: Feeling like my decor isn't "grown up enough." Or styled enough? Fancy enough? You know, worthy of being a House Tour Editor enough?
Your "not-enough-itis" might be in another form, but still similar. Maybe you feel like your home is never clean enough or organized enough. Maybe you feel like you don't have enough "real" furniture (whatever real means). Maybe you don't feel like you have enough of the house finished… or have used enough color or pattern.
To combat "not-enough-itis," don't look through home inspiration and count all the ways your home doesn't stack up to someone else's… instead count (and appreciate) all the ways your home makes you happy. Don't look for inspiration to steal to make your home look more "enough" for someone else's style. Look for inspiration for ways in which you can make your home its best. And never make any snap design decisions from a place of feeling not good enough… that's how you blow budgets or make design mistakes.
You're a living, breathing, growing being… your home should evolve, too
Anyone else guilty of decorating a room to a certain point and then just…leaving it that way. Like, forever? I sometimes have to remember to force myself to look around rooms to determine if they're still working for me… both functionally and aesthetically. You don't want to hold on too tightly to ideas like "I'm a bohemian style person," or "I only like cool colors." You just never know how your preferences will change throughout the years, and if you keep your home a static, unchanging snapshot, you'll miss the opportunity to allow your home to evolve alongside you. You shouldn't feel bad or guilty about wanting to replace perfectly good things if they no longer serve you, just try to swap out responsibly (selling, refinishing, etc.). Been really getting into some hobby lately? Don't be afraid to make some adjustments in a room or corner that will create a spot you're happy to create in. Speaking of which…
You can use your home any damn way you please
You don't have to use the room in your home typically referred to as your dining room as a dining room. Turn it into a craft room. Rarely host overnight guests? Transform an extra bedroom into a TV lounge. Don't need that entire closet full of junk? Make it over into a home office. Have great natural light in your bedroom? DIY a coffee station and enjoy your morning caffeine right out of the sack. The point is, don't feel limited by how floor plans come labeled… take a real long look at how it would work best for you and just go for it.


Self editing is one of the most underutilized tools (and it's free to use)
It's an old-school suggestion, but one of my favorites… take a bunch of photos of different angles of a room and look at the space on your phone or computer screen. Then see what "sticks out" literally and metaphorically. Are a bunch of wires stuffed under a credenza? Do some wire management. Realize you have 40 plants on one side of the room and none on the other? Maybe do a little rearranging. I'm not suggesting you Marie Kondo your entire house (unless you want to), but like that famous Coco Chanel quote—"Before you leave the house, look in the mirror and take one thing off."—consider taking a few things out of a room to help it feel its most uncluttered, airy self.


It's okay to like stuff (And it's okay to not like stuff)
Then again, if you don't want to self edit, don't. It's totally 100 percent okay to like stuff. LOTS of stuff. If you're a maximalist at heart, pack your home wall to wall with art, accessories, throw pillows…anything that brings you joy. As long as you can afford it and it doesn't do harm, it's your home and you can fill it to the brim if you want to.
In the same vein, it's okay to absolutely hate visible stuff and clutter. If the most peaceful, motivating home to you is one completely devoid of objects on absolutely any flat surface, let your minimalist flag fly free. Don't let anyone guilt you into thinking you have to put more art on the walls or add in color. As always, you're the one who has to live in the space, and it should work for you.