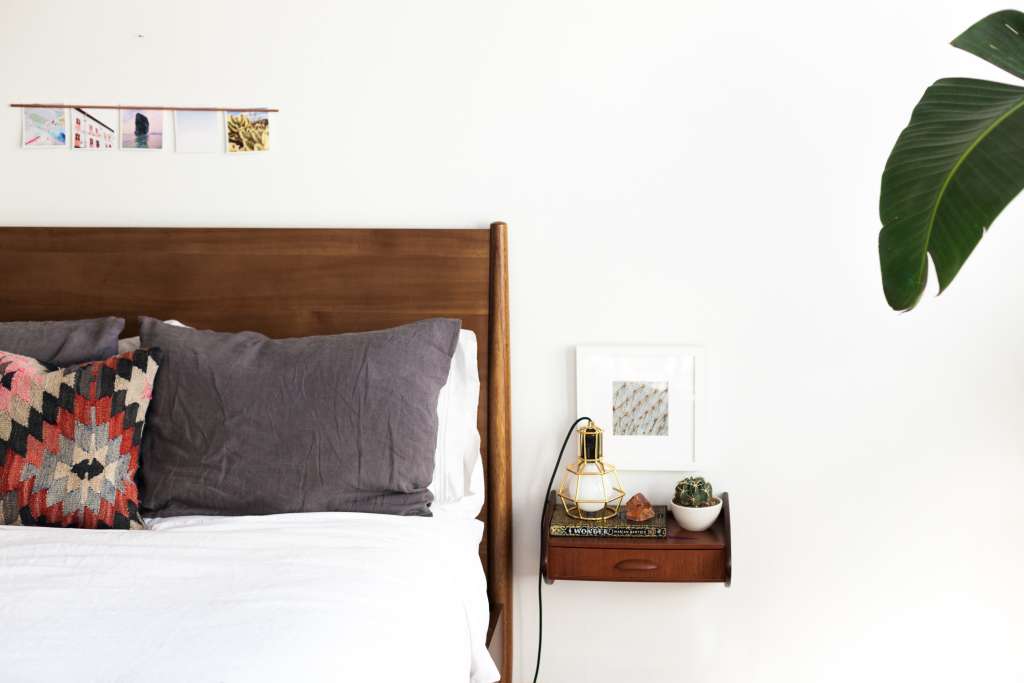 They say money can't buy you love, but it can buy you some great design.
Whether your churn out a D.I.Y. project or buy the finest piece at a fancy, shmancy design show, you'll always spend some money on your furniture and accessories. The question is, how much do you want to spend?
At Apartment Therapy, we've already shared the items you should never, ever skimp on, but what about the products you can buy on a budget?
Below, eight design experts share their favorite cheap thrills:
1. Tchotchkes for Your Shelfie
"Shelf decor is one area you can save on. You can get inexpensive pieces that, depending on how you style them, can look very high end. You'd be surprised by how easily you can make an Instagram-worthy shelf moment without breaking the bank. " —Shannen Olan, social media manager at Dormify
2. Temporary Wallpaper
"Wallpaper is expensive itself and even more expensive to install, so you can cheat the system and get temporary wallpaper! It looks just as high quality and you can install it yourself. It's especially great if you're living in a rented apartment and you're holding onto your hopes and dreams of getting your security deposit back. —Shannen Olan
3. Super-Soft Sheets
"I love my cotton cashmere sheets more than anything, but I always suggest cheap bed sheets for kids and guest beds. You need to be selective by feel, but there are so many super soft bedding lines out there that are low cost, including some at Target for up to $50 for the whole set. " —Kristen Peña, interior designer
4. A Bookshelf
"A bookcase is something everyone can purchase on the cheap! Making a bookcase both functional and aesthetically pleasing is all about styling it: Gather and organize books you love, and accessorize it with found objects and mementos." —Maureen Stevens, interior designer
5. Tables (Really!)
"I'm a firm believer that you don't need to shell out huge amounts on statement pieces from a high-end designer—especially for items like dining room tables and lamps. I'm a Craigslist and vintage fanatic, so I'm always spending my spare time scouring for great deals. I recently purchased a vintage Milo Baughman dining burl table for Otherland's office from Craisglist for only $500—they typically go for several thousands of dollars from dealers!" —Abigail Cook Stone, founder of Otherland
6. Candle Holders
"Accessories such as candle holders or small pieces of decor are great to buy on sale. They add pops of color, are easy to swap out year after year, and don't break the bank. Plan to spend five dollars to $20 on each of these types of pieces." —Alessandra Wood, interior designer expert and director of style at Modsy
7. Throw Pillows
"Throw pillows are always a safe bet to buy on sale or purchase at a lower price point. Majority of them are made of good material no matter how expensive or inexpensive they are. They give you the ability to switch them around and change both the look and feel of the room whenever you would like." —Caroline Grant and Dolores Suarez, founders of Dekar Design
8. Cabinetry
"Inexpensive cabinetry dressed with elevated hardware is a great way to save money and get the look for less. Side tables can also be an easy, fun pop of color or add a sculptural detail. Many can be found very inexpensively." —Nicole Fuller, interior designer
Apartment Therapy supports our readers with carefully chosen product recommendations to improve life at home. You support us through our independently chosen links, many of which earn us a commission.