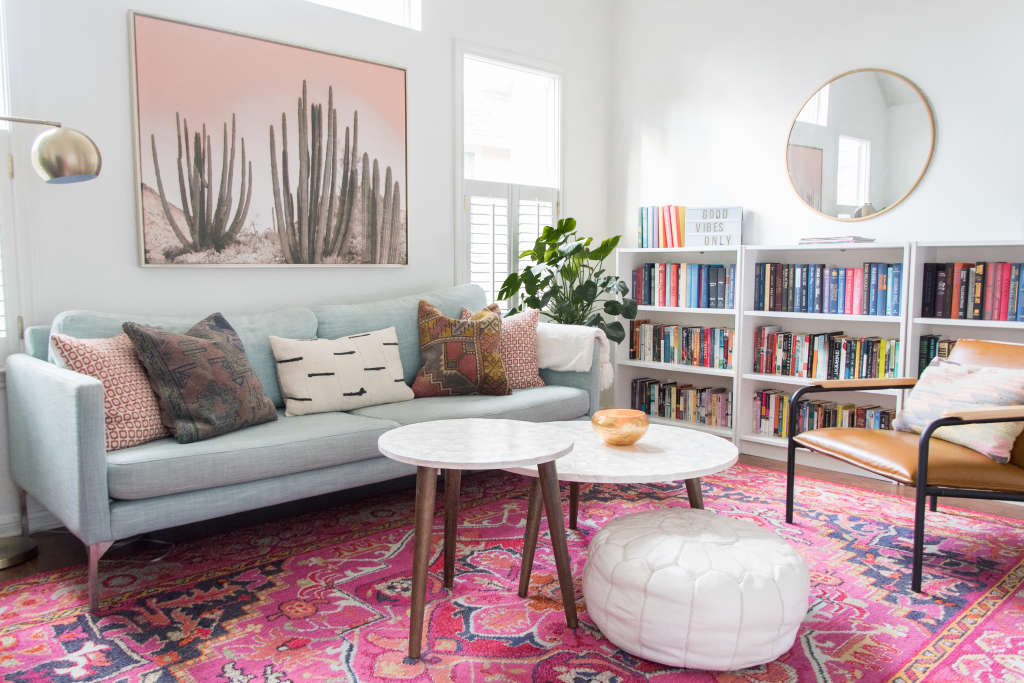 It's official: We're in the depths of winter, and you're probably spending more time at home than you have in months. As fun as it is to hunker down indoors, it can feel like a total downer if your living space isn't quite what you want it to be. (Nothing takes a Netflix binge from fun to depressing like sitting on a sofa you don't like, while surrounded by clutter.) The good news is that January is actually the perfect month for a little living-space spruce-up. Here are some smart ways to put all those extra hours you're spending indoors to use:
Stitch—or better yet, glue—together new covers for throw pillows: You don't need to be an expert seamstress to make new covers for your throw pillows. The easiest way to do this is to find pieces of fabric that already have finished seams, like large fabric napkins or vintage scarves, because most of the work is done for you. Use heavy-duty fabric glue to glue three of the sides together, then fit one of your old pillows into the open side, and glue the final edge together.
Paint furniture feet and legs: Give a ho-hum chair or that old sofa a mini makeover by coating its feet or legs in a bold color. This works especially well on wood legs and feet you can unscrew from the base—flip the seat on its side so you can remove them, then brush or spray on paint. It's a smart way to hide scuffs, and while you're at it, you can replace the glides or furniture pads at the bottom of the legs/feet, which will help protect your floors.
Rearrange your art: You don't always need to buy or make something new to refresh a space—sometimes tweaking the layout is more than enough. Rearranging your furniture can drastically change your living room's look, but so can moving around your art. Have a gallery wall over your sofa? Use the existing hooks to hang one big canvas or framed print instead. Or switch out that single framed photo for a mirror or wall hanging.
Edge shelves: If you want to add a pop of color to a bookcase, decorate just the front edge of the shelves. Paint them a metallic color, or trim them with wide pieces of ribbon adhered with glue or Command strips, so you can easily remove them later.
Wrap a lampshade: Drum up the interest on a basic shade by wrapping it in yarn or rope (try jute for a rustic look, or chunky cotton for a nautical one). Start at the top, hot gluing the yarn or rope to the shade as you go.
Add nailhead trim to furniture: Nailhead trim looks fancy, but it's actually pretty easy to install, especially if you buy it as a strip (versus individual nails). All you need is a mallet or a hammer with some fabric wrapped around the head as padding. Line up the trim along the edge of an upholstered chair or sofa (just make sure the frame is solidly underneath where you want the nailheads to go so they have something to grip into) and tap the nailheads in.
Paint the back of a cabinet: Slide out the shelves, then coat the cabinet back with an unexpected paint color. A light, bright color can add instant cheer; super dark shades like black and navy will make everything on your shelves really pop. If you're a commitment-phobe, cut cardstock or a thin piece of foamcore the same size as your cabinet back, then paint it instead. Stick it to your cabinet with double-sided tape or Command strips, then slide back in the shelves.
Resurface a table: Transform a coffee or side table with a wood or glass top by wrapping it in contact paper, which these days comes in all kinds of chic patterns like wood grain, marble, and animal-print. Just make sure to cut the paper a couple of inches larger than your tabletop so you have enough excess to wrap around and under the table's edge.