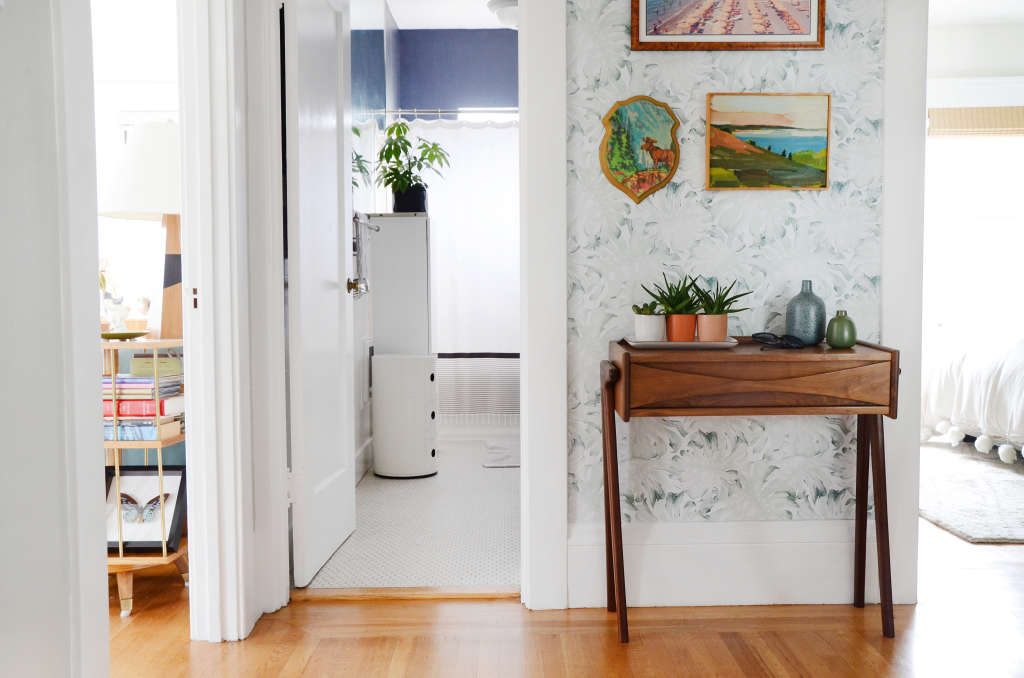 The January Cure is all about refreshing and organizing your home for 2019. We tackle one assignment each weekday throughout the entire month. It's not too late to sign up, and you can visit the Cure page to catch up with the assignments so far.
Positive reinforcement is one hell of a high. In our younger days, we might have been motivated to do almost anything for the promise of a gold star or a cookie. But now, when it comes to keeping the house clean, your reward is something far more fulfilling: An airy, open, fresh-smelling space that you want to enjoy so much you think about grabbing a book, dropping a pillow on the floor and spending the night right there on the floor.
I'm not going to tell you I've spent the night in my bathroom, but I've thought about it. Scrubbing the bathroom from top to bottom is a demanding job, but it feels so so good once you're finished.
So that's what this today's Cure task is all about: cleaning the bathroom. You have the weekend to get it done, so if you want to do a little every day, or just tackle it in one marathon clean, go for it. Make sure to leave a bit of time to admire your sparkling bathroom when you're done.
Today's Assignment: Clean the bathroom and treat yourself to flowers.
First, treat yourself to flowers or a plant or something to give your space some extra life.
Then, deep clean the bathroom.
You might already have a process down that works for you, but if it helps to have a checklist to follow along with, here's a solid gameplan:
Grab the towels that are out on hooks or bars, along with the shower curtain (if you have one) and throw them in the washing machine.
Clear the counter, put everything in a box and move it out of the bathroom temporarily.
Apply your cleaner in the toilet and let it sit while you…
….clean the sink, scrub the tub and give the drains a good flush with vinegar followed by hot water.
Clean the toilet.
Then, do a good overall clean of the counter, tiled walls, and floor with spray cleaner.
Finally, shine up the mirror and replace the towels and your countertop staples.
The last step is to breathe a big sigh of relief, because you're done!
This is A Job, I know. But like I said before the medicine cabinet cleanout from Monday, the bathroom is a really important space in your everyday routine, setting the tone for calm mornings and relaxing nights. So roll up your sleeves and let's get this one done together.
And once you're done, please come back to the comments and boast about your ultra-clean bathroom so the rest of us can ride that wave of good feelings all the way to housekeeping victory.