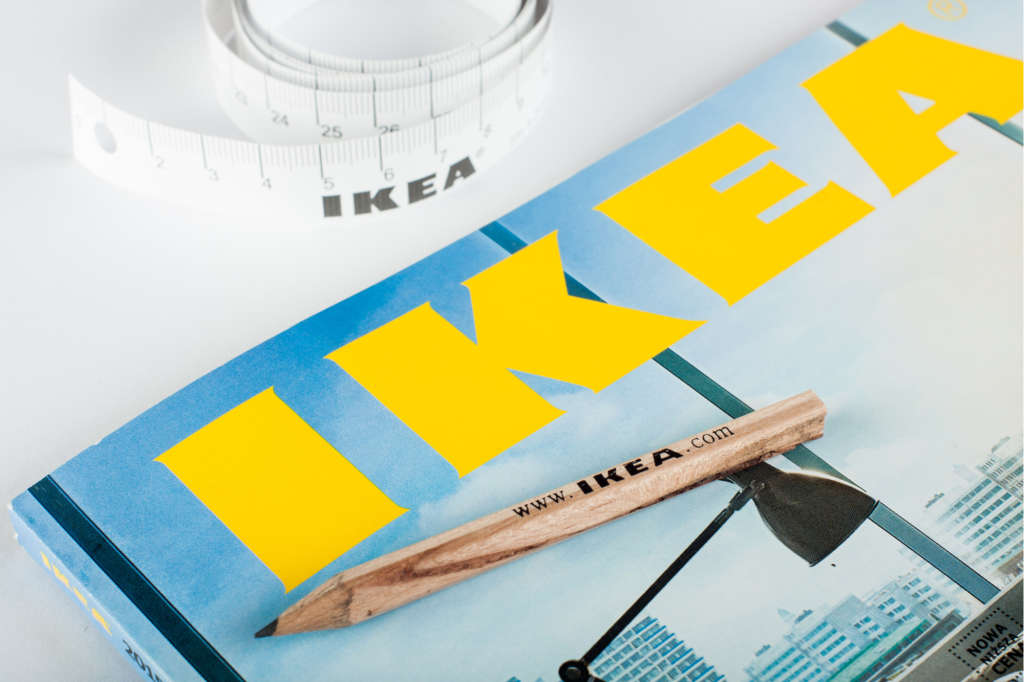 Feel like your living room could use an injection of color, but not sure how to start the process? We feel the same, so we spent some time digging through IKEA's picture gallery for a ton of colorful inspiration. From seating vignettes to open-air concepts, you're sure to be inspired by our favorite images below.
Bonus: The links are shoppable, so if you find a piece (or two) that you like, you can click through to purchase the item you're coveting.
We're loving the ski lodge feel of this cozy burgundy and hunter green space. The plush pillows and inviting throw on the sofa beckon you to stay awhile.
Anchor a dusty mauve room with printed curtains that both complement and contrast. The bright pops of yellow in the area rug and sofa pillows are an unexpected surprise.
This seafoam green wall is the perfect backdrop for IKEA's tufted Landskrona leather sofa. Add in a striped black and white rug for a graphic effect.
This fun green accent wall ties in all of the primary colors featured in this room: canary yellow, fire engine red, and emerald green. The hammock suspended from the ceiling adds a fun touch.
This room brings smaller doses of color to the table in the form of the curtains, a task lamp, pillows, and a fringed rug. The neutral sofa keeps it from feeling overwhelming.
We love the modern feel of this airy room. Thanks to a rounded mirror above the sofa, a pair of lanterns hanging in unison, and black and light wood accents, the space perfectly incorporates color in a beautiful yet subtle way.
If you're short on space, try incorporating smaller doses of color throughout to keep the room open and flowing. By eliminating end tables and choosing a shorter sofa, the bright touches of color and playful stripes can really shine.
The Stockholm sofa, one of our personal favorites, gets dressed up with the perfect shade of hot pink. The bright pillows, candelabra, and area rug inject an infectious pop of color that pairs with the artwork in the most subdued way.
Instead of a more traditional sofa, try grouping two armchairs together for a cozier feel. By placing them in front of a long, low bookcase topped with vases, candles, and artwork, it can instantly create an intimate area for both conversation and reading.
This space feels lofted, thanks to a low-hanging pendant light, pine storage cubes, and an oversized rug. The Kelly green sleeper sofa takes center stage and is accented by fun wall decals and a swipe of similar color in the window frame.