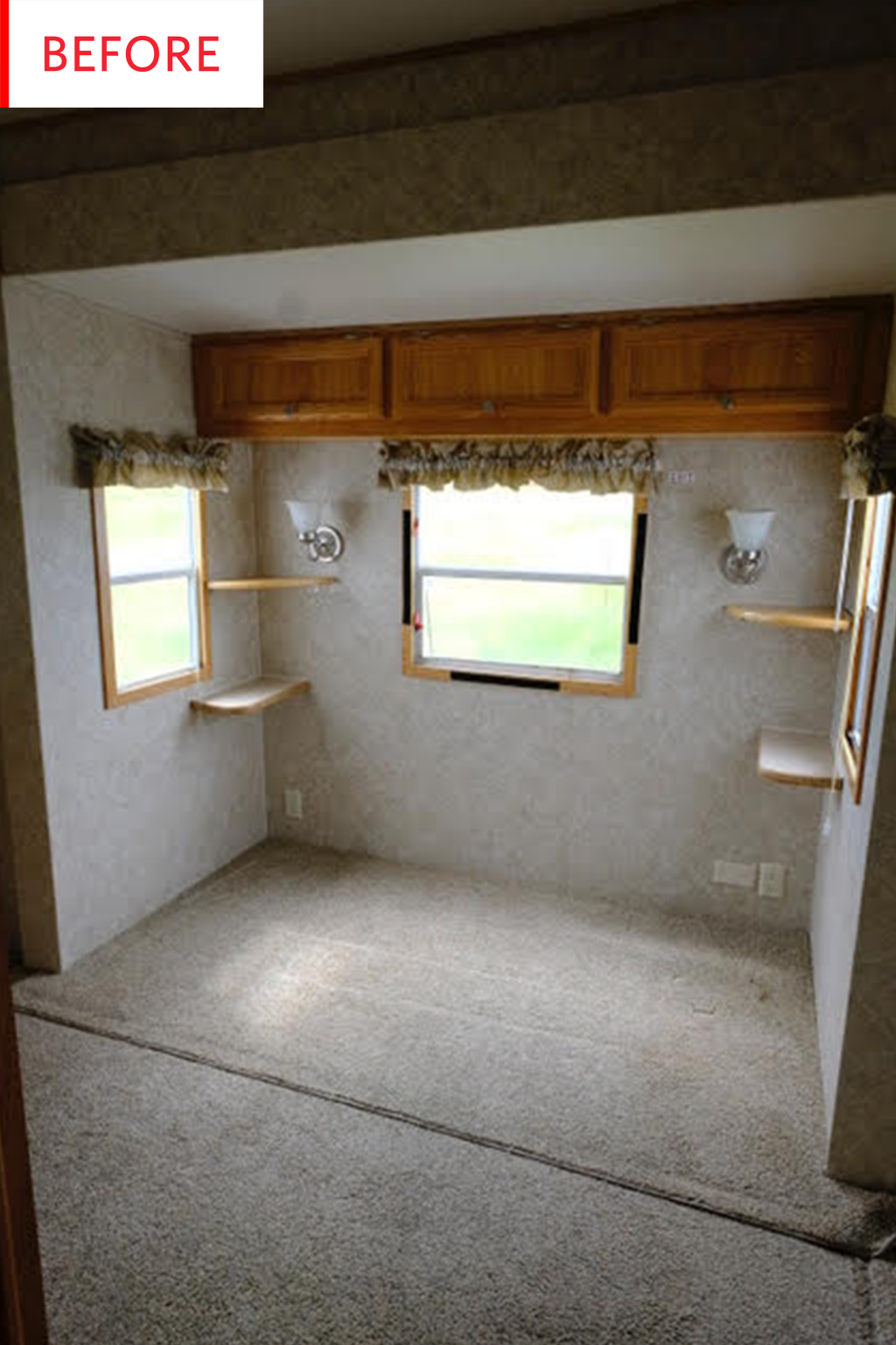 The bedroom in this 2005 RV had a lot of beige and a bit of '80s flair—the intensely gathered valences!—but also boasted handy outlets, wiring for lighting, and tons of glorious daylight streaming in. So one talented DIYer created a bedroom worthy of the gorgeous Oregon views through the windows.
Ashley of Joyfully Growing took a cramped-feeling bedroom with a lot going on—four shelves, three windows, three window treatments, three overhead cubbies—and transformed it into an open, airy, serene space. Yes, one window was covered to create a plank statement wall, but the new white paint and the removal of the ceiling storage unit make the room feel twice as bright—even with only two windows. The other colors in the room are soothing, with cream, brown, black, brass, and rust adding warmth and contrast to the white room.
That plank wall—Joyfully Growing has a DIY guide—is a brilliant way to add the beauty of wood to a room that doesn't have any space for a wood floor, wooden nightstands, and so on. It is simple yet dramatic.
The brass sconces complement the wood without pulling too much attention away from the gorgeous planks. (The sconces, from PERMO on Amazon, are also available in black, white, and chrome.)
There's no lack of functionality in this beautiful RV, either. Ashley built a bed that can be easily lifted to access some secret storage below for less frequently used items, while the bins below the bed's overhang are perfect for storing linens, towels, and more.
This photo reveals that the bedroom is set apart from the rest of the RV by a light-blocking linen curtain from Target. While a curtain will never offer the privacy of a wall, every hint of privacy or division of space is absolutely precious in small space living. Sometimes you just want to snuggle up in bed and read without having to stare at the dishes in the sink, and a divider curtain lets you do that when your bedroom and kitchen are one and the same.
The subtly textured natural cotton bedding and the linen curtain pair beautifully, joining the wood planks, woven baskets, and knotted wool rug to create a lovely interplay of textures without being too busy in a small room.
Be sure to check out the rest of Ashley's photos for more of this impressive RV bedroom!
Thank you, Ashley of Joyfully Growing!