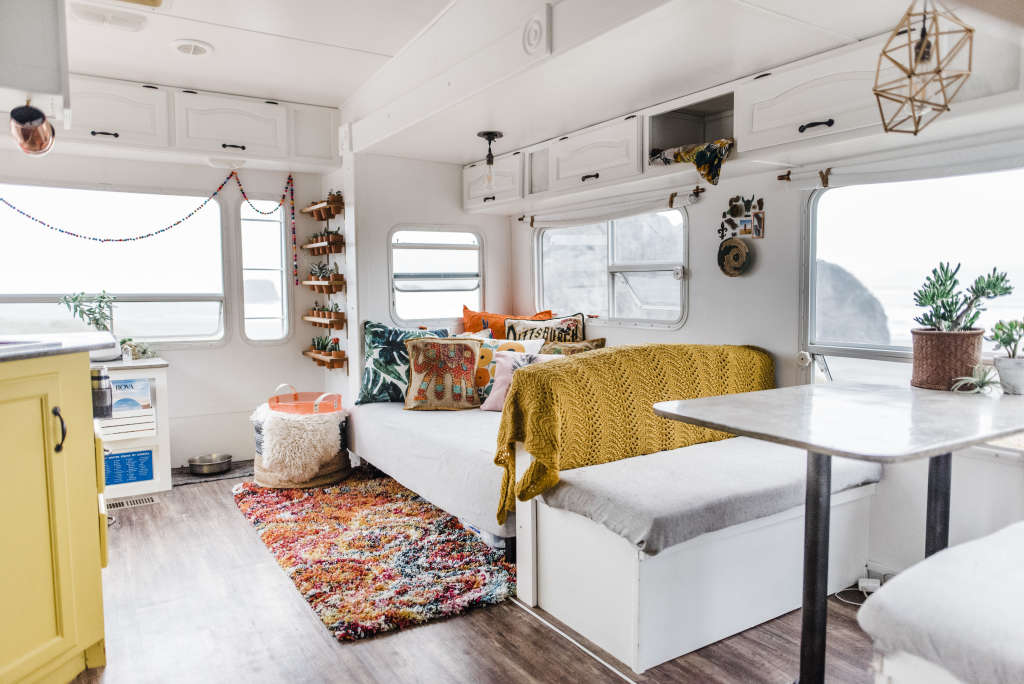 Living in a tiny home not only means having fewer things in a smaller space—it also means buying intentionally and purchasing items that help reduce clutter and make the most of your precious real estate. But intentional, double-duty items don't automatically equal expensive—some tiny dwellers swear by space-savers they bought for just under $5. Here's five cheap buys they recommend:
Kelli Reamy has been living in a 27-foot fifth wheel for three years now while she finishes the inside of a 36-foot-by-16-foot cabin in Okesa, Oklahoma. She confesses that she can't live without one simple kitchen item: a collapsible colander/strainer. "It hangs on my wall and takes up no room," she says. "The regular ones take up too much space in my limited cabinets!"
Lynne Benelli downsized from a four-bedroom home in Florida to live off the grid on one-third of an acre in an 8-foot-by-20-foot tiny house on wheels in Spring Branch, Texas.
Since she has such limited floor space, she's found that hanging toy organizers are perfect for using vertical space to get stuff off the floor. This organizer is flexible, can fit anywhere, and holds a large range of items, says Benelli.
Kerri Fivecoat-Campbell, the author of "Living Large in Our Little House: Thriving in 480 Square Feet With Six Dogs, a Husband, and One Remote," lives in a tiny home in the Ozark Mountains with her rescue dogs. She swears by fairy lights, as they provide a helpful light source without taking up the space that a lamp would.
"I like lighting with these because I get up in the night and it's helpful to have soft lighting to help light the way," says Fivecoat-Campbell.
Abigail Epperson, a tiny dweller documenting her travels on Our Wandering Family, lives in a converted 2002 Thomas school bus with her family of five, writing about their travels on .
With a big clan and limited space, Epperson depends on items such as this Pressa clothes hanger from IKEA. "It's compact and easily hung from a multitude of places," says Epperson. "With 16 clips, we can get a decent amount of clothes hung up, and even though it's under $5, it's incredibly durable and will last a long time."
Nathalie Linge travels around in a renovated 1969 Airstream Globetrotter with her fiancé Louis and her pup Parker, sharing their adventures on their Instagram @cedar.stream. For a time, they stored their herbs and spices in tins with magnets as a space saving method—but they found that the tins fell off while driving. Now they use these interlocking bead caddies to store their seasonings.
Looking for more creative small space organization solutions? Here are seven great ideas, brought to you by Tiny House dwellers.