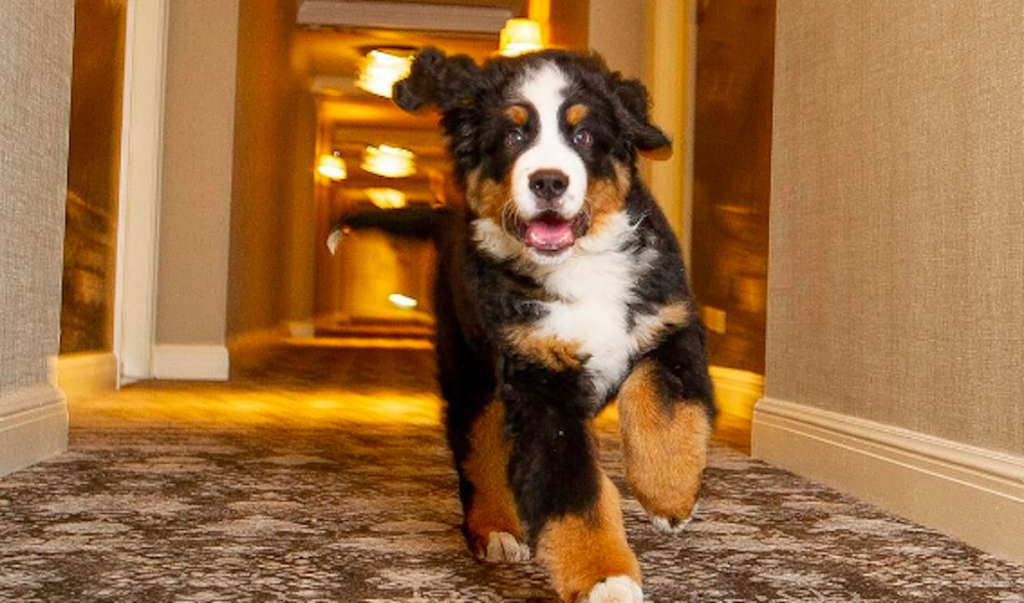 Traveling to a hotel can be very luxurious, especially when the destination is somewhere upscale like Aspen. Hotels can offer beautiful views, fancy robes and slippers, and you don't have to make your own bed. The tiny toiletries and room service are proof that you're definitely not at home anymore. However, as nice as it is to stay in a hotel, it can be lonely if you have to leave your dog at home.
Dog lovers know that sleeping with your pet can be very comforting, even if they totally hog the covers and pillows. Spending a night away from your furry friend can honestly be quite distressing. This hotel in Aspen knows that spending time with dogs can honestly be very comforting for many people.
The St. Regis Aspen Resort has a resident Bernese Mountain dog, named Kitty Jacob Astor IV. Kitty's name is actually a tribute to St. Regis Hotels founder John Jacob Astor IV and his dog Kitty. The puppy, born in July 2018, is the first ever dog to live at the Aspen hotel. Since becoming the hotel's first brand dog, Kitty has an Instagram showing off all of his adventures.
Guests at the St. Regis Aspen Hotel can actually get to interact with Kitty quite a bit during their stay. Kitty takes part in story tie for children, helps with guest pickup from the airport, will cuddle guests in the lobby, and is even available for a goodnight nuzzle! St. Regis announced the exciting news that Kitty would be the property's first dog on Christmas, calling Kitty their present from Santa.
Kitty shares all of his adventures at the hotel on his own Instagram and he seems to have a dream life. He gets to enjoy bowls and bowls of fresh snow. Kitty takes on the snowy trails in Aspen and reports on the snowfall for all of his followers. You can track all of Kitty's daily activities by following him on Instagram.
Not only does St. Regis Aspen Hotel have Kitty on hand for guests, but they also allow people to bring their own pets. There is a $25 one-time fee and a $25 daily fee for dogs staying at the hotel. The hotel offers many amenities for dogs as well, including dog beds, copper bowls, hiking vests, dog carriers, car seats, puffy jackets, joggers, booties, a custom food menu, leashes and poop bag holders, and even doggy baths via request offered by the Rocky Mountain Pet Shop.