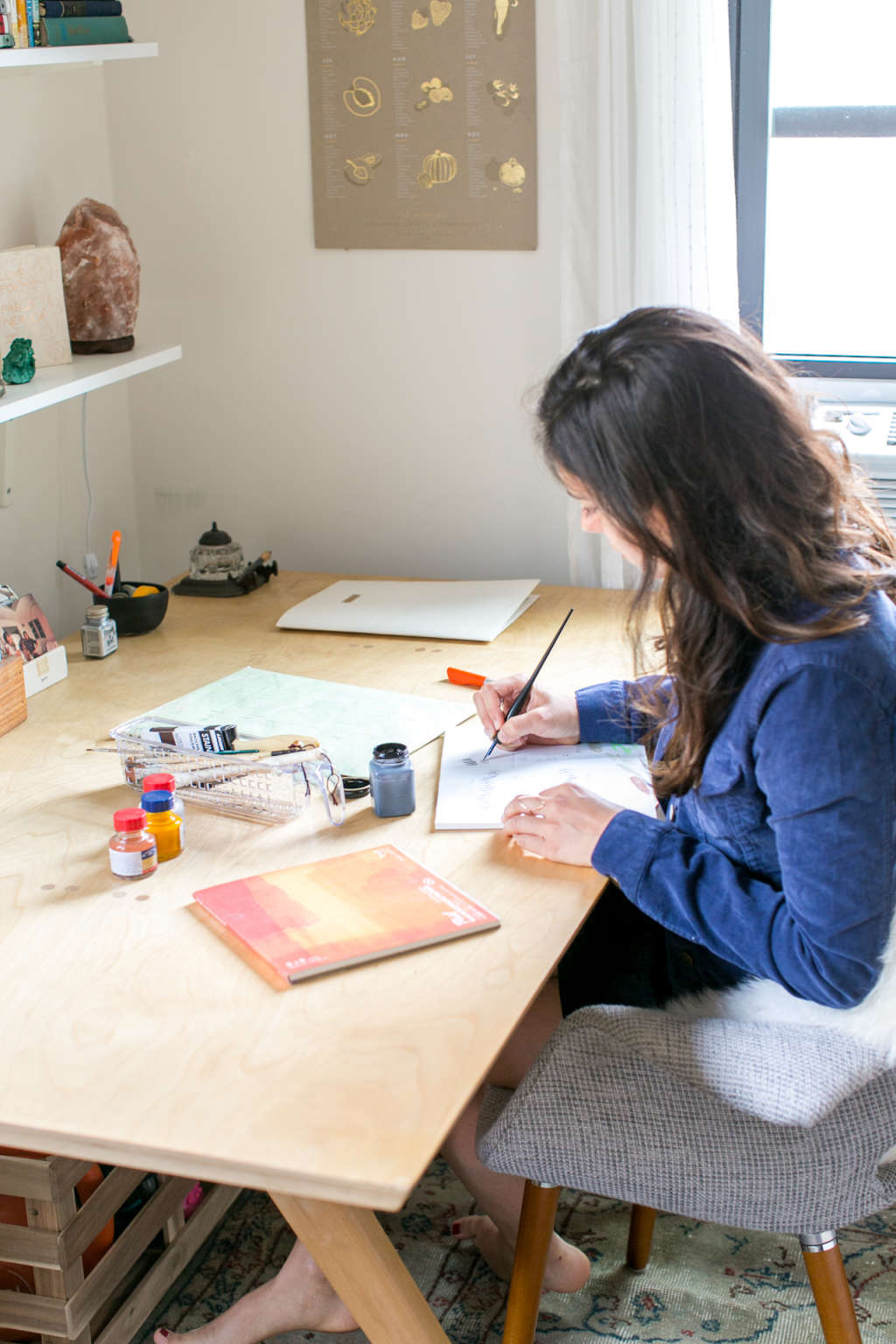 New year, new you, right? You may notice yourself turning inward this time of year, reflecting on the direction you want to take with your life. About the things you want less of, and also what you want to include more of. It's the perfect time to slow down and make some space to explore a new creative journey.
And bonus: Taking up a hobby is a soul-filling way to practice self care. Here are some kits to get you started, all of which include everything you need for under $50.
Fermentation
The benefits of probiotics have become a mainstream topic, and fermented foods are one of many ways to get your gut health in check.
This Masontops Complete Mason Jar Fermentation Kit comes with everything you need to make a foray into fermentation safe, easy, and successful. Glass weights ensure your food stays below the brine, a packing tool helps push veggies down into your jar and get air out, and special lids allow air to escape but keep what's inside the jar safe from contaminants.
Anyone who enjoys cooking or healthful living, especially if they've toyed with the thought of making their own fermented food, would enjoy this kit. It makes this cost-effective and deliciously healthy hobby straightforward, efficient, and just about foolproof.
Crocheting
Combining DIY and the '90s accessories trend that's back in vogue, this Money Honey Clutch Bag Kit comes with everything you need to make a cute rafia clutch for less than the price of buying one. It's a beginner kit, so if you're new to crocheting, this could be a good project. Even those who know how to crochet, though, always enjoy a set that contains everything they need right at their fingertips.
Hand Lettering
This modern day take on calligraphy doesn't require a fountain pen and ink (although you should definitely try out that medium if it interests you). Hand lettering can be done with anything from an old humble pen or kids' markers to fancy brushes and ink. Whatever you prefer, hand lettering is a beautiful, useful, and therapeutic undertaking.
The Wildflower Art Studio Hand Lettering Kit comes with everything you need to take a stab at it, including practice alphabets, several pens, a watercolor set, chalk, chalkboard, eraser, and practice books. It's best for beginners who want to dip their toes into the hobby. Artistic leaning folks who are getting started with bullet journaling or who appreciate the power of text and words would be especially excited for this kit.
Candle Making
Whether you want to make them as gifts or just for your own personal fun, candle making is a hobby that leaves you with something handmade that you can enjoy for a long time to come.
The DilaBee DIY Candle Making Kit comes with soy wax, fragrances, dye, instructions (perfect for gift-giving), a melting pot, bow tie clips, stir sticks, wicks, a thermometer, candle tins, and glue dots—everything you need to make your first set of candles.
Weaving
For meaningful handmade home decor, nothing adds personality and texture like a woven wall hanging. And making one is soothing and tactile. This Weaving Wall Hanging Kit includes a reusable loom, printed instructions, warp thread, the choice of two colors of wool roving, and "reassurance and support." It would be an excellent housewarming gift for someone who enjoys creative projects and meaningful art.
Pour Painting
Pinterest reports that searches for "pour painting" on the platform have gone up 660 percent in the last year. Pour painting, if you don't know, is a painting technique in which the artist allows the motion patterns of the flowing paint to create the finished piece. Mixing colors and organic sweeps and flows result in a unique and surprising piece of art that is not only really, really fun to make, but also a home decor or gift piece that's one-of-a-kind and personal.
While acrylic paint pouring is mesmerizing to watch, the Pour Art Starter Kit makes the technique super convenient to try out at home. It's perfect for an art enthusiast who's always eager to explore something new or someone who loves to create but thinks they're "not an artist." The kit includes a canvas, drop cloth, instructions, oil, and nine shades of paint.
Cake Decorating
Learning how to decorate cakes and cupcakes is a great hobby for those who love to celebrate moments and honor special occasions with homemade eye-pleasing confections. A unique advantage of hobbies that involve cooking is that the end pieces can be consumed, so creating doesn't leave you with an excess of beautiful things in your home.
The Wilton Beginners Cake Decorating Kit will get you started with the tools you need to elegantly frost a cake, then the Wilton 46-Piece Deluxe Cake Decorating Set will arm you with piping tips and pastry bags to practice your hand at decorating your sweet treats. People who love to bake but have yet to step into the world of cake decorating would love these kits, as would a young parent who enjoys making handmade treats.
Making and Decorating with Miniatures
If you love to decorate and feel confined by space and the expense of decorating your own home, dabbling in miniatures might be your cup of tea. Kits like the Robotime DIY Dollhouse Mini Green House Kit let you indulge in the hobby without taking up too much time or space. Complete with illustrated instructions, glue, tweezers, tiny plants and furniture, and even LED lights (!), this kit is perfect for people who like a project that takes a couple days and leaves them with a miniature world to look into.
Planning and Journaling
When you combine your calendar, to-dos, and memory keeping, you have a hobby that allows you to record your days as you're keeping a handle on them. This Happy Planner Kit comes with just enough inspiration, direction, and pretty accessories to help you slow down and reflect in small, bite-sized, and therefore sustainable, chunks of time. It's perfect for someone who loves memory keeping but doesn't have much time or space to devote to that more-consuming hobby.
Goat Milk Soap-Making
Goat milk soap is having a moment. Aside from the skin benefits of using goat milk soap to wash up (it's creamy and soothing, it contains AHAs to help slough off dead skin, and it's extremely hydrating), making your own allows you to channel your inner Laura Ingalls Wilder and create some pretty unique gifts as well.
This beautiful Cashmere Soap Kit from Bramble Berry includes the supplies you need to make 12 cashmere-scented bars: the goat milk soap base, fragrance oil, mold, and instructions.
Apartment Therapy supports our readers with carefully chosen product recommendations to improve life at home. You support us through our independently chosen links, many of which earn us a commission.