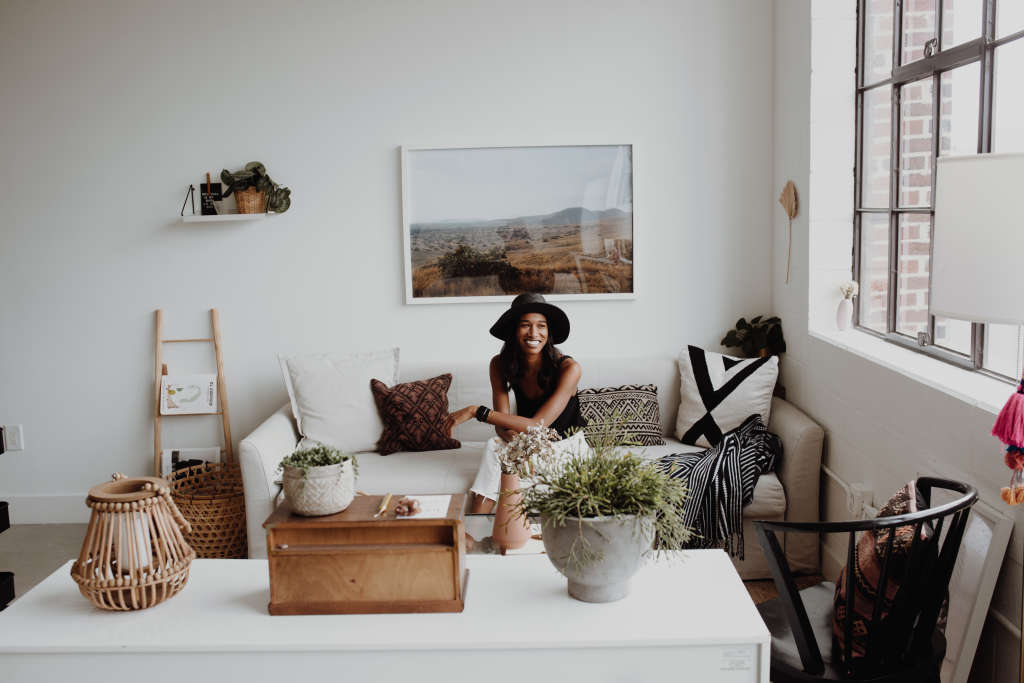 Name: Giana Shorthouse
Location: FLATS at Ponce City Market — Atlanta, Georgia.
Size: 655 square feet
Years Lived In: 2 years, renting
I'm a designer and prop stylist living at Ponce City Market; the building is a historic, mixed-use community hub and listed on the National Register of Historic Places. My apartment is an extension of me and what I do. Stylistically, it leans more on the side of minimalism, or half minimalism and half collected, curated things I've picked up throughout the years—leftovers from photo shoots or things I've picked up at local shops and on trips. Everything has meaning behind it to some extent.
A portrait by my friend and Atlanta artist Sheyda Mehrara sits atop my dresser in the cozy bedroom alongside built-in shelves filled with thoughtfully placed trinkets. I also have a crystal collection, which I move around the apartment often. This is the case with many design pieces. I'm constantly changing design elements based on what I find around town and during my travels.
Apartment Therapy Survey:
My Style: Bright, Airy, Collected, Versatile, Purposeful
Inspiration: As a creative, I'm always taking in ideas. I lean towards objects that are minimal and somewhat indigenous in style. I also love texture and natural materials. One of my favorite places for inspiration is the desert and the homes in these areas.
Favorite Element: The main room is my favorite—everything is there in one place. I can lounge, entertain, enjoy food and work all in one functional space. I also appreciate the big windows and bright light—I don't think I could live comfortably without an abundance of natural light.
Biggest Challenge: Space! Compact living is all the rage right now, and it requires a great amount of planning, self-control, and intention. Being purposeful with how and where I store away my things is a challenge but well worth the trade for the location.
Proudest DIY: My bedroom. I like to have breathing room in my bedroom and personally stay away from anything that feels heavy or crowded. When deciding how I wanted to frame my bed so that it felt peaceful, grounded, and comfortable, I struggled. I didn't want to buy a new bed or an oversized headboard to cozy up the space, so I decided to create an illusion of a headboard instead. To achieve that, I painted half of my wall a dark charcoal gray with a navy undertone and added some trim painted the same color to make it feel intentional. Because I also didn't want side tables to save space, I mounted vintage cigar drying boxes to the wall on either side of the bed and stained them so that they had a warmer finish. This made my room cozier and didn't require a huge financial commitment. I think I spent right around $100 to make it all happen!
Biggest Indulgence: I don't really have a big indulgence anymore. It used to be anything that enhanced organization, but I realized that my need to indulge in pretty bins, baskets, boxes etc. came from me having too much stuff. Since I've come to that realization, I'm pretty good about not excessively bringing new things into my home and letting things go that I simply do not need.
Best Advice: "Less is more," and only invest in things that make you happy. Retailers are great at selling a complete vision to those who don't have the time or the eye to put their spaces together themselves, but I believe that this approach sometimes limits our creativity and makes us feel like we have to constantly consume more by buying into the latest trends. My overall advice would be to challenge you to build your space overtime and allow it to evolve as you collect things over the years that you love. Utilize professionals to help edit, but in the end a home should be a true reflection of you.
I really love the idea of "Lagom," a Scandinavian word for "Not too little, not too much." There are many books about the concept, and it's a great reference for learning how to build a space that you love while editing out things that aren't necessary.
Resources:
ENTRY
(Artwork) — Framed photographs from friends & photographer couple Forrest Aguar & Michelle Norris @tropicophoto
(Catch-all) Wired Basket — Anthropologie
(Mirror) Large Nissedal Mirror — IKEA
(Bench) Skogsta Bench — IKEA
Various Miscellaneous Collectibles from travels and vintage stores
MAIN ROOM
Holmsund Sleeper Sofa — IKEA
Glass Coffee Table —Urban Outfitters
Alba White Lacquered Credenza — CB2
Black Wooden Slatted Side Chair — West Elm
Photograph Taken in Mercy Springs, California and Custom Framed
Mid-century Bistro Table — Consignment
Marte Bistro Chairs — Urban Outfitters
Go-Cart White Rolling Bar Table / Desk — CB2
Counter Stools — West Elm
Pax Storage Tower with White Lacquer Door — IKEA
BEDROOM
Bed with Wooden Legs — IKEA
Stockholm Cane Bench — IKEA
Cafe Chair — BoBo Intriguing Objects
Holfred High Chest— Scandis
Framed Portraits by Sheyda Mehrara and Yoyo Ferro @sheyda_m @yoyoferro
Thanks, Giana!
---
Apartment Therapy supports our readers with carefully chosen product recommendations to improve life at home. You support us through our independently chosen links, many of which earn us a commission.