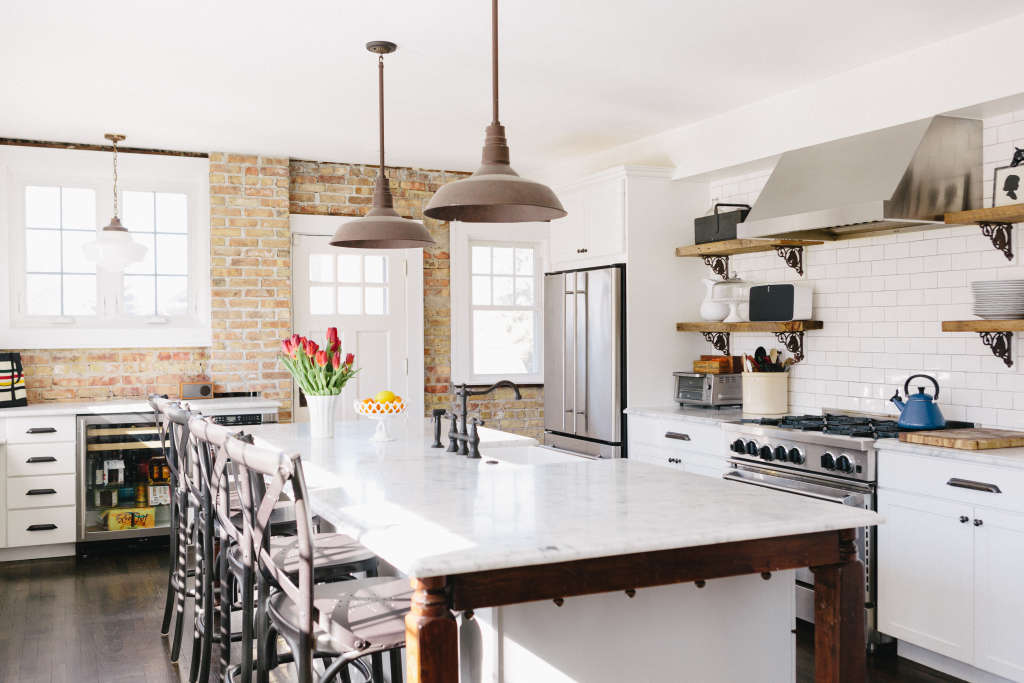 Unless you've been living under a rock, you know that the rustic chic vibe is seriously taking over. It's Joanna Gaines's signature style and even Prince Harry and Meghan Markle seem to be jumping on the bandwagon. Given those two things alone, it's no surprise the farmhouse style is all the rage right now.
According to a recent survey by Houzz, farmhouse-style kitchens are on the rise. This style of decor has steadily gained in popularity over the last few years, with approximately 14 percent of kitchen renovators opting for the farmhouse look—a jump from 11 percent just two years ago.
"The style is so popular, because it evokes a feeling of familiarity and warmth," says Antonia Marinucci, an architect who regularly designs and builds farmhouse kitchens. "It all has to do with the feeling it brings to families," adds says Scarlett Knuth, an interior designer and founder of The Decor Diva. "[A farmhouse kitchen is reminiscent of] that old fashioned time of life when things were more simple—when families worked hard during the day tending to their farm, growing their own food, and gathering around their homemade wooden tables at sunset when the bell was rung for dinnertime to draw everyone back home."
A classic element of a farmhouse-style kitchen is shaker-style cabinetry, more recently modernized with dark or unexpected color tones and some kind of warm, natural element or texture—like aged wood, shiplap, or a natural stone that patinas with time, says Marinucci. Farmhouse-style kitchens also tend to strike a balance between "heavier" elements, such as iron-like hardware, with visual "lightness" at eye-level—think open shelving or upper cabinets with glass, she adds.
If you have your sights set on a farmhouse kitchen, it's probably a safe bet that your kitchen will stand the test of time. "Some designs can take the look too far—that's when it feels 'trendy' and will likely be outdated in the future," says Marinucci. "When implemented with restraint, the elements of the farmhouse kitchen are timeless."
Why? "The farmhouse movement is more than just a trendy design style," says Knuth. "It represents a craving for togetherness, for simplicity in an overstimulated busy world. Joanna Gaines spearheaded this movement to bring back the heart of what really matters in families. Women look at her and want to be her—not just for her farmhouse design style, but for what it represents."