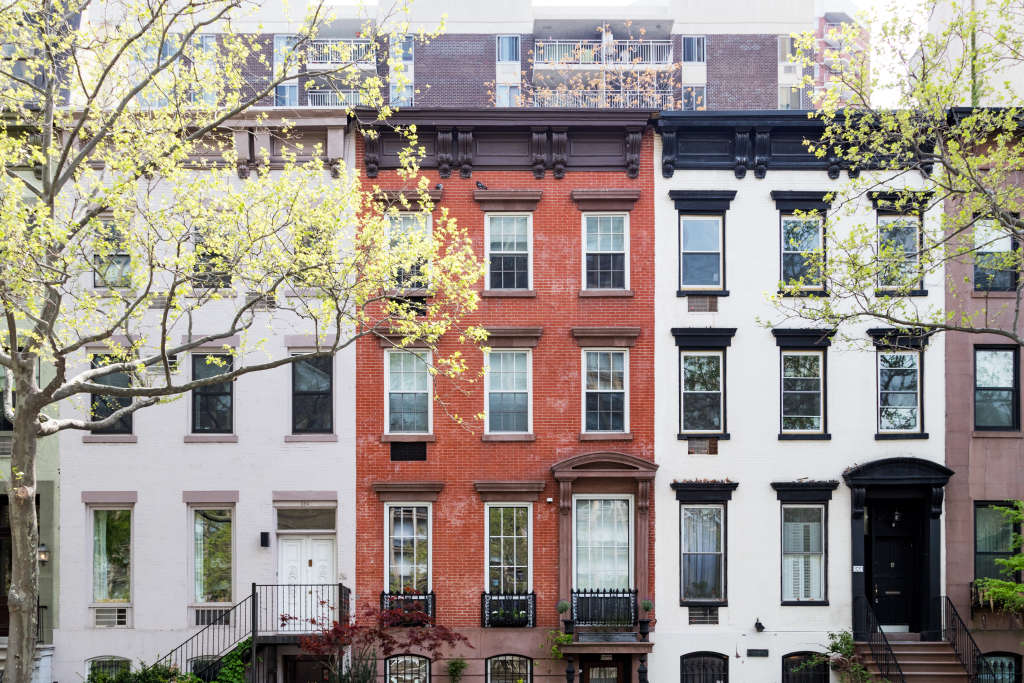 If you've got your eye on a dream apartment—or any apartment, actually—you want to make sure you position yourself as a top-notch renter. Chances are, you'll be competing with several other would-be tenants for a rental unit, which, of course, is stating the obvious for anyone who has apartment hunted (scavenged?) in places like New York City or Los Angeles. But some other cities with hot rental markets might surprise you: Birmingham, Alabama; Las Vegas, Nevada; Orlando, Florida; and Durham, North Carolina are among them.
The idea here? No matter where you're looking to rent, you want to set yourself apart as a top-notch tenant.
So what are the missteps prospective renters make that add drama to an apartment search? Experts share with us seven things you should never do if you're about to apply for an apartment:
MISTAKE: Not researching rental rates in your neighborhood
Renters can do some research on their own before looking at apartments by checking out sites like Zillow to see what average rental prices are in the area. If you're in New York City, you can use StreetEasy to see what similar units in a particular building are renting for, says Gerard Sager, agent with Douglas Elliman Real Estate in New York City.
If an apartment seems overpriced compared to similar units that have rented in the building within the last year, ask the reasoning behind this, he suggests.
"Often times it is because the unit is on a much higher floor, has different exposure, better light, or is newly renovated," he says.
Other times, it's for no legitimate reason at all. But, knowing the going rates will demonstrate you're a savvy apartment shopper and also help you dodge an "overpriced for no good reason" apartment.
MISTAKE: Not vetting your references
Before you launch your rental search, find some solid and unbiased references, recommends Jamal Lee, regional marketing manager at Morgan Properties, a company that owns and operates nearly 160 apartment communities throughout the country.
Some landlords will request you list a few references on your application. You'll want references who can vouch for your financial responsibility and character, but aren't too biased like your family members or close friends. Past landlords are great, and former roommates or professional references might be able to provide some valuable insight, too.
"During the reviewing process, if a landlord finds that your reference doesn't have good things to say, or is not a verified or trustworthy reference, it can lead to a denial," Lee says.
Taking this one step further, Susan Piazza, an agent in Orange County, California, recommends tenants have references letters already written.
MISTAKE: Spending big bucks
It might be tempting to go out and buy new furniture for your new place. Or, maybe you're thinking about getting a new car because you'll finally have a garage. But you should practice some delayed gratification. You shouldn't make any large purchases when you're looking to rent, says says DJK real estate agent Barbara Ireland, who specializes in downtown Manhattan.
Not making big purchases will help ensure you have adequate bank funds to cover the first month's rent, security deposit, application fees, and other living expenses, she says.
Using your credit cards to make big purchase or fund your vacation is also a not-so-great idea as doing so could pull your credit score down. That's because credit utilization makes up 30 percent of your credit score, and you want to keep your credit score balances below 30 percent so you don't appear over-extended to creditors (aka your property management company).
Another savvy move to boost your credit score? Pay down some of your existing balances, but remember it might take your credit score a few months to reflect your lower balances, Ireland says.
MISTAKE: Not having a filing system in place for your documents
We get it! Paperwork feels old school! But it's important to have a good system in place with important documents ready to hand over when you apply for an apartment. This is especially true in highly competitive markets like New York City. Some places will allow renters to put down a good faith deposit while they gather your paperwork, Sager says. Others will want your documentation ASAP so you can submit your application. Tick, tick! To make this easier, Sager suggests having these documents readily available:
Letter of employment stating job title and salary and length of employment
Two recent pay stubs
Most recent tax returns
Photo ID
At least two personal references
MISTAKE: Turning a blind eye to your credit score
Even if you can show you've got money in the bank, a bad credit score can hurt you when you're trying to rent. Before you start your search, know your credit score, Sager suggests. (Here's an expert-approved guide of the best places to monitor your credit scores for free.)
So what score do you need to secure a rental?
"I strongly recommend a 650 or higher credit score," says Luis Torres, a Triplemint real estate agent in New York City. "The higher the credit score, the more competitive your application looks to the landlord.
Torres says he recently worked with a tenant whose credit score was 800. "He was against five other applicants, but we were able to leverage his credit score to get him approved and get his dream apartment."
MISTAKE: Downplaying housing court records
When landlords look at your application, a previous housing court record is a big red flag, says Becki Danchik, a real estate agent in New York City with Warburg Realty. If tenants stop paying their rent for any reason, and the landlord takes legal action, it could show up on their records when they apply for new apartments. A blemish like this will make it hard to get approved, Danchick explains. Getting some guidance from an attorney may be in order.
Also, if you have an outstanding payment on your credit report and it has been satisfied, bring documentation showing the bill was paid.
MISTAKE: Being too picky
This one is going to sting, but… you might want to hold your tongue before griping about a paint color or rolling your eyes at an outdated fixture. Nicolas Paredes, a Warburg Realty agent in New York City, says he advises tenants to hold off on complaints unless it's really something you feel should be fixed.
"The prospective tenant who complains about small details but still wants to apply may appear difficult, ambivalent, or hard to manage in the worst case scenario," he says.
Now that you're prepared to compete in cutthroat rental markets, here's a good list of things to look for during your apartment search that might not be top of mind