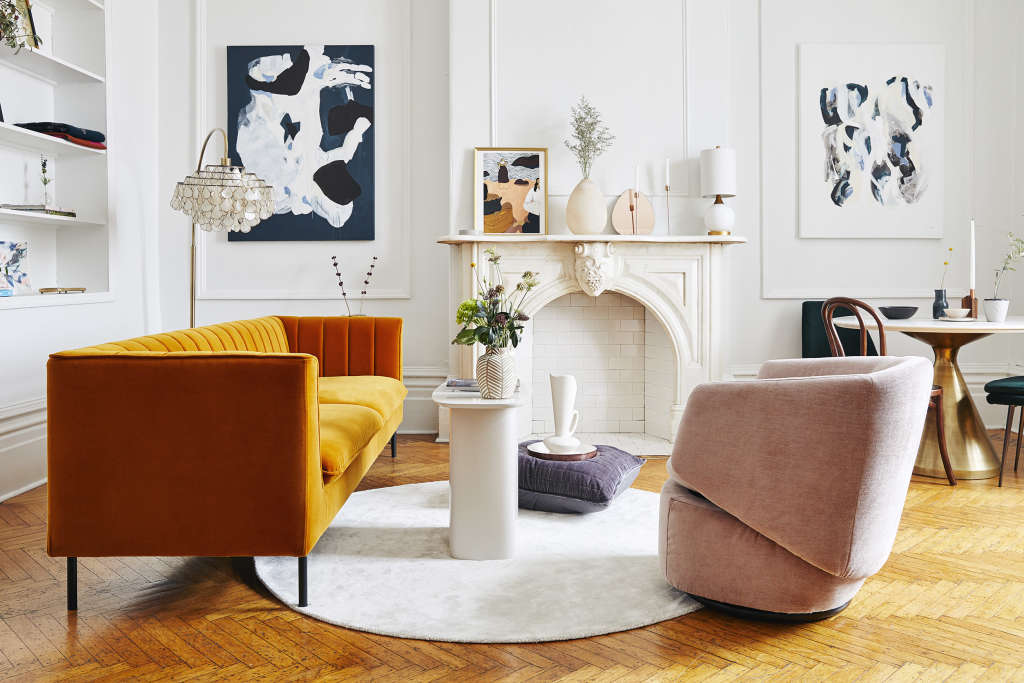 Name: Lauren MacLean
Location: Montreal, QC, Canada
Size: 700 square ft
Years lived in: 1 year, rent
Born and raised in Ontario, a few years ago Lauren was ready for a change and looked to Montreal for a new adventure. Knowing little about the city, she was nonetheless drawn towards its culture and beauty. "I found a listing online for a tiny vacant studio, so I checked it out and loved it right away. It was one small room with zero closets," she says. "But the character and beauty of high ceilings, large windows, and old moldings made me fall in love. I would take that type of character over square footage any day! And it landed me in a great part of the city, and in a building that allowed me to find the new apartment across the hall that I am in now!"
It's easy to tell that Lauren has a keen eye for design from the photos she shares on Instagram of her soothing, chic, and minimal home in Old Montreal: "Interior design has always meant a lot to me. I think at a pretty early age I was able to recognize how a nice space made me feel, which created a connection and a relationship with my surroundings. I have always been a visual person and I love to get lost in the beauty of my surroundings. So designing a home for myself is a true passion project and I treat it as a way to reflect who I am."
Thanks to the apartment's high ceilings and by playing with textures, shapes, and colors, Lauren has successfully achieved a Parisian look: welcoming and refined yet effortless.
Apartment Therapy Survey:
My Style: Minimal, Parisian, balancing calm and moody
Inspiration: Basically all design coming out of Sweden and Denmark today. Where furniture is treated as art and a great sense of peace is shown through subtle colors, shapes, and textures. Natural, moody, and captivating. Within my own setting, I love to draw from different design styles pulling in the elements that really inspire me, which always creates a challenge to put it all together into a cohesive space. I love that challenge of finding a balance to infuse different design without looking too eclectic.
Favorite Element: Lighting. A light fixture alone can act as a statement piece like a work of art, plus its very important role in setting the tone of a space. I love to distribute soft lighting in all corners of a room bringing a warm glow inwards so you feel immersed in it.
Biggest Challenge: The apartment was in very bad shape when I took it; I was faced with significant filth, damage, and multi-colored walls. With only my two hands I worked hard to clean and paint every inch of the space, starting fresh with a new canvas for me to create my home. So what started as the biggest challenge turned into a gift that let me really feel like the space was now mine with all the work I put into it.
What Friends Say: Most people see photos of my home before coming over, so I often hear how they love how it feels being inside the space. Certain aspects and elements cannot always translate to a photo and I am always very focused on paying attention to all the senses when I design a space. It's about a feeling you get, the influence it has on your mind, so I consider it the highest compliment when my friends share that positive feeling they have in my home.
Biggest Embarrassment: Don't look up too high. With insanely high ceilings and my short self, I can't say I did the best paint job when it came to the ceilings…mostly in the kitchen where I used a dark color—I basically painted as far as my arms could reach!
Proudest DIY: A side table I made out of chicken wire and papier mache to get the look of a sculpted piece of work, embracing its natural shape and imperfections.
Biggest Indulgence: I am never without fresh flowers throughout my home. On a weekly basis, I am always buying a new bunch, but the feeling I get from flowers, the way they contribute to my overall ambiance, is priceless!
Best Advice: Take your time, don't rush the process. Don't fill a room for the sake of "being done." Taking that time to connect with everything you add to your space is how you will develop that connection that gives you the feeling of "home."
Dream Sources: Furniture: West Elm; Décor and accessories: Anthropologie, Urban Outffiters, H&M Home; Local: Maison Pépin, Édition Boutique, Boutique Spoutnik
Resources:
PAINT & COLORS
Throughout the apartment, I used Benjamin Moore's "Decorators White" on my walls and ceiling.
For the kitchen, I used Benjamin Moore's "Galápagos Green."
LIVING ROOM
Sideboard – Structube
Art drawing resting on sideboard – Artist: Zoe Pawlak, Zoe Pawlak
Ceiling chandelier – West Elm, Pelle Chandelier – Gooseneck
Rust sofa — Element de Base, Stripes Sofa
White table — West Elm, Superellipse Side Table, Salt
Blush swivel chair — West Elm, Crescent Swivel Chair
Round rug — West Elm, Lucent Round Rug – Frost Gray
Floor pillow euro sham – West Elm
Tray on pillow – Anthropologie
Vase on floor pillow – Make Moves Vintage, Toronto
Mantel lamp – Home Sense
Mantel mirror (rose) – H&M Home, Teardrop-shaped Mirror
Mantel candle holder – Anthropologie
Mantel vase – Anthropologie
Mantel art print – Artist: Isabelle Feliu
Large art canvases on wall – Artist: Lysa Jordan
Floor lamp – CB2
Wall art behind sofa (woman figure) – Artist: ANML Studio
Light blue dresser (corner) – IKEA kitchen cabinet, added legs
Chair to beside dresser (left) – Boutique Spoutnik vintage (Mtl)
Wall mirror above blue dresser – H&M Home
DINING ROOM
Dining Table – West Elm, Silhouette Pedestal Dining Table – Round
Dining chairs (green velvet) – West Elm, Finley Low-Back Velvet Dining Chair
Dining chair (wooden) – Structube
Table top accessories/dishware – Maison Pepin
Small wall art – Artist: Neptune arts
KITCHEN
Large vases above cabinets – Structube
Floor ottomans – Structube
Rug – IKEA, TÖRSLEV
Exposed accessories/dishware – Maison Pepin and Structube
Table lamp – Structube, Doris
BEDROOM
Blush chair – West Elm
Wall sconce, globe shade/bronze – Urban Outfitters
TV table – IKEA, LÖVBACKEN side table
Mattress – Endy
Bedding linen set – Cultiver
Bed cushions, velvet – Les Objets Perdus
Wall sconce above bed – West Elm, Curvilinear Mid-Century Sconce
Rattan ottoman beside bed – IKEA, ALSEDA Stool
Loveseat – Structube, Nelly Loveseat
Loveseat cushions – Cultiver
Closet curtains – IKEA
Side table/plant stand right of mantel (white) – by me, Lauren (Living by Lo)
Mantel glass vase and candles – Editions Boutique
Mantel bust – Boutique Spoutnik vintage (Mtl)
Mantel lamp – Home Sense
Office desk – West Elm, Mid-Century Mini Desk – White
Office chair – Structube
BATHROOM
Shower curtain – Urban Outfitters
Wall art – by me, Lauren (Living by Lo)
Thanks, Lauren!
---
Apartment Therapy supports our readers with carefully chosen product recommendations to improve life at home. You support us through our independently chosen links, many of which earn us a commission.