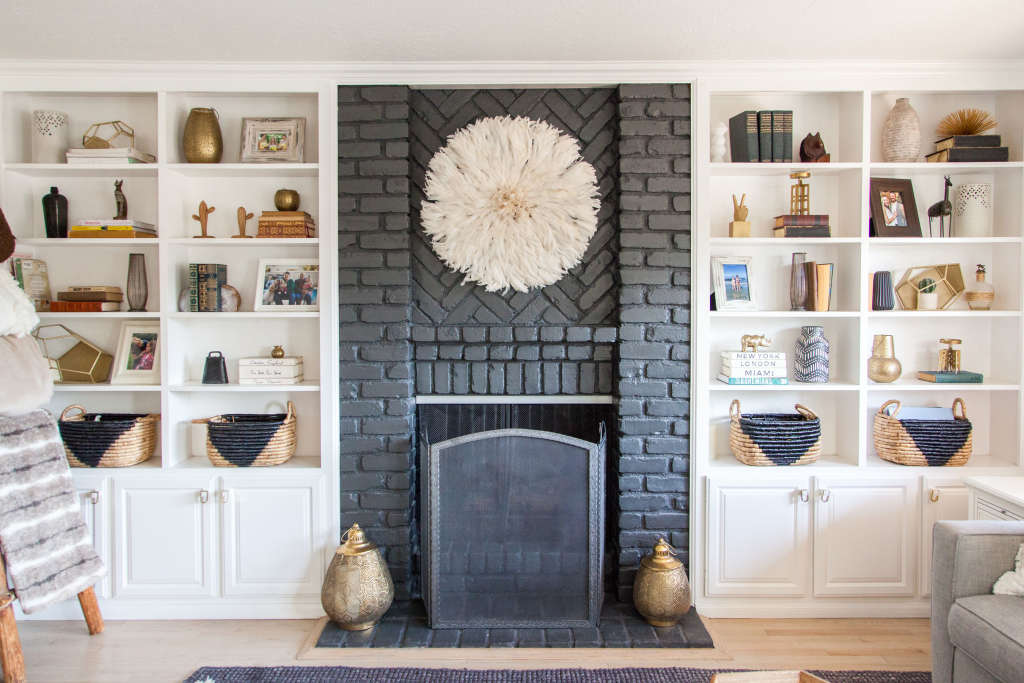 Name: Laura Santora, husband Kevin, daughters Ellie (6), Evie (4), and Dylan (1), plus dogs Moco and Oliver
Location: Mission Viejo, California
Size: 3,450 square feet
Years Lived In: 3.5 years, owned
When looking for a new home three and a half years ago, we wanted something with enough space, some character, and something we could make our own. Coming from our 1,500-square-foot home in Los Angeles and having two kids and two dogs at the time, we wanted something we could grow into, and that's exactly what we found in our 3,500-square-foot Mission Viejo home! When first touring this home, I imagined the endless possibilities of how to make this once-traditional-looking house into a modern bohemian dream.
A lot of it was simple at first—changing the paint colors and adding color and texture in other ways like art, plants, and rugs. Then we had our first big project… the master bathroom. We had a leak in our tub and the only way to turn off the water valves was to bust out all of the tile surrounding the tub. Since we already planned to update it at some point, we decided to gut the entire thing and create our dream bathroom: An oversized two-person jacuzzi tub, a huge steam shower, and a textured tiled wall …oh and let's not forget the vintage rug! That project really kicked off the transformation of the entire house.
Soon afterward, I had this dream of converting our two-foot smoker's balcony on the front of our house into a huge front porch with a fenced-in front yard so we could hang out and let our kids and dogs play (our backyard isn't very big and is taken up mostly by a pool). Transforming our front yard has been one of our most rewarding projects. We are always out there relaxing on our twin-sized hanging swing bench, playing in the grass, or tending to the organic vegetable garden. We love having friends over and enjoying the sunset from our porch, drinking some wine, and eating a little pizza (my husband makes the best pizza, all from scratch).
Our next project arose due to a leak that ruined our original oak hardwood flooring in the dining room and kitchen. At first I was freaking out, but in the end it was all meant to be—we got brand new floors, stairs, and an updated modern banister …all paid for by insurance (insert happy dance). The original staircase was very traditional with white spindles, a wooden cap, and curled ends at the base …a very "1980s" feel. We chose a sleek, matte black and a very modern wrought-iron banister with all spindles and handrails seamlessly disappearing into the stairs and walls (no bulky hardware). The stairs are the first thing people see when they enter through the front door, and this update changed the entire feel (and people's first impression) of our home.
Doing these projects really has been a dream come true, and I truly feel I'm raising my family in a space I am proud of. I have, in the truest sense, turned our "house" into a "home."
I had always aspired to do something creative with my life and knew deep down it was my calling. I started with interior design school in San Diego but changed paths after one year, opting to pursue a career in the seemingly-glamorous fashion industry. I attended fashion school in LA and NYC, graduated with a fashion degree, and worked in the fashion industry for seven years. Now, as a stay-at-home mom to my three girls, I have consistently been drawn to express my creativity, to do something more. Our home became my creative outlet and really pushed me back to my original direction in life, interior design. It has really been so much fun to explore and evolve my interior style over the years, and with platforms like Instagram to share my craft, I have been lucky to work with clients on turning their homes into a place they love.
Apartment Therapy Survey:
My Style: I would say my style is modern bohemian—I love mixing styles together, while utilizing a lot of neutral tones with slight pops of color and texture!
Inspiration: I am always looking to be inspired, as are most creative people. I love looking at nature for inspiration—I use a lot of natural wood tones in my designs, as I feel it can really ground a space. I also really love looking at Instagram, as it can be such an amazing place to look for inspiration from all around the world. The talent that some of these people have is incredible! It's always fun to find new shops with unique products that can really make your designs pop, or other interior designers with super rad designs that you can be inspired by.
Favorite Element: 100 percent vintage rugs! They bring so much character and life to a room!
Biggest Challenge: Keeping the house clean and organized! With three kids and two dogs, there is a lot going on in our house. As soon as the kids are home from school there are socks at the door and barbies strung around the house…EEK! I bought storage containers from IKEA that have really helped! I have placed labels on them, so when it's clean-up time, they now know exactly where everything goes.
Proudest DIY: My husband and I recently made the headboard in our master bedroom and could not be happier with it! If purchased from Restoration Hardware, it would have cost me over $1,000, and we built one very similar for $100!
Biggest Indulgence: Rugs for sure! I am a sucker for vintage rugs.
Best Advice: Really try to find a few statement pieces that you are in love with and work your room around them. Also, when in doubt, "paint it white"—haha! It's my go-to color, and it's easy to add color in other ways like pillows, rugs, plants, and art!
Resources:
ENTRY
Art — Made by me
Console Table — Restoration Hardware
Woven Baskets — Target
Palm Leaves — CB2
Vintage Bowl — My grandmother's
Pendant Light — HD Buttercup
FRONT LIVING ROOM
Couch — Pottery Barn
Black and white pillows — Wysh
Jute rug — Amazon
Vintage rug — Eclectic Goods
Leather Chairs — HD Buttercup
Bull Skull — Etsy
Concrete Planters — Green Thumb nursery
Fringe Pouf — Thrifted
Coffee Table — CB2
BACK LIVING ROOM
Couch — Pottery Barn
Blanket — The Garage Collective
Jute Rug — Amazon
Wool Shag Rug — World Market
JuJu Hat — Long Beach Flea Market
Woven Seagrass Baskets — West Elm
Drink Table — West Elm
Blanket — The Garage Collective
DINING ROOM
Braided back dining chair — Lazy Boy
Metal chairs — Amazon
Pendant light — Anthropologie
Raffa Plates — The Garage Collective and The Garage Collective
White ceramic planter with stand — World Market
Credenza — Rj Imports
Salvaged wood trestle table — Restoration Hardware
Grey planter — Green Thumb nursery
Table setting — World Market
Flatware — IKEA
Tapestry – Lauren Williams Art
KITCHEN
Rug — The Garage Collective
Chopping board — The Garage Collective
Hand towel — The Garage Collective
Wall planters — Urban Outfitters
Ellie pillow — The Garage Collective
Table — Custom built
Metal wall art — HomeGoods
BEDROOM
Headboard — DIY by my husband and I
Side Table — Pottery Barn
Lights — Target
Plant holder — HomeGoods
Duvet cover — West Elm
Vintage Rug — Rose Bowl Flea Market
Bench — Hayneedle
Blanket — World Market
BATHROOM
Round Mirrors — Amazon
Pendant Lights — Restoration Hardware
Vanity — Custom Built
Tile Wall — Arizona Tile
Rug — Loom and Kiln
FRONT PORCH
Swing bench — Custom built
Pillows — The Garage Collective
Rattan stool — The Garage Collective
Woven Ottoman — IKEA
Woolly pocket planters — Rogers Gardens
Couch — Restoration hardware outlet
Woven hanging planters — IKEA
Gold hanging planters — Target
Thanks, Laura!
---
Apartment Therapy supports our readers with carefully chosen product recommendations to improve life at home. You support us through our independently chosen links, many of which earn us a commission.