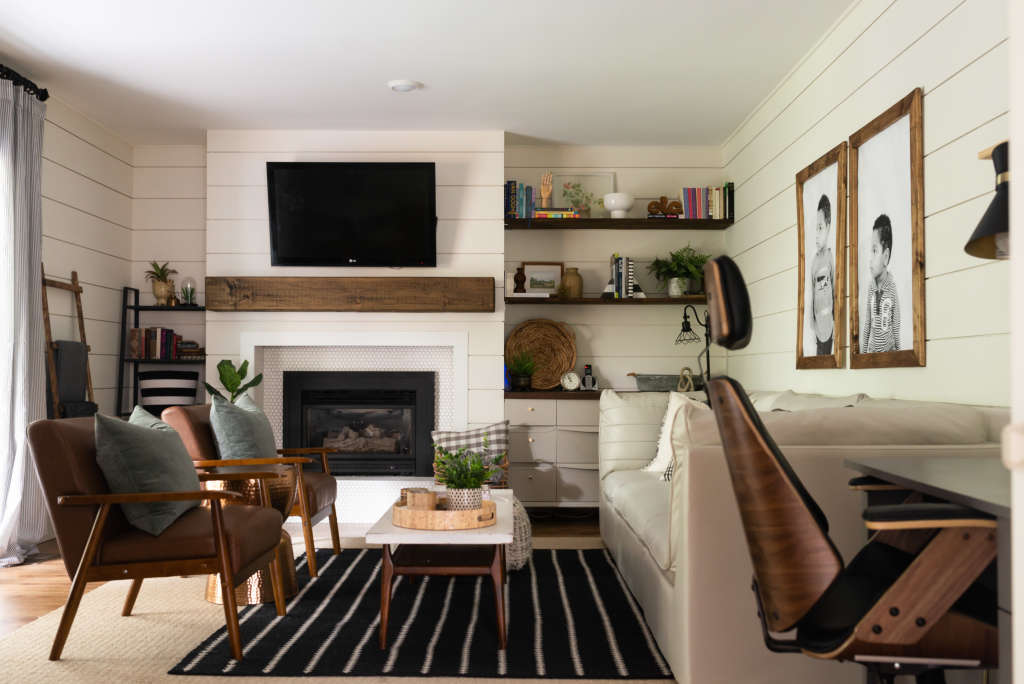 Figuring out a way to get your home designed by the Joanna Gaines herself is tricky. Emulating her style is about as close as you can get these days, and honestly, it's not as easy as it looks on "Fixer Upper." Unless you have a warehouse filled with vintage treasures, your own line at Target, or a partner in crime like Chip to do your demo. It's tough to strike that perfect "Farmhouse Modern" chord without making some mistakes along the way.
1. Worn Wood Overload
Reclaimed barn wood is a big part of the "Modern Farmhouse" aesthetic, and for good reason. Older building materials definitely have tons of character, but you can have too much of a good thing—even wood—particularly if it's all the same tone. The catch? Too many types of wood mixed together is problematic as well.
If you're going with the typical "Farmhouse" wide wood plank floors and a reclaimed barn wood table, you probably don't need wooden dining chairs or natural-toned cabinetry on top of those things. Joanna loves her some wooden finishes, but she's always sure to mix white, matte black, and a little brass in there for good measure. And while firewood looks great stacked up, it looks messy if there's too much of it. But be careful how many nooks and crannies you fill with wood.
2. Too Much White
White is the crisp, clean backdrop for so many of Joanna's "Farmhouse Modern" interiors. But all white everything—walls, floors, furniture, linens—can veer into "Shabby Chic" territory pretty quickly.
Plus, bright white paint and furniture isn't for every house. You have to get a lot of natural light to keep white walls from looking cold in your home. And if you live with kids or pets, you might want to indefinitely postpone the white sofa idea. My advice—and probably Jo's too? Consider a little bit of pigment for your walls. Try a light gray or a khaki, a cream, or even a blush.
3. "Farmhouse Modern" Is a Little Too Country for the City
Joanna Gaines lives in Waco, Texas—not glam Dallas or quirky Austin—on an actual farm. So "Farmhouse Modern" is the perfect style for her home. Go for this look if you love it, but lean a little more "modern" than "farmhouse" if you live in the heart of, say, New York City. It's kind of like decorating your home like a beach house when you're land-locked. If you lean in too far, it can feel a little out of place.
4. Shiplap for Days—and Nights
Paneled walls introduce texture and architectural interest to your home. And if you have original shiplap, by all means, keep it! But you don't have to go crazy tacking up boards on every wall if you don't. Pick a feature wall—behind a bed, above a fireplace—or even a whole room or two in which to try this wall treatment.
5. Putting a Rooster on It
It may be tempting to buy "Farmhouse" motif decorative accessories—things with roosters, cows, goats, pigs, and other farmhouse fauna on them—but don't. Jo might have a bunch of these farm animals on her property, but I don't think she'd serve dinner on rooster plates. The exception to this rule: Some kind of rad animal art, like the one in this kitchen.
6. Cluttered Open Shelving
Open shelving is a big part of the "Farmhouse Modern" look, and let's just say Jo can style with the best of them. But if you're prone to clutter, hate dusting, or don't know how to balance a composition of books, plants, trinkets, and artwork, this hallmark of "Modern Farmhouse" style might not be for you.
Still want to give open shelving a go? Start by editing down what you have, especially in the kitchen. Try to stick to a palette for anything you buy, and be sure to vary the heights of your stacks of books and objects.
7. Barn Doors Galore
Barn doors are kind of like pocket doors in that they work as space savers: If you don't have the clearance to swing a door open, but still need some privacy or want coverage, they can be great. Sometimes, they even allow you to create a bedroom or study out of a doorless nook. But you don't need a barn door in every corner of your home.