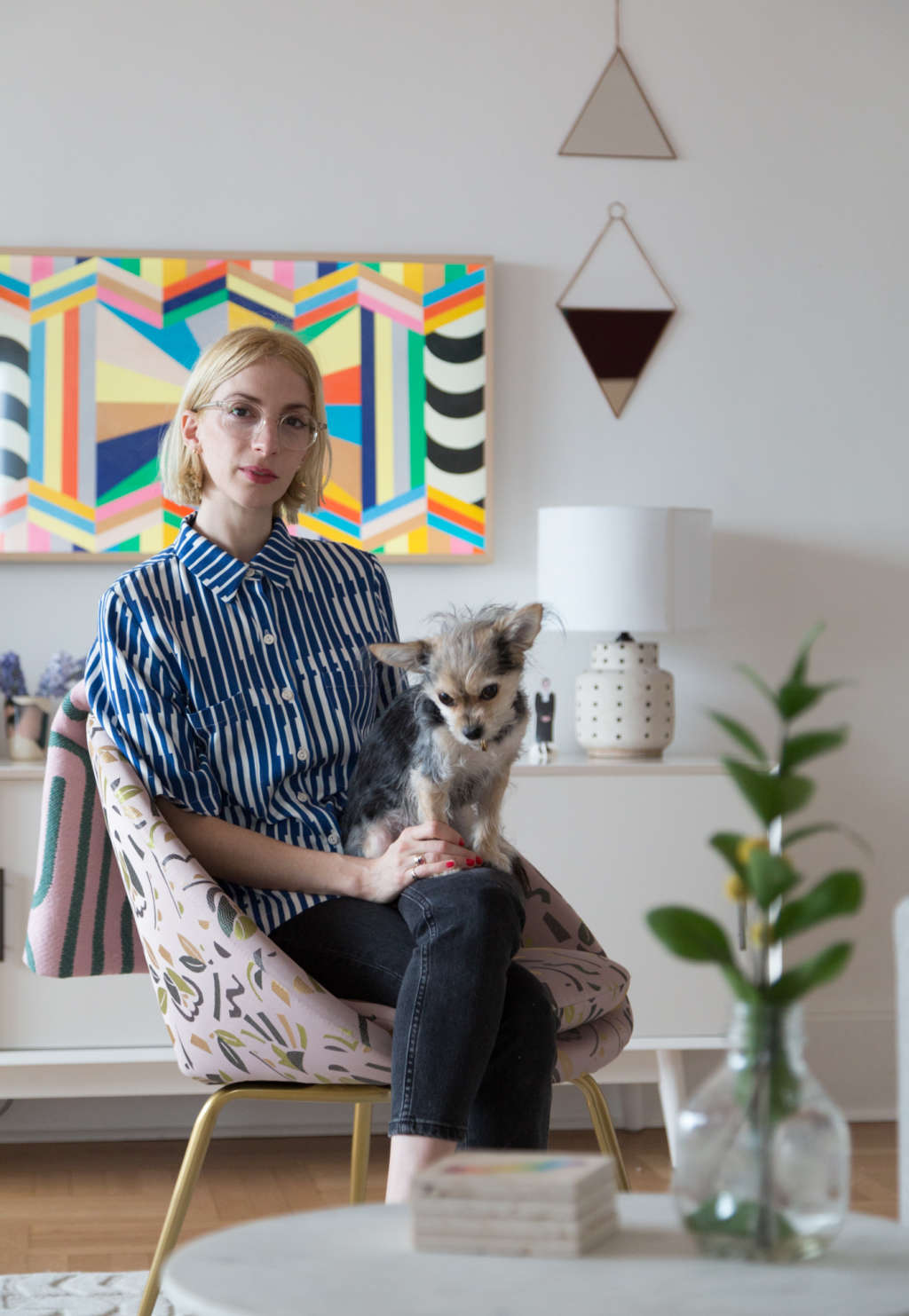 Name: Molly Bernard, girlfriend Hannah, and Henry (her eight-pound rescue mutt!)
Location: Brooklyn, NYC
Years lived in: Just a few months! Proud and terrified first time home-owner!
While Molly Bernard's character, Lauren Heller, on the television show "Younger," has bounced around various New York City apartments throughout the show's five-season run (from a bedroom in her parents' fancy townhouse to an overcrowded apartment with friends), the actress' own home is more of a grown-up sanctuary than a temporary place to crash.
House Tours: Molly Bernard
When you walk into Bernard's Brooklyn apartment, the first thing you notice is just how much natural light flows in—especially if you're a New Yorker who's seen your fair share of dark, windowless digs. Windows in every room make the most of dreamy views of the Manhattan skyline, from the Statue of Liberty, to One World Trade Center, to the Empire State Building. The space has plenty of color with beautiful kitchen tiles, artwork, and stylish decor accents, but it's balanced with white and neutral furniture pieces. You feel a sense of calm—Bernard's goal for the home she shares with her partner.
"I wanted it to feel really bright, clean, but really comfortable and cozy. I needed it to feel like a sanctuary," she told Apartment Therapy. "My partner is a criminal defense attorney; she's got a very hard job. After a long day on set or a lot of traveling, it's just really nice to come home and feel that. I love my apartment like it's a person. I was not expecting that part of homeownership. I love the walls, I love the floors. I refer to her as a she. It's very weird, to make something animate, but it's a very animate space for me. She's my girl."
Since her apartment is human (at least to Bernard), when asked which "Younger" character the space resembles the most, the actress chose the show's main character, who is a 40-year-old women disguising herself as a 26-year-old publishing assistant. "If my apartment were a character from 'Younger,' I think it would probably be Liza because it's so bright and colorful. But very… it's kind of chic, it's a little mature. It's grown-up and youthful," she said.
As to what her own character, the bold, eccentric, and hilarious publicist, Lauren Heller, would think of the space? "Lauren's such a Manhattanite, I think she'd love this apartment, because it's a Brooklyn apartment but it has that kind of Upper West Side feel," Bernard said. "It's a 100-year-old building, so it's old. I think Lauren would be like, 'Oh my God I love it. Where are the drugs?' She would definitely live here. It would need bigger closets for her though, my closets are too small."
If you think being an actress on a hit TV show means Bernard would have no trouble finding her dream home, think again. Sometimes stars really are just like us. She saw 50 apartments until she found the one: "I walked in, and I felt this is a place where I can have really good days and really bad days. It was a very staggering feeling, I was like, 'Oh this is it.'"
And like a lot of urban-dwelling millennials out there, she was saving for a home but wasn't seriously considering homeownership until the rent on her Fort Greene, Brooklyn rental went way up. After realizing she would be paying the equivalent of a monthly mortgage payment if she stayed—and after talking to a friend who had recently bought an apartment—the actress decided to take the leap. "It feels, you know, impossible, but I worked very hard to save. I think also now going into the sixth season of 'Younger,' it's like, 'Oh I did this, I made this happen and living here would not be possible without 'Younger,' and that's such a profound gift. So this is like my 'Younger' home; it's actually kind of emotional if I think about it. It's a lot of worlds colliding."
Apartment Therapy Survey:
My Style: Swedish modern chic & quirky (is that a thing?)…. clean, bright colors, bright light, my brilliant designer friends' influence and pieces, buildings and spaces with character and age, mix of modern and original fixtures
Inspiration: I kind of just followed what moved me when designing this space. Even since the house tour I have added more pieces and streamlined even more. It's something I do everyday. I'm inspired by tidiness and functionality. I like elegance but comfort, and I love feeling safe and relaxed in a space—that above all else was my inspiration; that my home also be my sanctuary.
Favorite Element: I have THREE favorite elements! The LIGHT! The VIEWS! Ellen Van Dusen's TILES in the kitchen! (also, the sweet sound of Henry's little paws on the floor)
Biggest Challenge: Fitting everything I love in a one-bedroom apartment! Though it's not a tiny one-bed, I love so many beautiful and quirky pieces of furniture, but I get really anxious around clutter, so I'd say my biggest challenge is staying minimal.
Proudest DIY: I hung everything up myself, including the plant in my bathroom ceiling. A lot of grunting and complaining happened in that process. And self doubt. But she's still hanging strong!
Biggest Indulgence: The piece of art above my couch by my beautiful friend, artist Ethan Cook. I love looking at it daily, it makes me insanely happy.
Best Advice: The best advice I can give? After this process? Surround your space only with things you love that bring you joy everyday. Try to have patience and wait for the pieces if you can. You'll find them.
Resources:
PAINT & COLORS
The white throughout the apartment is — Benjamin Moore Simply White
The sweet pink on my ceilings is — Middleton Pink
ENTRY
Mirror — West Elm
Entry table in foyer — Antique from an old family friend
Artwork "Homoland Security" — Julio Salgado
LIVING ROOM
Couch — Crate and Barrel Barret lounger
Cushions — Dusen Dusen
Throw — Dusen Dusen
Coffee Table —a few years ago from Target's Threshold collection ❤
Mid-Century White Console — West Elm
Plant Stand — Bought from a set of an independent feature that I shot this October, Milkwater (the set designer purchased it originally from IKEA!)
Lamp — Bower Studios for West Elm
Rug — Anthropologie sale impulse buy from a sleepless night. I love the rug, but it's white. What was I thinking? I've decided I must keep it and love it until I really wear it out. I have to earn my next one. And then I bet you I'll miss this one.
DINING ROOM
Dining table — Floyd
Chairs — Hans Wegner Wishbone chairs
KITCHEN
Tiles — custom order from my pal Ellen Van Dusen of Dusen Dusen
The kitchen was the one room in the house I really re-did. I put in a new blacksplash (streamlined subway tile) and new quartz countertops (great idea if you like the look of marble but enjoy red wine and turmeric). The tiles were extravagant, but they are literally perfect.
BEDROOM
Stella Bed — West Elm. I've had this bed for a long time and will likely get a new one soon. I'm still not sure where I want to go next…maybe the Floyd bed?
Bed Linens — Dusen Dusen
Credenza — West Elm
***both the bed and credenza are on really excellent sale now! Just FYI
BATHROOM
My towels are Dusen Dusen (duh, my home is essentially a showroom for DD)
Thanks, Molly and Henry!
---