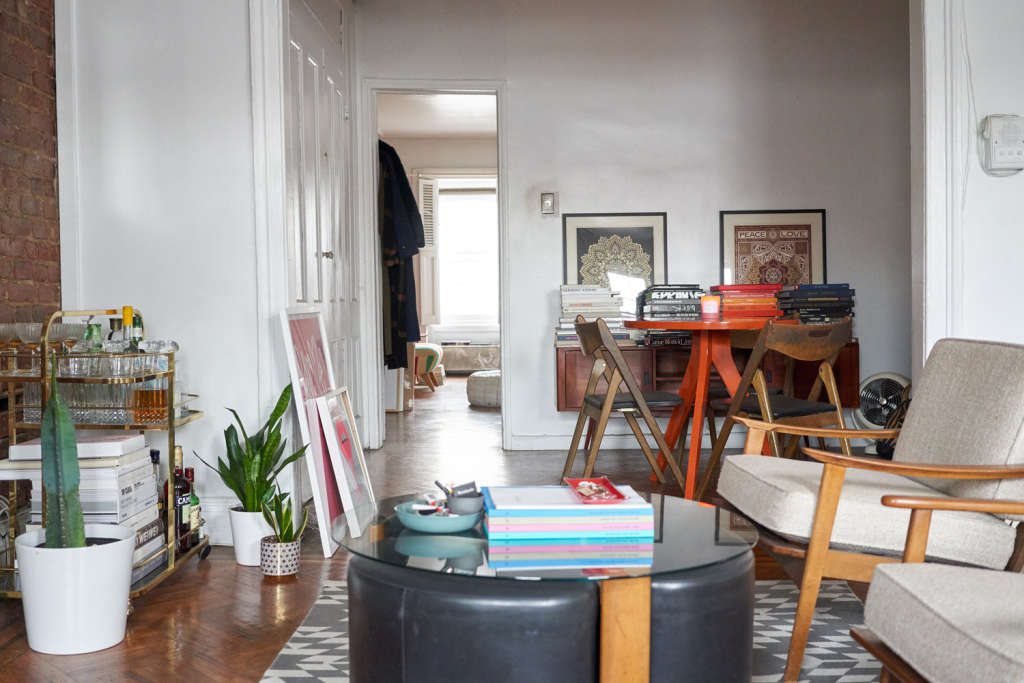 Name: Brigid Andrews
Location: Clinton Hill — Brooklyn, New York
Size: 1,300 square feet
Years lived in: 4.5 years, renting
My Apartment is in Clinton Hill, Brooklyn, on the third floor of a pre-war brownstone. At 1,300 square feet it's big, has exposed brick walls, and the light that comes in is pretty amazing. My apartment is filled with international finds from many years of travel, vintage furniture pieces from my fave, the Brooklyn Flea, and some ace mid-century spots in Brooklyn. I also collect photography from artists and friends in the industry. My apartment is filled with art books, magazines, and clothes. It's also where my friends come to hang out, utilize my bar, dance, and borrow my stuff!
I'm from Melbourne, Australia but have lived in the US for over 10 years. I'm a fashion merchandising director (now freelance). My last roles were at Opening Ceremony and Marc Jacobs working with the design teams. I also worked as a buyer for Urban Outfitters in my early career.
Describe your home's style in 5 words or less: Mid-Century mash up
What is your favorite room and why? My favorite room is the bedroom. It's big, really big! Great for reading, hanging out, dancing (it's where I put the record player), oh and sometimes sleeping. I love the exposed brick, the light, and the wooden floors. I have a slight obsession with Pendleton Glacier National Park (blanket) stripe, so when I found a matching chair at Van Der Most Modern in Brooklyn, I put it in my bedroom. I actually don't get to spend that much time in my bedroom, but when I do it feels like the centre of the apartment.
If you could magically change something about your home, what would it be? Closet space—said everyone! I use my half bedroom as a walk-in closet. My friends like to call it "The Store." Having worked in the fashion industry for over 15+ years, I've accumulated quite an extensive wardrobe. Let's say going into my wardrobe is like going into a fashion vortex from which you may never return. I'd love more closet space and storage, so I could organize "The Store."
What's the last thing you bought (or found!) for your home? A Print from one of my favorite photographers, Cass Bird. I bought it from Red Hook Labs after seeing her show titled "In Bed." I didn't buy it straight away but the work stayed in my mind. It's called "In Pink"; it's irreverent and a pretty beautiful fashion image.
Any advice for creating a home you love? Be authentic and trust your taste. Your home is a reflection of who you are. Don't get caught up in "trends." Shop everywhere from IKEA, to flea markets, to the websites of amazing new design studios. You just never know where you are going to find a super rad object or piece of furniture. Oh less is definitely more, like Marie Kondo says. Everything in my apartment brings me joy!!
Thanks, Brigid!
• Interested in sharing your home with Apartment Therapy? Contact the editors through our House Tour & House Call Submission Form.