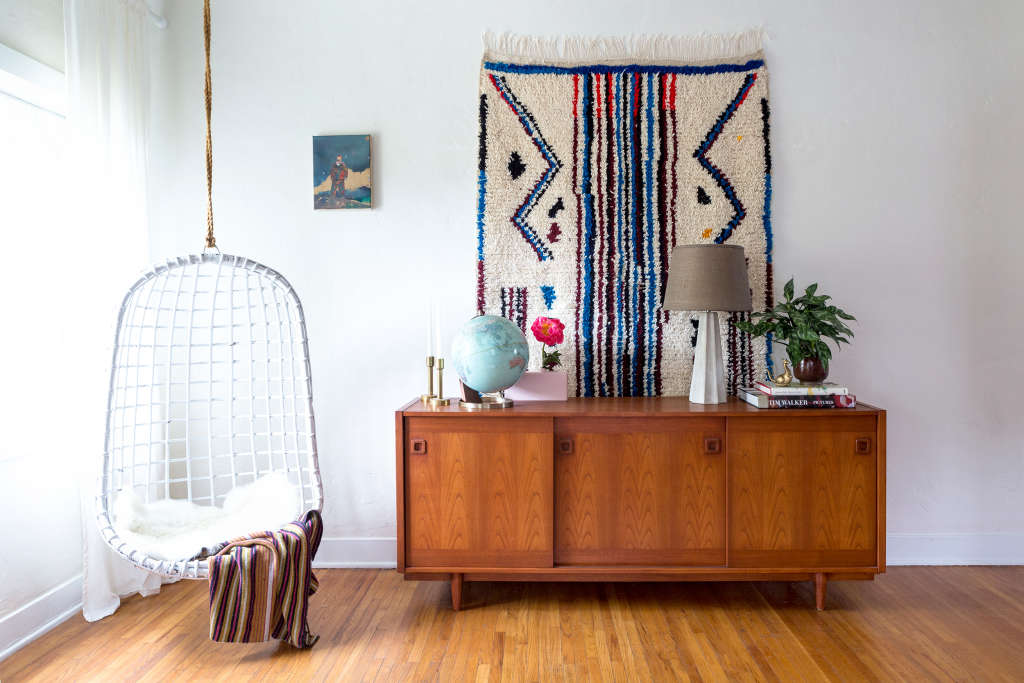 Once upon a time, your rug served a very utilitarian purpose: To keep your cold, hardwood floor warm.
But my, how times have changed. Today, we're seeing rugs everywhere—and we mean everywhere. They're in our kitchens, hung up like pseudo-tapestries, and slung over chairs to create a cool, effortless vibe. Rugs always had the power to make a statement, but they're now a bonafide design moment.
So how are you supposed to decorate with 'em when there are no rules? Below, some tips for upping your rug game:
1. Cookin' Up Some Design
Using rugs in the kitchen is one of the biggest design trends around—and for good reason.
"I love using runners in kitchens, especially if the space has a large island, to bring in color and pattern," says Abbe Fenimore, founder of interior design firm Studio Ten 25.
If you want to recreate this look in your own space, Fenimore recommends investing in an indoor/outdoor style made out of acrylic of polypropylene.
"[It] will hold up well to spills and heavy foot traffic, but won't fade or look dingy over time," she shares.
2. Table It
Adding a runner to your kitchen floor may be a no-brainer, but did you know the trend can translate nicely to your dining room, too? And no, we don't mean on your dining room floor.
"For a touch of drama, drape a rug in a rich hue over your dining table like a tablecloth as the base for a place setting that invites further exploration," says Jodie Fried, co-founder of rug company Armadillo & Co.
Of course, you should buy a brand-new rug for this design moment—or at least give a pre-owned style a very thorough wash. There's nothing more cringe-worthy than dining on top of a dirty rug.
3. Take It to the Bedroom
Let's face it: Very few things can compare to a cozy, inviting bed. If you're looking to kick things up a notch, add a rug (really!) to the mix.
"Rugs that you buy when traveling may be a nonstandard size or made of lighter materials," explains Nisha Mirani, founder of SUNDAY/MONDAY. "Lay one on the foot of your bed, on top of your solid colored duvet or quilt, to add some color and texture to your bedroom."
While lighter weaves like a suzani is a great option for your bed, Katie O'Connor, Dormify's visual merchandising manager, makes a case for faux Mongolian-shaped rugs.
"They are super lightweight," she explains. "You can also drape it on the end of your bed as a way to add texture!"
For a dreamy oasis, pick a rug in the same color family as the rest of your bedding.
4. Wall to Wall
Move over, gallery wall; 2019 is all about hanging rugs on your walls.
But with tons of sizes, shapes, and materials to choose from, it's important to pick your rug-turned-art with care. You might be wary of choosing a rug with wear and tear for your floor, but it's a sound choice for your walls.
"Heirloom or antique rugs tend to work best for this, as their natural characteristics and slight wear and tear make them interesting enough to be converted into artwork," says Caitie Smithe, designer at Walter E Smithe. "Another great rug for this is a hide. You will get a lot of rich character and natural texture."
But how do you hang it? According to Nina Magon, principal at Contour Interior Design, velcro is a great option for small or light rugs, because it won't harm the fibers. If you're working with something larger or heavier, Magon recommends using a curtain rod. "It's a great way to support the weight without damaging the rug itself," she explains.
Or, turn a smaller rug into a bonafide piece of art with a nice frame. "You could mount and frame them in a nice lucite shadowbox," suggests Anat Aharoni, head of rug design at Lulu & Georgia.
5. Go with Your Gut
Like a sofa or coffee table, your home should be a reflection of your personal style. When in doubt, go with your gut and buy a piece that you love.
If you have a rug that makes you happy, the rest will fall into place—including how you style it.