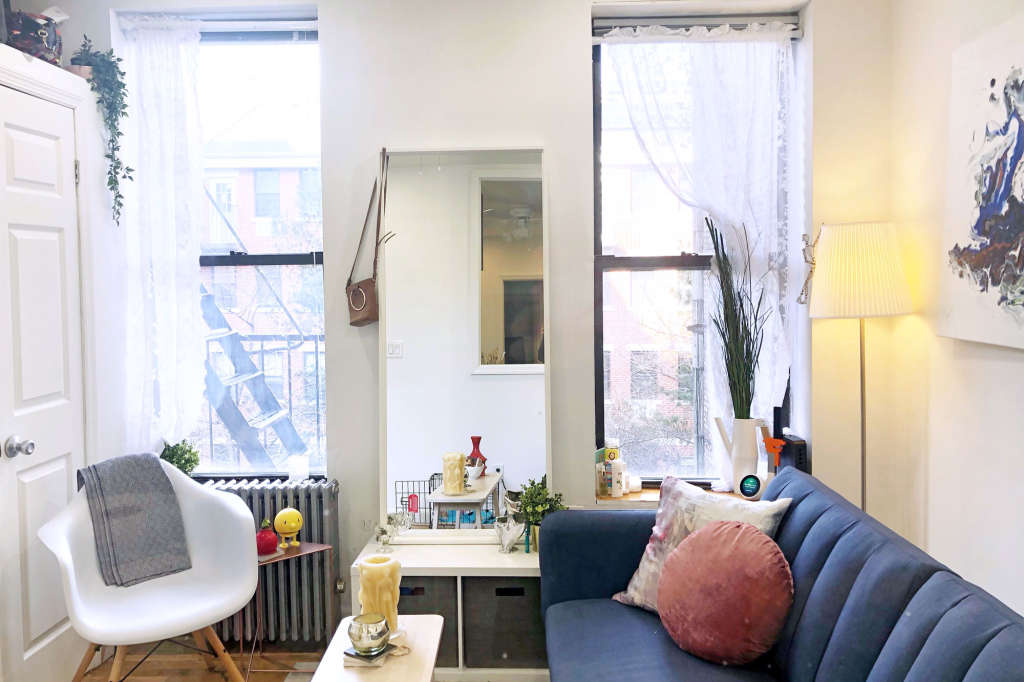 Name: Nicole Stankus
Location: Lower East Side — New York, New York
Size: 207-ish square feet
Years lived in: 4 months, renting
I'm a designer in New York, and I have moved A LOT. I had lived in 12 apartments in the five years prior to May of 2018. Rome wasn't built in a day, but I pride myself on making wherever I am feel like home as quickly as possible. When I was living out of a suitcase and called my blow-up mattress my bed, I would lay the luggage flat, accessorize it, and called it a nightstand.
Finding an apartment in the city is hard. I never planned on living alone, but somehow after countless apartment almosts and countless cries on the street, I found this place. It was out of my budget, so I dismissed it immediately.
It seemed the apartment was out of everyone's budget, because two weeks later the realtor called me with a price reduction. In a whirlwind of dodgy paperwork and spoken promises—of which I'm still not sure was entirely legal—the apartment was mine.
The apartment is quaint—tiny—so with just a few purchases and the addition of my most prized knickknacks, the place felt like home immediately. Every item in this space has a story, even the Espolon tequila sitting on my counter.
Describe your home's style in five words or less: Lathered in love
What is your favorite room and why? The living room/bedroom. It has two gorgeous windows and a balcony (fire escape) that flood my apartment with delicious sunlight…I'm still recovering from to my two windowless NYC apartments prior.
This room is my everything. It is where I host guests, where I stream movies on my laptop, and where I sleep. I opted out of a traditional bedroom, because I am the minority of the population who loathes sleep…I regret nothing, but if I could go back in time, I'd spend more money on a more comfortable couch (convertible sofa).
If you could magically change something about your home, what would it be? I would add a bedroom, with a BED!
What's the last thing you bought (or found!) for your home? I recently bought Jonathan Adler's Muse votive. A purchase based solely on visual lust, yet I still lie and say it's where I will keep my laundry quarters. The nail in the coffin was the 20 percent off sign in the window. I knew at that moment it was mine. My heart honors every dollar I spent whenever I look at that gorgeous little bowl holding absolutely nothing.
Any advice for creating a home you love? My personal rule is keep it clean—because your mind is messy—and fill it with memories and stories. My apartment is decorated with widgets and gidgets from life and my travels, my fake plants from the apartments that had no windows, and the newest additions to the botany crew, which are real flowers from Trader Joe's that I'm using as a stepping stone into plant parenthood.
Thanks, Nicole!
• Interested in sharing your home with Apartment Therapy? Contact the editors through our House Tour & House Call Submission Form.