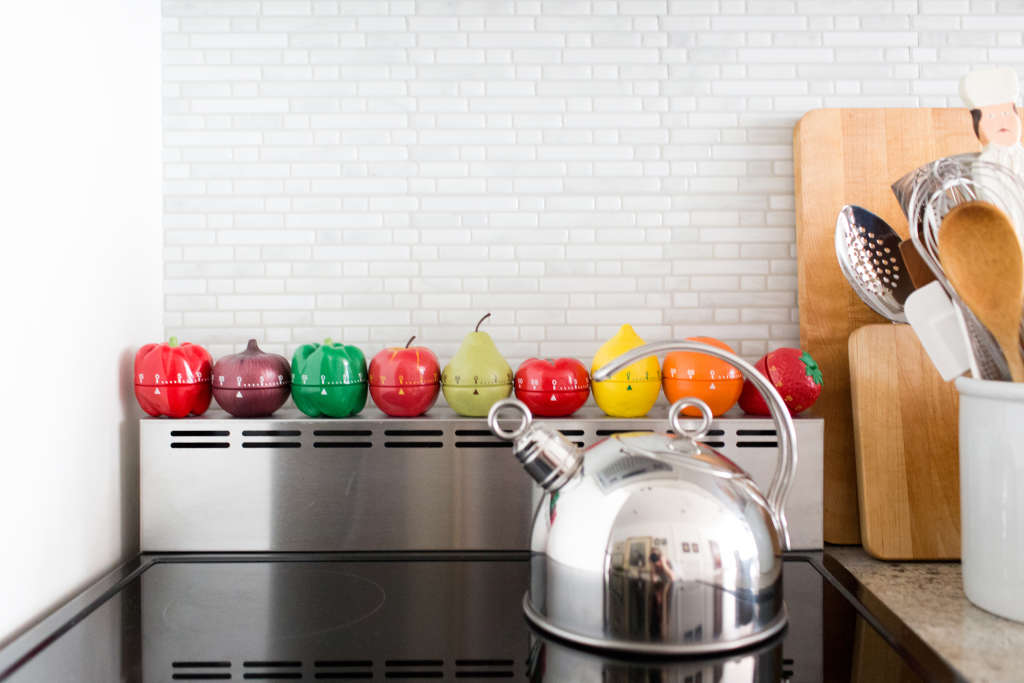 As much as I love the Sarah Sherman Sameuls and Shea McGees of the world, we don't all have the budget (or even the homeownership, in my case) to splurge on a fantastic Cle or Granada Tiles kitchen backsplash. A girl can dream right? And save, of course. But until then, I've been toying with the idea of a stick-on solution. My kitchen is tiny, so it wouldn't take much. I've had my issues with peel-and-stick tiles before, which I attribute to the fact that walking on a finish is a surefire way to make it tougher to remove, even if it's "temporary." But after that ordeal, I think I'm finally ready to give peel-and-stick another go. Probably because some of these backsplash applications look good—really good—and the products are both low commitment and affordable.
The first thing that jumps out at me when I see the kitchen above is the orange sink. (I've already talked about that at length.) In this kitchen's case, the fact that the gray glass tile backsplash isn't the centerpiece of the space is actually a good thing. Because it's not glass tile at all—it's a gray peel-and-stick product, and honestly, from the picture, I had no idea. I love how it plays with the cabinetry and pop of citrus.
This Catskills cabin kitchen gives me hope for my kitchen backsplash. A lot of what you find out there in the peel-and-stick market is in sheet form, similar to mesh-backed ceramic or porcelain tile sheets. But I have larger square tiles, so individual stickers like this are more up my alley.
I don't think you can talk about this category without talking about Smart Tiles, which is installed in this DC kitchen. This Canadian company seems to be the OG of peel-and-stick products and doesn't see itself as just a retrofit solution; they want to own the easier to install "tile" story and compete with regular tile. And when it comes down to it, they can. Peeling off the back of a sticker is a lot easier than cutting tile and grouting.
Ready to see some of what's out there in the form of peel-and-stick tiles? Here are eight of our favorite styles for the kitchen and beyond.
Vintage Bazzini Grigio at Smart Tiles, $7.49 per 7.5-inch x 7.5-inch tile
I love the gray-taupe combo in this geometric pattern. But since it looks like this is an individual tile style, make sure the sizing is right for your kitchen. Otherwise, your original grout lines might be distracting.
Hello Sunshine at Tempaper, $40 per 2-foot x 4-foot panel
Tempaper has a few options that look like tile. I could see Sarah Sherman Samuels using this neutral tone-on-tone sunburst pattern somewhere.
Even trendy herringbone patterns are available in peel-and-stick form. This glassy blue colorway feels fresh, but classic white is also an option.
A fun hex pattern for a mod bathroom or kitchen.
Metro Carrera at Smart Tiles, $7.49 per 11.56-inch x 8.38-inch piece
Want Carrera marble, but don't have the cash? Try this fool-the-eye subway style.
This gray field tile has a nice hint of sparkle and dimension, despite being one flat sheet.
Loverstone Tile Decals at StickPretty, From $26/Set of 10 4-inch x 4 inch tiles
This company makes single tile decals in a variety of patterns and colors. Custom sizes are also available.
Apartment Therapy supports our readers with carefully chosen product recommendations to improve life at home. You support us through our independently chosen links, many of which earn us a commission.