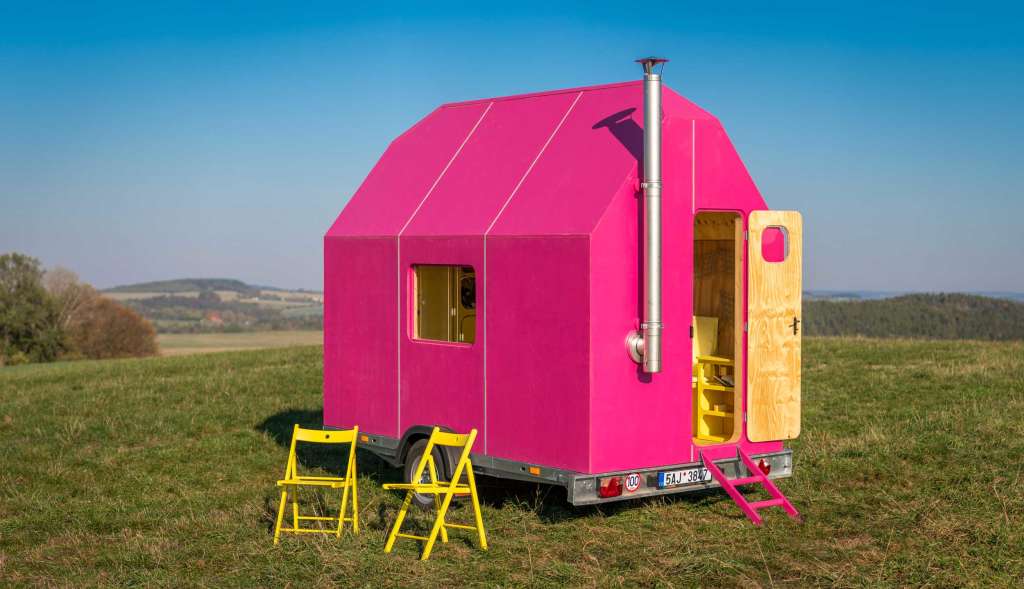 Even the most novice designer understands how easily vibrant colors can make a rather huge impact on their surroundings, and there's no clearer example of this concept than Magenta, a bright pink tiny home on wheels. Joshua Woodsman of Pin-Up Houses designed the eye-catching residence, which measures a mere 66 square feet and is built atop a flat trailer for those who are perpetually consumed by wanderlust.
The wooden structure is insulated with polystyrene on all sides, which ensures the interior remains nice and cozy during the winter and cooler during the warmer seasons. Despite its meager size, Magenta contains all the fixings of a traditional home. There's a sofa bed, a small kitchenette with a sink, drawers for storage space, plus a water tank and gas cooker. The home also has a chemical toilet, which rests inside its own tiny compartment. Across from the sofa sleeper is a pair of chairs and dining table. Additionally, the inclusion of built-in furniture and stretch nets attached to the ceiling and walls address the issue of storage while the single large window allows in natural light and works with the pitched roof to contribute to making the interior feel more spacious.
Various design aspects ensure that the Magenta travels well. Lightweight materials like spruce and waterproof plywood were used in its construction.
Thanks to a functional wiring system, the tiny house is equipped with five lights in total – one on the outside, plus a pair in the main room, another in the kitchenette and one in the toilet. Additionally, the home has three electrical outlets.
A titling outdoor table makes for the perfect hangout spot.
If you're interested in building your very own Magenta tiny house, Pin-Up Houses has plans (currently just $79) that include the construction process, material and tool list.
via: Inhabitat