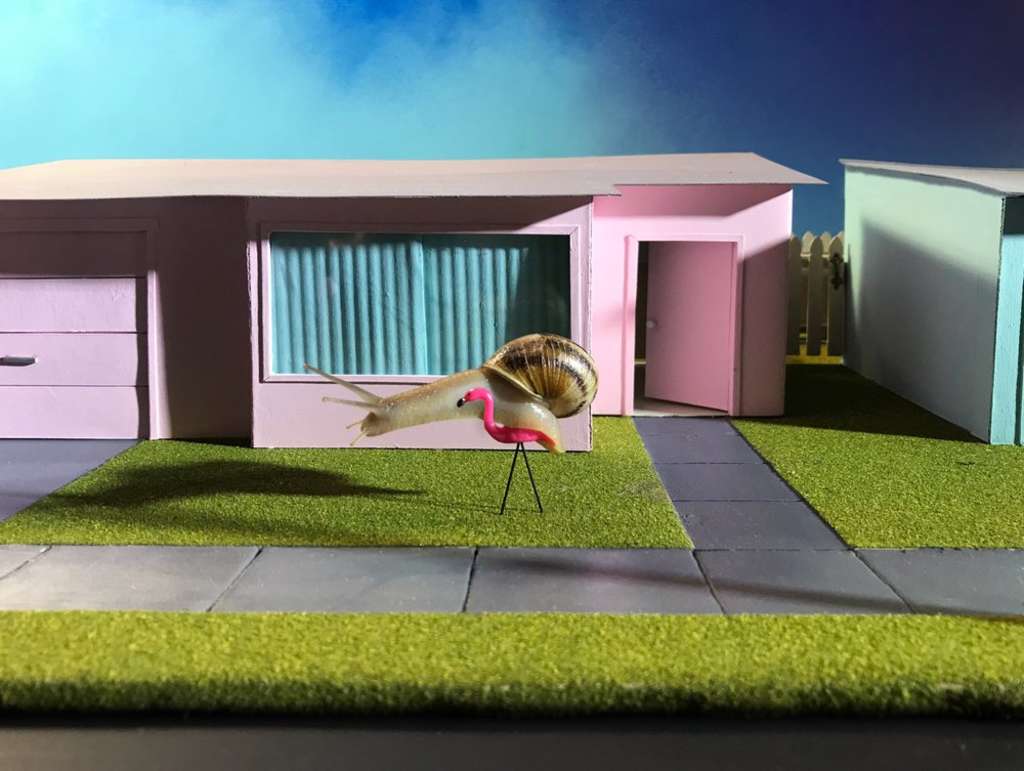 When they're not destroying gardens or generally grossing people out by leaving slimy trails everywhere, snails appear to have pretty mundane lives. But leave it to a super creative individual to put the slow-moving creatures to work in the most interesting way. Aleia Murawski and Sam Copeland have curated an entire Instagram feed full of snail dioramas, tubs of Spaghetti-Os and other oddly intriguing setups. Even if you're like this writer and can't see a snail without cringing, you still won't be able to stop scrolling through the images.
While they might be a snoozefest IRL, online #snaillife is actually quite lively. Among Murawski and Copeland's collection of gastropod-themed miniature sets are snails composing love letters (to other snails, because of course they are), snails chilling in front of the computer on a Friday night (same), and plenty of other snails doing totally normal snail stuff like recovering from an over-the-top New Year's Eve celebration or summoning snail spirits with the help of a Ouija board.
Now that we've established that snails are more like humans than we initially thought (at least in the artists' imagination), let's move on to the Spaghetti-Os. There's a shot captioned "Comfort Food Series," which is basically a big tub of Spaghetti-Os in a bathroom with a window opened to a gorgeous sunset. Oh, and frogs and millipedes make appearances as well, along with – you guessed it – even more snails.
So, what's up with Murawski and Copeland's snail obsession? Apparently, they use their tiny worlds for still images and to make short films. They also have a pretty interesting way of directing the snails on set.
Colossal explains the duo's snail-filled cinematic process:
"One way she and Copeland inspire certain movements while filming is by positioning cucumbers behind the sets' tiny objects, which encourages their subjects to inch towards the hidden vegetables. The duo used this technique in their recent music video project for Bully, in which they built out an entire neighborhood and house set to outline a day-in-the-life of an extra sluggish snail."
If you've gone on a liking spree on these slimy snail photos on Instagram and would love nothing more than to hang a few images on your wall at home or work, they're available for purchase on Big Cartel.