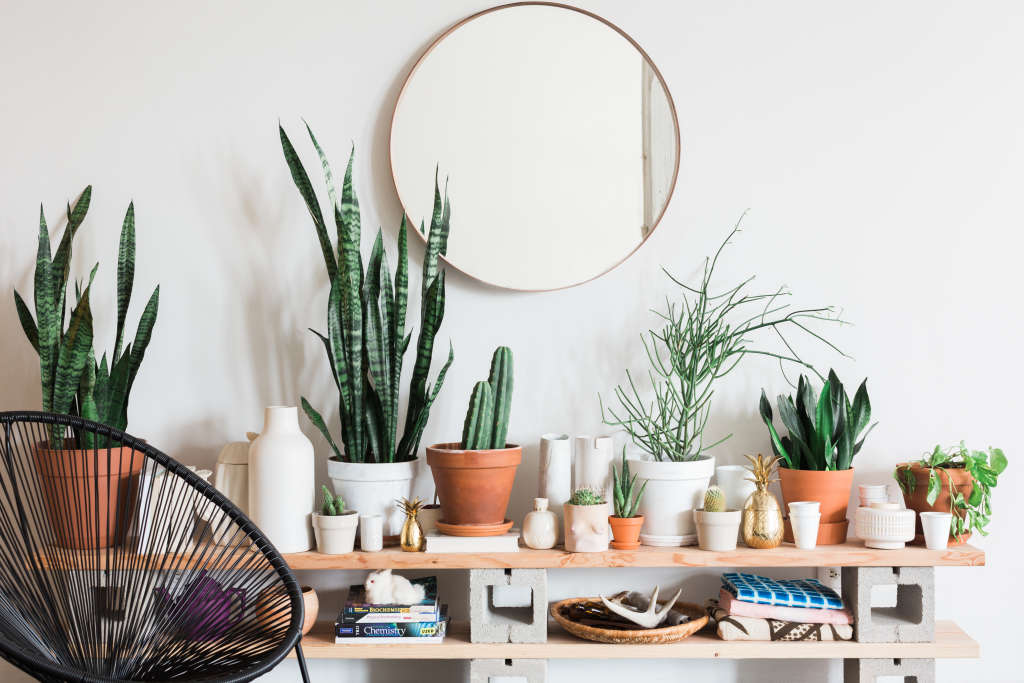 Every well-designed home should have a mirror—or several, since the designs and functions of mirrors really run the gamut. Some are purely for checking your "selfie" out, others predominantly bounce light around, and there's a whole class that seems purely for decoration, due to their unique shape or finish. Mirrors can fade into the background or make a statement, depending on where you mount them. So, to help illustrate all the good mirrors can do for your space, we rounded up 20 ways you can use them to your decorating advantage. Hopefully, there's a trick or two you haven't already thought of for your own home in this mix.
1. Soft Edges
Round mirrors are definitely on the upswing. These circles are definitely a calming, eye-pleasing shape, but they can also balance out a composition full of other geometric elements. Take this living room, for example. You've got the rectangular painting, square storage bins, and angular forms for days in the southwestern inspired textiles. The circular mirror adds something a little softer to all that edge.
2. Find the Light
(Image credit: Hayley Dickson)
But round mirrors aren't just for looks. Mount one in an advantageous spot on your wall, and it'll throw natural light around a space like you won't believe.
3. A Touch of Glam
Found a round style that has a mirrored frame? That's about as glam as you can get. If it's as ornate and large as this one, use it in lieu of art to fill a stretch of blank wall space.
4. Bright Backsplash
But it's not all about round mirrors, even if they're trending. Framed or frameless, rectangular and square mirrors are true design chameleons. Just look at how this unframed mirror makes this tiny apartment kitchen look a tad more expansive.
5. Go Big or Go Home
If you have high ceilings, try an old school rectangular pier mirror. Back in the Victorian era, these guys used to be stand-ins for windows to make rooms brighter. The proportions are generally large, and sometimes they even have built-in shelving or seats.
6. Gilded Age
If your room needs a little touch of fancy, paint whatever framed mirror you can find with gold. It'll instantly make anything you have look better.
7. Bedside Attraction
Larger rectangular mirrors aren't just for living rooms. This bedside application is the perfect place to shoot your #OOTD—or just check out what you're wearing.
8. Layered Leaning
Speaking of selfies, or just making sure you don't look like a crazy person before heading out of the house, the oversized leaning mirror is also a great idea by a door. Bonus points if you manage to work some kind of storage into the piece.
9. Small and Mighty
If you don't have the room to go big, something smaller, like this tiny square, also works.
10. Statement Door
Want a true space-saver? Instead of leaning your full-length mirror against a wall near the door, try putting it on a door. You can always hang it on the reverse side, or you can use it decoratively, as shown here.
11. Makeshift Shelf
Find a deep enough rectangular frame for your mirror, and you can use that sucker as a shelf. Or, if you're a real minimalist, a medicine cabinet. This kind of setup also works great near a door or in lieu of a makeup vanity in a bedroom.
12. Matte Metal
This matte black rounded corner style is a real cutie. These kinds of metal framed mirrors are popping up more and more in bathrooms over traditional vanity mirrors and medicine cabinets, especially in small spaces. The overall look is more modern, even when installed over subway tile. Plus, it's way lighter and more airy than something bulky and wooden. And again, that little shelf at the base of the piece is a nice little bonus feature.
13. Circular Gallery
A gallery wall that mixes in a mirror or two adds variety to whatever composition you're trying to create. Even better if you can find a cool shape to break up all the rectangular pictures and prints you probably have. Or, make a mini gallery wall out of mirrors entirely.
14. Large and in Charge
You could also get a big (and I mean HUGE) old mirror, put it behind your sofa, and call it a day. It's the kind of thing you'd see in a swanky hotel—a real one and done. Plus, it's a great way to anchor the sofa with minimal effort.
15. One-of-a-Kind Headboard
Find two arched mirrors, hang them side by side and—voila!—an artsy, one-of-a-kind headboard. Pile on the pillows so you're not totally sacrificing the comfort of an upholstered headboard.
16. Stylish Sunburst
Don't discount the whimsy the ever-popular sunburst mirror can bring to a room. Put one of these any place you might mount a clock—above a doorway, in a dining nook, wherever. Something this size works well in a gallery arrangement, too.
17. A Bit of Rouge
If you want to give an old mirror new punch, paint its frame a fun color like this fanciful red vanity. Look for something that can be spray painted, otherwise you'll have a lot of cutting in to do.
18. More is More
Don't be afraid to double up on mirrors. This is a nice a way to fill up a bedroom wall, particularly if you don't have enough space in your bathroom for larger pieces.
19. A Perfect Circle
Why not make a mirror a mantel centerpiece? You've seen TVs, landscapes, candlesticks, and more mounted above a fireplace. But a mirror is a real contender here too—especially if you can find something graphic and bold like this riff on concentric circles.
20. Mooning Over You
This moon-shaped little guy would be sweet in a nursery or kid's room over a dresser. It's the perfect size to anchor a smaller piece of furniture.