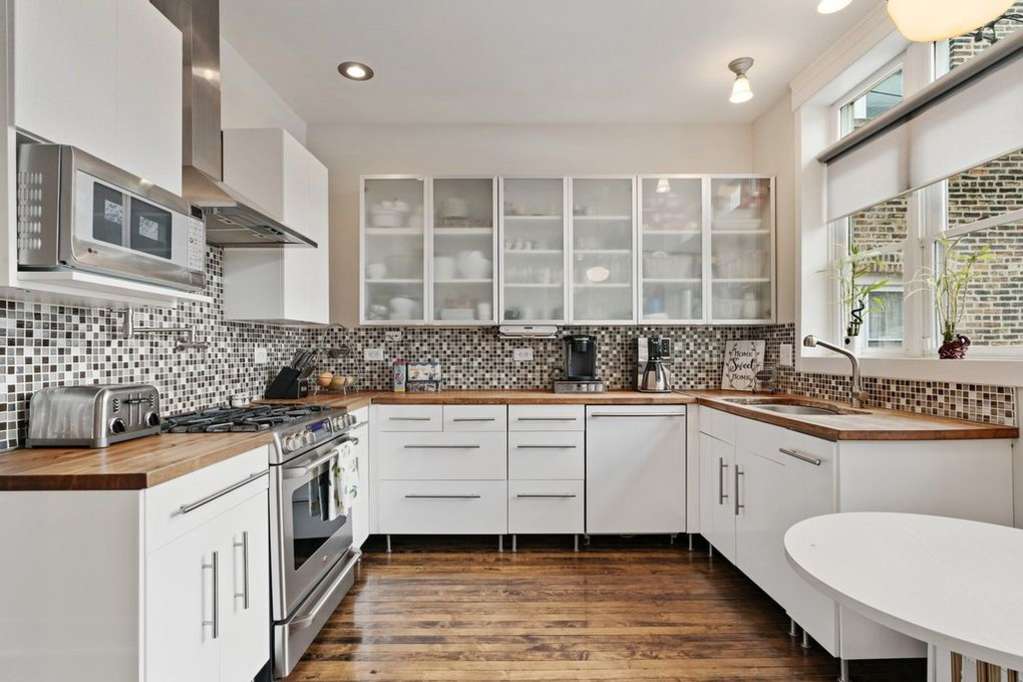 Ever wonder what kind of a home you could buy if you had a $1 million budget? Will you be able to afford a mansion in Houston or a one-bedroom apartment in Manhattan? We profiled five major cities to find out exactly what kind of home a small fortune can get you. Here what real estate agents say:
Philadelphia, Pennsylvania
"The thing about Philadelphia is that you can live very well for very little compared to other big cities," says Laurie Phillips, an agent with Berkshire Hathaway HomeServices in Philadelphia, Pennsylvania. "One million dollars can get you into a great building with a concierge in a great location with anywhere from 1,500 to 1,800 square feet of property. Also, everything we have is in prime location—you can walk to work, to the cleaners, and to the grocery stores. It's as good as it gets."
Up your spending just a bit to $1.3 million (all of Phillips' $1 million listings have been recently sold) and you can live near Philadelphia's Rittenhouse Square in this two-bedroom, two-bath unit. The pre-war building is chock-full of amenities, including the use of a chauffeur-driven concierge car that takes you where you need to go. "One particular building also has parking underneath, which is hard to find in Philadelphia, because so many garages and lots have been converted into other uses for development," says Phillips.
New York, New York
With New York City's five boroughs, where do you start when it comes to figuring out how far your $1 million will go? You start with Brooklyn and Julie Thum, associate broker with RE/MAX Elite, who talks about how far a cool mil will get you.
"In the Bay Ridge area of Brooklyn, $1 million will only cover a small portion of the available housing stock," says Thum. "You are going to be looking at a small one-family home with either no parking, a common drive, or a shared drive in the 1,600- to 1,700-square-foot range. It may or may not have a garage." She mentions that if you wanted a larger property, such as 2,000 square feet, you could only find a property that would need additional work.
In Queens, Evan Metalios, a broker with the RE/MAX Team in Jackson Heights, says that the real estate market has changed since Amazon announced it would be moving into the area. "[In Long Island City] there is almost nothing that you can get for less than $1.4 million," he says. In eastern towns like Bayside, Whitestone, and Flushing, homes typically exceed $1 million, however some smaller homes (think 900 to 1,000 square feet) occasionally pop up on the market for as little as $750,000.
A little south from these neighborhoods, in Jamaica Estates, is this one-family 1930 townhome on a 6,800-square-foot lot. At $1.04 million, it's just slightly over, but it has four bedrooms and three full baths.
What does $1 million look like in the heart of Manhattan? It depends on the location and the type of property you purchase, according to Kathy Murray of Douglas Elliman.
"If you buy a co-op, you can get much more space for your money, but buyers have to go through an arduous approval process and just being financially capable for the purchase does not guarantee approval," she says. "A condo has more flexibility."
You might even find a steal like this one-bedroom penthouse suite on 52nd Street for $999,000. "This home is unique for its price point because you typically do not get penthouse apartments priced under $1 million," said Murray.
But this one offers stunning city views in an amenity-driven, luxury condominium. "The building offers everything, from a full-time doorman, state-of-the-art fitness center, and children's playroom; to a landscaped roof deck with stunning city views, a Koi pond, wine tasting room, and more," she says.
It's all about location, location, location, and this building is located with quick access to restaurants, as well as a very short walk to the Theatre District, Central Park, and Lincoln Center. "You also have very easy access to multiple subway lines that can you get you uptown, downtown, and across town in minutes," says Murray.
Los Angeles, California
Out west, Justin Potier at Carrington Real Estate Services in Aliso Viejo, California, says that while multi-million dollar homes are in abundant supply in the City of Angels, there is also ample inventory for a very nice Los Angeles County home for a cool million dollars.
That includes this two-bedroom, two-bath home on Pacific View Drive, listed by Shelene Atanacio, of the Shelene Group at Nest Seekers International in Beverly Hills. It's just one dollar shy of a million and is great for its incredible views.
But if you want to be in the thick of everything in Los Angeles and Hollywood, Lapchih Fan of LF8 Real Estate says to check out this one-bedroom, two-bath unit on Francisco Street.
Chicago, Illinois
If summers spent at North Avenue beach and winters spent waiting for the El under heat lamps appeals to you, $1 million might just find you the home of your dreams on Chicago's west side. This four-bedroom, three-and-a-half bath home on West Iowa Street in the North Side of Chicago is a great indicator of what you can get for your money in the Windy City. (A lot!)
Houston, Texas
Maybe you would prefer to live in Texas and become a Longhorn? You don't need to strike oil to afford a home in Houston, the fourth-largest city in the nation, and you'll like the bang you'll get for your million bucks—unless you're looking for new construction.
"A million dollars in Houston does go far—but generally anything inside the loop that's newer construction and not a townhome-style home starts right at a million or a bit above," says Lisa Yambra of Circa Real Estate in Houston, Texas.
Maybe you're looking for something like this breathtaking four-bedroom, four-and-a-half bath home, which sits just under the $1 million benchmark. At almost 4,000 square feet, the home sits on nearly one-third of an acre.
But if you don't need a large yard and can do with a two- or three-story townhome, you can even find a home in Houston for much less than that—anywhere between $500,000 and $700,000, Yambra says.
Wondering what homes look like in a place where the median sales price is a whopping $6.7 million? Take a look inside the homes of Atherton, California—the most expensive zip code in the nation.