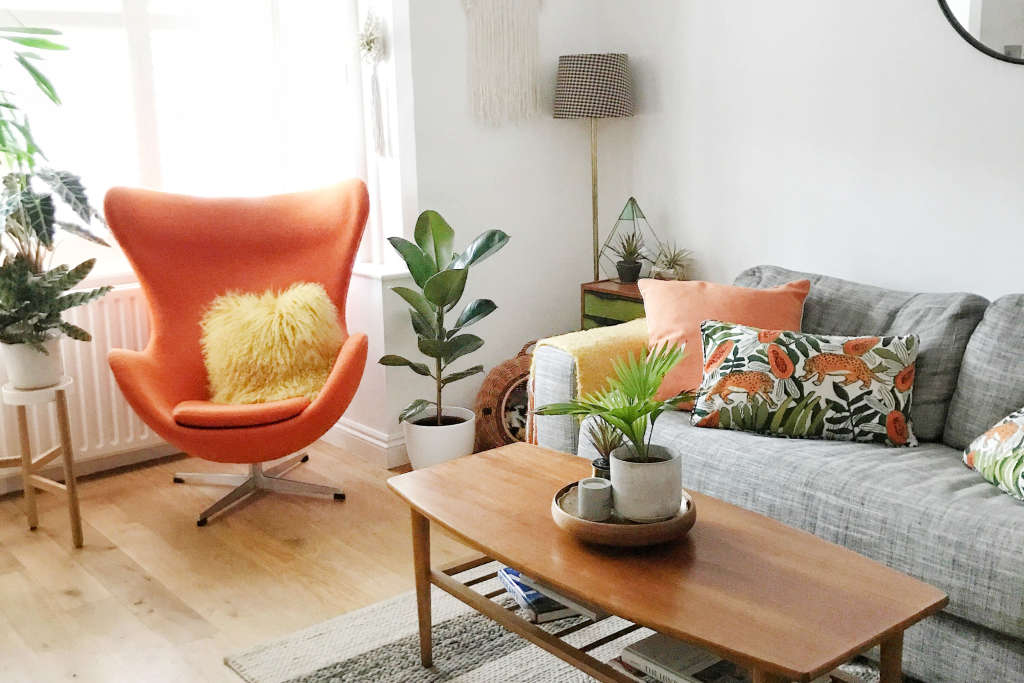 Name: Elle Collins, husband John, son Hudson, and British Shorthair cat Mia
Location: Knowle — Solihull, United Kingdom
Size: 1,264 square feet
Years lived in: 4 years, owned
Myself, my husband John, our 2-year-old son Hudson, and our British Shorthair "Blue" cat Mia have loved every second of the last four years in our home. This home was our first purchased together as a couple; we got married and had our first child while having this home so it's full of memories.
We didn't have to do a lot to it when we moved in, but when I was pregnant I went through a big "nesting" phase…needing everything painted white. I also had the nurturing bug, and that's when I started collecting plants. I now have 82 (and counting).
Pregnancy was also when I started really taking my love for decor seriously and began my own business, Bamaluz Home, selling my handwoven wall hangings and other bits of decor. Our house is now filled to the brim with it all!
"Bamaluz" is the name of the beach in St. Ives, Cornwall where we got engaged. We visit it numerous times a year as a family in our camper van. We all love the seaside!
Most of the furniture in our home was either inherited or found on eBay or while thrifting. My favourite piece is our original Arne Jacobsen egg chair. It was found in my uncle's loft and given to us as a wedding gift. We managed to get it restored to its original glory, and to this day I still don't think my uncle has realised what he gave away!
Describe your home's style in 5 words or less: Mid-century modern, bohemian plant addict
What is your favorite room and why? Our kitchen/diner is our favourite room, as it's the largest and brightest room in the house with large skylights, a sun room/conservatory, high ceilings, and long views out into the garden and tress. It holds about 50+ plants and still has plenty of room to move freely (and for our son to get out all his toys at once and still want to play with the TV remote!). It enables us to spend most of the day as a family but not get under each other's feet.
What's the last thing you bought (or found!) for your home? The last large piece I found was a six-foot tall peacock style wicker shelving unit in a charity shop for £25. We haven't found a home in the house for it yet, but as with most thrifting, sometimes you just have to buy it and worry about that later!
Any advice for creating a home you love? Lovely furniture doesn't have to be expensive, you just need to research where to look. Also cheap furniture can be "up-cycled" beautifully and there is so much inspiration around online these days.
Thanks, Elle!
• Interested in sharing your home with Apartment Therapy? Contact the editors through our House Tour & House Call Submission Form.