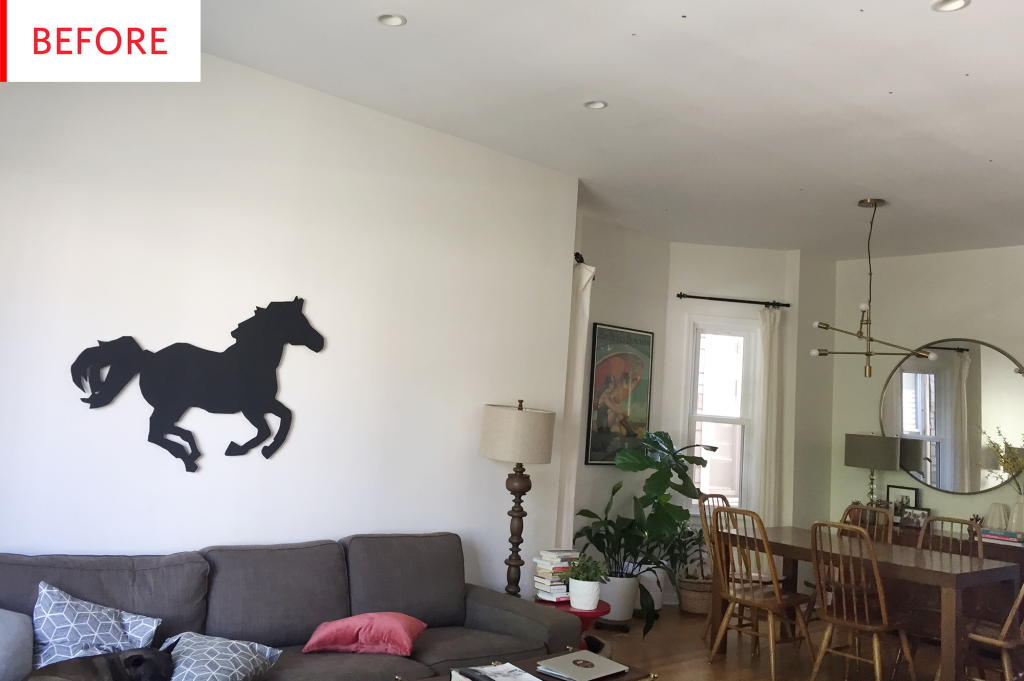 This open-plan living and dining room had tons of charm: A graceful chandelier, attractive and comfortable furniture, lush plants, and lots of natural light. Its owner, however, wanted to added a little something extra—that je ne sais quoi that would elevate the space.
Reader Kari Hailey looked for ways to add architectural interest and warmth to the room, and finally found something they could do themselves, without spending a ton of money.
(Image credit: Kari Hailey)
Kari cleverly added beams! Hardwood beams are a prized and all-too-rare architectural feature usually only found in 100-year-old homes and industrial lofts. Bu the notion of installing brand new beams is a game-changer. Suddenly a newly-built apartment can have the appeal of a historic home. The beams are dramatic yet unobtrusive, drawing the eye upward without pulling all the attention from the carefully chosen pieces below.
(Image credit: Kari Hailey)
This photo gives a better sense of the scale of the room, as well as that long expanse of plain white. Kari shares the challenges involved in transforming a nondescript ceiling into something special:
Figuring out placement was honestly the hardest part. We have a bay window in the dining room and can lights we had to work around. Once I located the joists and measured everything out, we attached 2x6s with long screws. Then we built U-shaped boxes with 1x6s by nailing and gluing them together, then staining them. I decided not to go the rustic route and keep them clean and modern. This added a little bit of cost because we needed premium clear pine, but it still wasn't too expensive. In the end I think this project came in at just under $800.
Finding the ceiling joists and measuring things out were the other hardest parts of this project and took the most time. I learned that you can use an earth magnet as a stud finder—it will stick to the ceiling where there are nails, and the nails will be in the joists. I made one by wrapping it in painters tape to make a little handle and keep the ceiling from getting scratched up. But I think they sell them at Home Depot too.
A more refined grade of wood makes sense with this aesthetic, and building box beams was a stroke of brilliance. The magnet tip is an incredibly helpful one: Use a magnet to indicate each stud, so you can keep track of where each one is without having to make a mark on paint.
(Image credit: Kari Hailey)
The beams not only do a lovely job of mirroring the natural beauty of the wooden floor, but also pulling the glow of the wood dining furniture out into the rest of the space.
(Image credit: Kari Hailey)
This room is long enough that the beams don't disjoint or interrupt it in any way. The proportions can handle all the horizontal interruptions; in fact, the beams make the space feel larger. They also allow the white paint to glow, throwing it into bright contrast against the rich natural wood. Kari is justifiably pleased with the results of all that hard work, and captures a crucial quality:
When you walk into this room now, it feels completely different. Cozier and warmer, and the white walls look much more purposeful. The beams look like they have always been there, which is exactly what you want when you make a change to an old house.
This home is warm, cozy, inviting, and all around appealing. The new wooden beans simply enhance all of that.
Thank you, Kari Hailey!