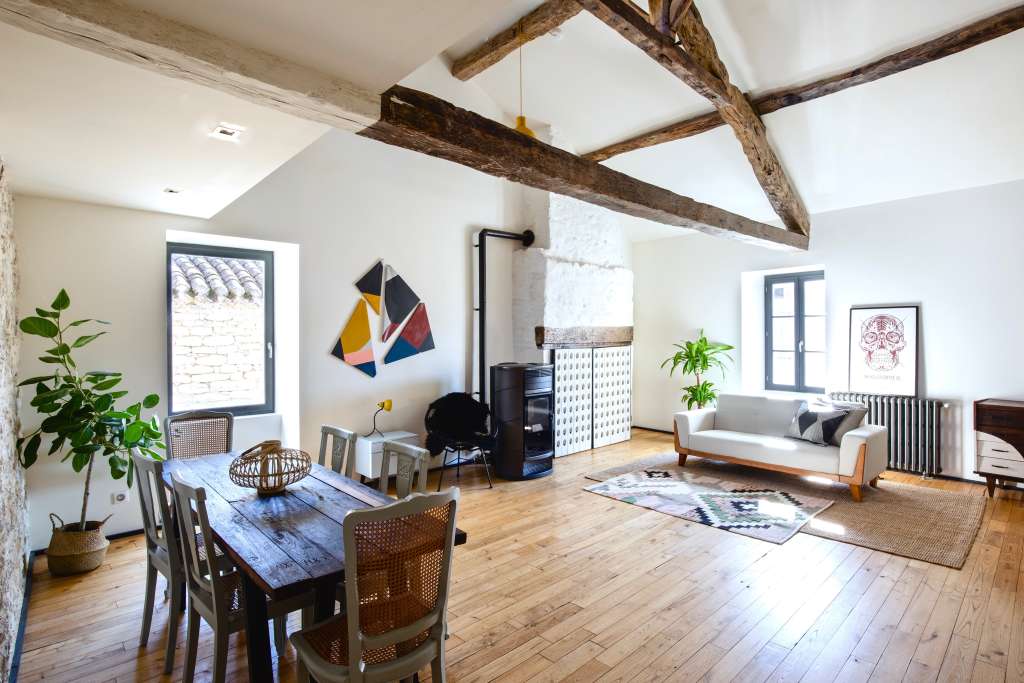 Things we love about this property crush:
How chic does it sound to invite all your friends to summer at your country home in the South of France?
This 19th-century home in Montcuq has been completely renovated with modern interiors that look straight out of French Vogue. Designed by a local architect and tradesman, this home boasts traditional stone walls and exposed oak with a modern open floor plan and iron staircase.
The stunningly cozy living and dining space feature an Italian pellet stove to heat the room. The kitchen—like the rest of the home—manages to pull off a traditionally modern vibe with bright blue cabinetry, sleek appliances, a center island, and both stone and subway-tiled walls.
Three spacious bedrooms with loads of natural light and high ceilings round out the sleeping spaces. There are two modern bathrooms, one with marble tiling and a claw-foot tub and another with funky double sinks and a black-tiled shower.
And there are loads of lovely surprises: The mezzanine level boasts a loft-like space that can be used as an office or TV lounge. There's also a semi-underground cellar that can serve as a wine cave or "drinking den."
Outside, a terrace boasts a garden, pergola, and fire pit. The limestone walls and lavender make it extra dreamy.
The property is located on a peaceful street, close to the city center and just a short drive to a lake, where locals swim and picnic in the warm-weather months.