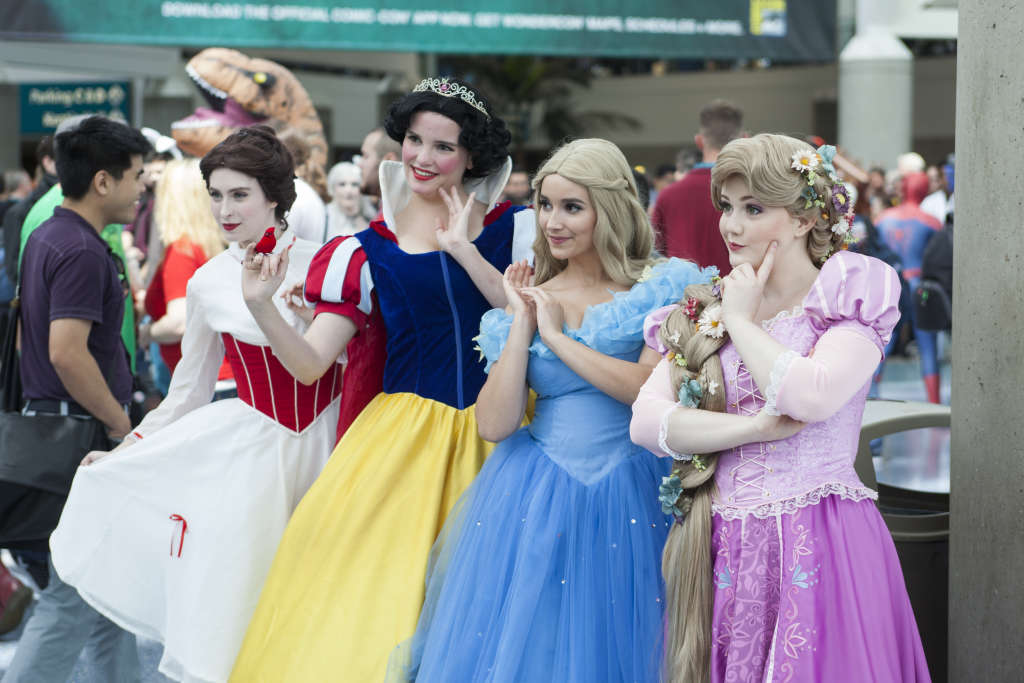 Imagine if all of your favorite Disney princesses were modern day badass ladies. Thanks to e-design company Modsy, we can actually see what the homes of Moana, Elsa, Snow White, Belle, Cinderella, and Mulan would look like if they were here in 2019 and not fictional characters.
Scroll through the photos below to see what Modsy's Director of Style Alessandra Wood thinks the modern-day homes of these Disney heroes would look like and learn how you can turn your apartment or house into a place fit for a queen.
Related: If Disney Princesses Lived in Tiny Houses
Moana (Moana)
After a long day of seeking adventure out on the ocean, our girl Moana definitely deserves a nice place to rest her head. Her modern day bedroom is, of course, all island all the time. The wood and rattan pieces paired with the accents of greenery, definitely creates that feeling of the outside brought indoors. To recreate this look in your home, Modsy suggests you "look for bohemian-inspired pieces, such as tassels, anything rattan, clay pots or mixed wood." What can I say except…you're welcome?
Shop the look
Elsa (Frozen)
Sure, living in an ice castle is cool (pun very intended), but imagine how much you'll be spending on gloves alone. Modsy moved Elsa from her isolated ice retreat and her family's castle in the Norwegian countryside and plopped her down into a chic apartment that uses both of her previous homes for design inspiration. Elsa's modern bedroom uses a winter color palette and employs patterns in the rug and pillows that pay homage to Elsa's Norwegian heritage. The chandelier made of antlers might give Sven the Reindeer pause, but the gorgeous headboard and faux furs and hides give the room a regal touch—perfect for your resident ice queen.
Shop the look
Snow White (Snow White and the Seven Dwarves)
Snow is a chick who loves a good nap, so her modern day bedroom has to be warm and cozy. With that and Snow's penchant for farmhouse living in mind, Modsy gave this princess a rustic room full of pieces inspired by the enchanted forest—like the statement canopy bed from Anthropologie (can you imagine Snow and her seven cohorts shopping in your local Anthro store?). To achieve this look, Modsy suggests hitting your local flea market, mixing patterns, and looking for anything with wood grains. Be sure to prop your windows open should any woodland creatures want to pop by.
Shop the look
Belle (Beauty and the Beast)
Let's be honest, Belle would probably be most happy living inside a library, but next to that, this luxurious living room full of lush fabrics, gold accents, and a gorgeous velvet sofa that is a play on her iconic yellow dress, will probably do. Modsy selected furniture and decor that mixed Belle's "Parisian roots" with her "countryside upbringing." There are nods to the beloved film all over the room—do you spy Lumiere up on the shelf? Does the dresser look familiar? And no "Beauty and the Beast" room would be complete without roses. Before bringing them into your house, just make sure they aren't the kind that turn your significant other into a surly hairball. Unless you're into that sort of thing.
Shop the look
Cinderella (Cinderella)
No evil step-mothers allowed, this is Cinderella's house now. The Modsy team gave your favorite shoe enthusiast "a simple yet elegant palette" by decorating the room in regal blue, ivory, and gold. If you fancy yourself a modern day princess, you can draw inspiration from Cinderella by incorporating velvet pieces, a tufted sofa, and brass accents into your own home. Fingers-crossed it doesn't all disappear when the clock strikes midnight.
Shop the look
Mulan (Mulan)
Let's get down to business, and relax in this living room. To conjure up the essence of Disney's toughest princess, Modsy blended "feminine and masculine features," and kept to a minimalist Mid-Century feel. The rug is the focal point here, and Modsy wanted the piece to "represent both sides of her—both traditional and a rebel at heart." Mulan fans looking to achieve this look should stick to clean lines, hints of the traditional, and always, always have a little Mushu in your corner.
Shop the look
Wall color: Black Satin from Benjamin Moore
Barcelona Chair, Design Within Reach
Ballam Side Tables, CB2
Potted Jade, Crate & Barrel
Improvisation Art, CB2
Wood Pendant, Crate & Barrel
Large Orchid, Crate & Barrel
Large Chinoiserie Landscape Jar, Frontgate
Faux Potted Agave, CB2
Black Band Large Basket, Unison
Lumbar Pillow, Williams Sonoma
Rosie Round Sculptures, Crate & Barrel
Noguchi Table, Design Within Reach
Tufted Sestina Rug, Anthropologie
Double Sliding Door Cabinet, Nakashima Woodworkers
Apartment Therapy supports our readers with carefully chosen product recommendations to improve life at home. You support us through our independently chosen links, many of which earn us a commission.