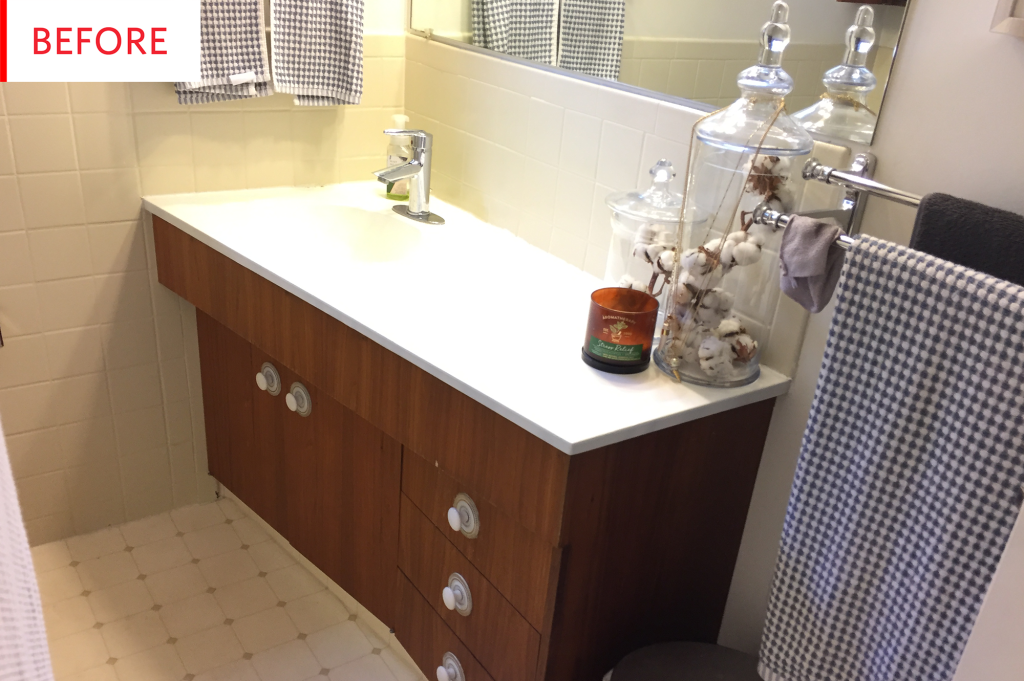 This little '70s bathroom had some serious space limitations, poor ventilation, and failing plumbing. Though its owner admired some of its best features—that teak vanity!—it was time for a functional overhaul and a major makeover.
The owner of the home describes everything that was great about the original bathroom—and all the things that were definitely less than ideal:
Our original 1970s bathroom is our ONLY bathroom on the main floor, so it's our powder room, guest bath and en suite. The foot print is only 40 square feet (7'6″ x 5′-6″) so maximizing this space was key. The layout was not functional; it only had 20″ of space between the protruding shower wall and vanity and my husband and I could not be in this bathroom at the same time. Its original plumbing was starting to fail and had no ventilation other then the window. It was time for a overhaul.
I always felt the design of our bathroom, considering its age, was a little ahead of its time. The original homeowner, who lived in the house from 1956-2014, was an architect and had great taste. The original teak wood vanity was set on an angle, which helped to free up some floor space. I was always a fan of the white counter top and integrated sink, even though I had no idea what the material was. Other then the vanity though, this bathroom was dull and dim.
That vanity was gorgeous, and the white top and clean lines are a fresh surprise to find in a home built in the earth-tone '70s.
Fran Loga of Redl Kitchens on Houzz completely restructured this bathroom, placing the shower where the toilet and sink were, and the vanity where the shower was. That new vanity is spectacular, with its luscious walnut and marble. The two materials enhance each other and contrast beautifully. Those delicate handles are perfectly low profile for a small room. The vanity backsplash looks fantastic and creates a unified look, joining together the vanity, shelf, and mirror in one cohesive whole. All of the smart beauty seen here is a result of Fran's design skills:
As a designer myself I spent a few months floor planning and sourcing materials. This bathroom is heavily used and we could not extend the foot print in any direction, so it had to be super functional and feel timeless. We hired a contractor to do all the work for us, as my husband and I are not handy. The complete and total cost which included demo, all new plumbing, asbestos removal, new insulation, in-floor heating, a new window, custom high-end vanity, and all finishes and decor was $24,000. Luckily, this was a complete gut job, so we planned for the worst and completely tore this space apart, so there was no room for any surprises. I added in a few custom extras to make the space feel really "designed." I designed a custom shelf to sit above the raised marble back splash for items, which then keeps our small countertop clean. I also designed a series of niches underneath the shower heads for functional storage of shampoo, and a series of three stacked niches for decorative items, plants and candles etc. It turned out very well!
The floor and wall tile are from River City Tile Company, the countertop is from Urban Granite, and the custom walnut vanity and shelf are by Redl Kitchens.
While it's no surprise that a bathroom this size might feel a bit crowded, that shower wall was massively obtrusive, limited access to the toilet and sink, blocked the natural light coming in, and wasn't the cutest. There was also something off about the shower itself:
The original shower was clearly an afterthought as it had a hose connection from the tub filler and sat about 5′ off the floor. It's funny though, this is something we intended to change immediately after we moved, but lived with for 4 years.
That is a common refrain in renovations. It's always understandable for a wide variety of reasons, but especially when plumbing is involved.
While that adorable moppet is obviously pulling all the focus, the shower itself is splendid. The marble tile—even on the ceiling!—is reflecting every bit of light coming through window, and the heated marble floor is luxurious on multiple levels. The new shower space looks incredibly roomy, without really taking up any visual space thanks to the glass partial wall. Installing just a half-door was a clever move, creating an inviting feel and saving space since there's no door to swing open. And while one generally wants to corral the shower heat, at least in the winter, in a relatively small bathroom that's not really an issue.
Fran designed an impressive amount of cubby space for products and decorations—or more products, if they eventually overwhelm the first two. The rain shower paired with the handheld shower is the best of both worlds, and the entire space is so enticing. Fran feels the same:
I am so glad we decided to not replace the tub and stuck with a full stand-up shower instead. We went back and forth on this decision intensely, as this is the only bathroom on the main floor, but would highly recommend this in the future. We also splurged on the wall-mounted toilet, is easy to clean. Splurging on a custom walnut vanity with drawers was the right move in this space, as it houses everything we need in a super organized fashion. Last but not least: my very favorite thing is the heated marble floor tiles, which were worth every penny!!!
A wall-mounted toilet sounds like a treat to clean, compared to navigating the maddening twists and turns of more-standard models. Dust wouldn't accumulate at an impossible rate, and mopping would be so much more straightforward.
Backing the cubbies with more of that spectacular marble was a classy move that basically creates three works of art. The nooks look beautiful whether they're holding decorative accessories or not, though these particular accessories are quite lovely.
After such a big investment—time, money, and design work—Fran has some expert advice to share:
Don't rush the design, consider all options and don't be afraid to get creative. Also don't cheap out, this is our one and only bathroom so it was worth it to me to go high end and I have zero regrets there!
Thank you, Fran Loga of Redl Kitchens!