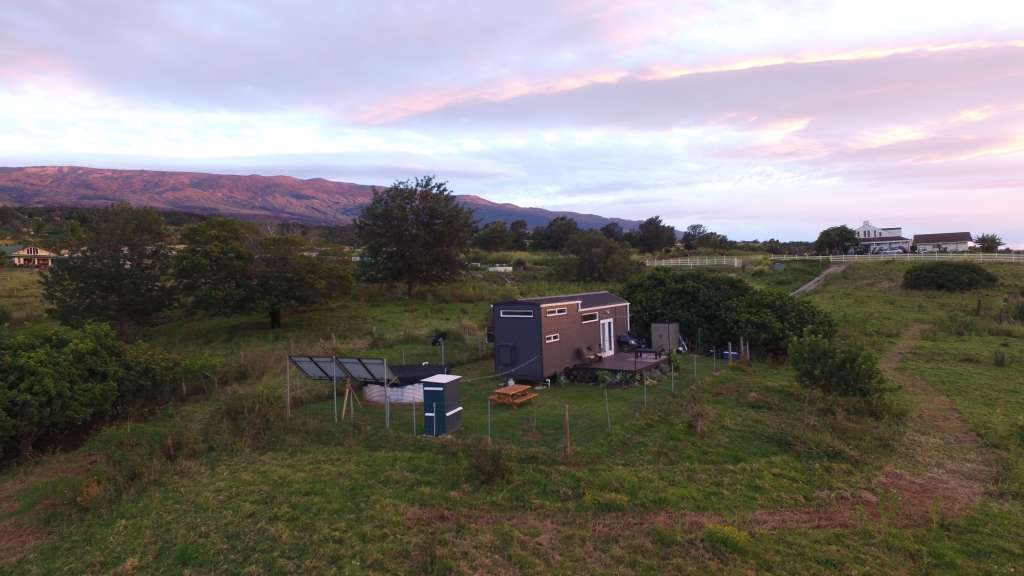 Name: Zeena Fontanilla, husband Shane, and son Maverick
Location: Maui, Hawaii
Size: 350 square feet
Years Lived In: 2 years, owned
Once people find out our family of three lives in a tiny house, my favorite thing to casually bring up in conversation is that it's only 8.5 feet wide. That is insane, right?! Granted the length of our trailer is 32 feet. Everything about this lifestyle challenges what "home" is suppose to look like. Right now, our home is parked in the middle of a pasture surrounded by cows and goats with tons of open space.
---
"The best part of this lifestyle is that you get to design it specifically for you and what you love."
---
In this home my husband (Shane) and I got to design and build together, we wanted it to reflect our commitment to deepening connection. Connection to each other, to the outdoors, and even our relationship with natural resources, which we realized we took for granted, daily. We love this season of re-calibrating what "home" means to us and our little Maverick (our son) that we are raising.
Even in our tiny space we don't shy away from inviting people in. We've hosted holiday dinners, lady brunch, and baby hangouts. We have all the conveniences of a big house but in a very small package. Don't feel like you need to discount tiny living if you love hosting. The best part of this lifestyle is that you get to design it specifically for you and what you love.
Apartment Therapy Survey:
My Style: Modern Minimalist
Inspiration: Growing up in Hawaii, I always felt extremely connected to nature. So when we got the chance to create our own space, plants and natural wood elements were at the top of my list. The commonly seen black, whites, and grays in our home were inspired by the husband wardrobe. He loves his classic colors, which made putting together the rest of our home a breeze.
Favorite Element: This element has excited me since day one: it's how we wrapped the interior window sills with stained wood. Having this simple detail throughout our home adds such a warmth to the space. It's that nostalgic feeling that I get during sunset when the setting sun lights up the grass exposing those golden green hues. Aahh, it melts me every time.
Biggest Challenge: We are living off-grid which means we collect our own water, have a composting toilet, and have solar/batteries to store our electricity. So when we first moved in we were overly cautious about everything! Even after a long sunny day we would use our battery powered under cabinet lights to illuminate our kitchen for cooking at night. I remember taking 1-minute showers and turning off the water while lathering up (which we still do to some extent) and not wanting to use our toilet because having to aim intimidated me. Haha is this TMI?! My husband and I never lived off-grid prior to this so we had no idea what to expect as far as how much energy we could use/how long it would take for us to go through 3,200 gallons of water. Today our energy and water use probably looks different from others but now we feel more relaxed about it and have created our new normal.
Proudest DIY: My husband is super handy, so I actually have two DIYs that I love. The first is our partition wall between the living room and our 1-year-old son's room. Pinterest inspired the design. We fell in love with the look because it provides Maverick with an enclosed space to play while allowing me to keep an eye on him. The best part is that it doesn't block out any natural light from both spaces. The second space is my work nook. It's a hidden little gem in our lofted bedroom, It's my moody 4.5-feet by 3-feet corner. One of the two walls that creates my space is matte black with a grid design, adding depth to the space. You can find me here, with a hefty glass of water, my cold coffee, and Lana Del Rey playing in the background.
Biggest Indulgence: This is a hard one—maybe it's our range. This was our most expensive appliance but we knew we wanted this item from the start so we were expecting to pay for it. It's a three-burner propane stove with an oven. It's actually a boat appliance, which is actually super convenient with a toddler because the oven door has a lock on it.
Best Advice: If you're living in a tiny space, spare yourself the headache and only move in the things that bring you joy. Leave all the extras behind and get yourself some living plants. I use to be one of those interior plant killers, which I realize now is because I was living life too fast. Slow down, take more deep breaths, and sit on the floor to sip your favorite warm beverages. It's so healing to the body.
Resources:
PAINT & COLORS
Exterior Body — Color-BEHR graphic charcoal
Exterior Trim- Color BEHR night club
LIVING ROOM
Pendant Light — Ecopower
Couch was a hand-me-down but we got the cover from Amazon
Area Rug — Target
Ottoman — TJ Maxx
DINING ROOM
We don't have a dining room 🙂
KITCHEN
Countertop (Laminate) — Wilsonart, color Calcutta Marble
Range — Three Burner Propane Stove
Lights — Ecopower
Kitchen Faucet — Home Depot
Thanks, Zeena!
---
Apartment Therapy supports our readers with carefully chosen product recommendations to improve life at home. You support us through our independently chosen links, many of which earn us a commission.