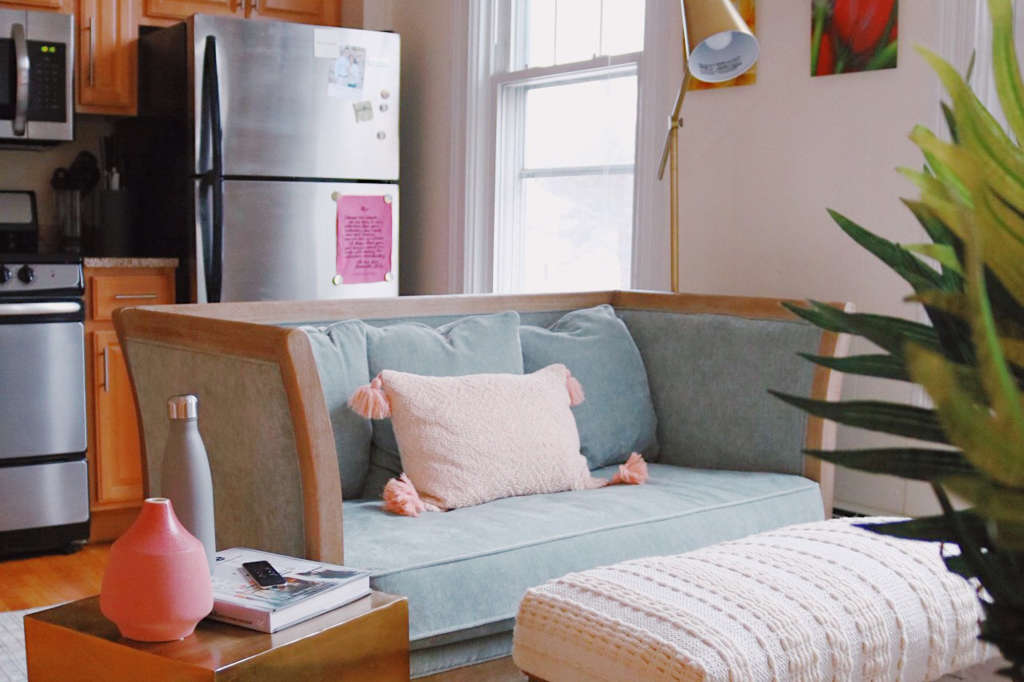 Name: Lauren Murphy, cat Tulip Moonbeam, and my dwarf rabbit, Alfee
Location: South Norwalk, Connecticut
Size: 300 square feet
Years lived in: 1 week, renting
My name is Lauren, and I am a nanny/graduate student getting my Master's in teaching. I just moved into this apartment to be a bit closer to my school. Although very tiny, this home allows me to have my first real bedroom since college, which is huge for me! I am on the second floor of a large, old house in Norwalk, so the apartment has a lot of unique architectural quirks.
I decorated in a style that truly reflects who I am, using art and other pieces that I have collected through life and travel over the past few years. I have two amazing roommates—my cat, Tulip Moonbeam, and my dwarf rabbit, Alfee. So far, we are very happy here!
Describe your home's style in 5 words or less: Eclectic, personal, and artistic
What is your favorite room and why? My favorite room is my bedroom! After living the studio life for a few years, having a bedroom door is a huge luxury for me. I've kept the space simple with white and cream bedding, a cozy reading nook, and a display of some of my favorite art pieces.
If you could magically change something about your home, what would it be? The size of the kitchen/living space! Right now, I have a stool at the counter for eating meals and studying, but it would be great to have room for a full table and chair set for when I have friends over.
What's the last thing you bought (or found!) for your home? The last thing I bought for my home was a cute little cat bed from Amazon that has yet to arrive! I think it will blend seamlessly with my decor which was very important for me when shopping around!
Any advice for creating a home you love? Use pieces you truly love! With an abundance of amazing interior design and decor blogs and Insta accounts out there, it can become like sensory overload when you have to make choices for your own space. While it's great to draw inspiration from others, you are decorating your home for YOU! Find things that really speak to you and your personality, and you will be sure to love your home.
Thanks, Lauren!
• Interested in sharing your home with Apartment Therapy? Contact the editors through our House Tour & House Call Submission Form.